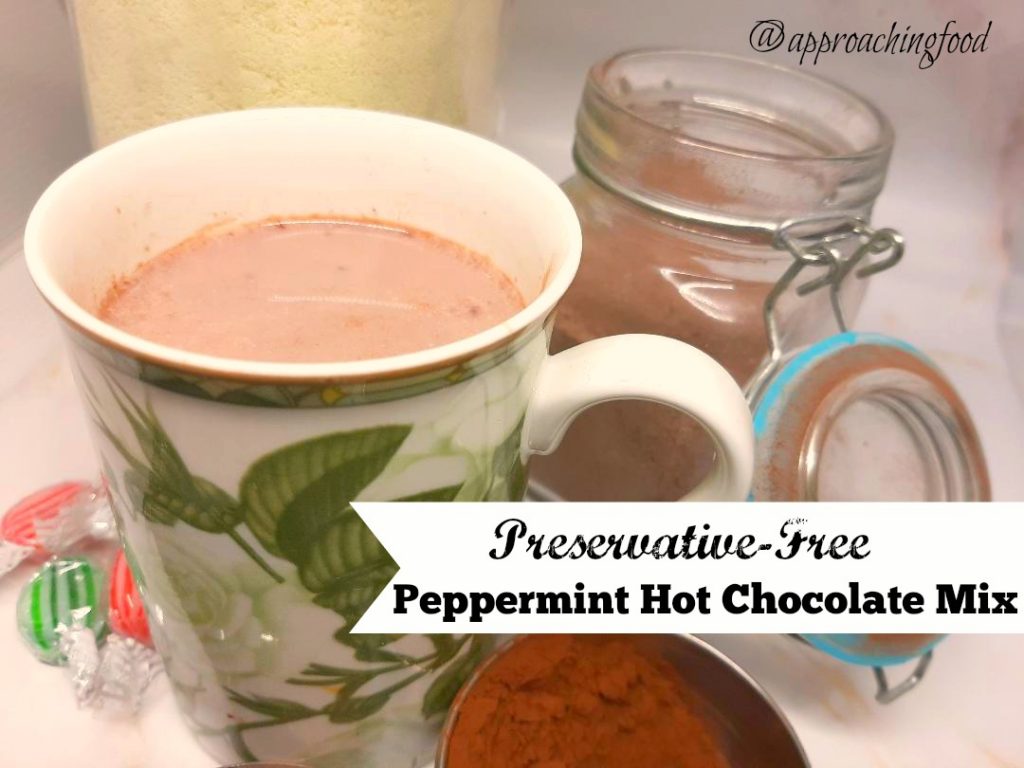 It's the time of year to curl up in thick socks, eating cookies, and drinking creamy, hot cocoa! But…ever have one of those days where you long for the convenience of a pre-made hot chocolate mix, but don't want to drink emulsified preservatives? I got you, boo! I have a super delicious AND super easy recipe for a creamy, chocolate-y, peppermint hot chocolate, that is preservative-free!!! I've been drinking cup after cup of this creamy hot cocoa lately, with just enough peppermint flavour to give it some interest (but not enough to clear your sinuses!). You can keep this delish mix in your cupboard, and whenever you want a hot cup of creamy, minty hot chocolate, just add boiling water! All the convenience of boxed mixes, but none of the preservatives!
This recipe is a modification of the hot chocolate my grandmother would make me at tea time when I visited her, and a version of the hot chocolate my mum would make for us kids after we came in from digging tunnels in the snowbanks by our house.
Yield: 4 cups
Easy Peppermint Hot Chocolate Mix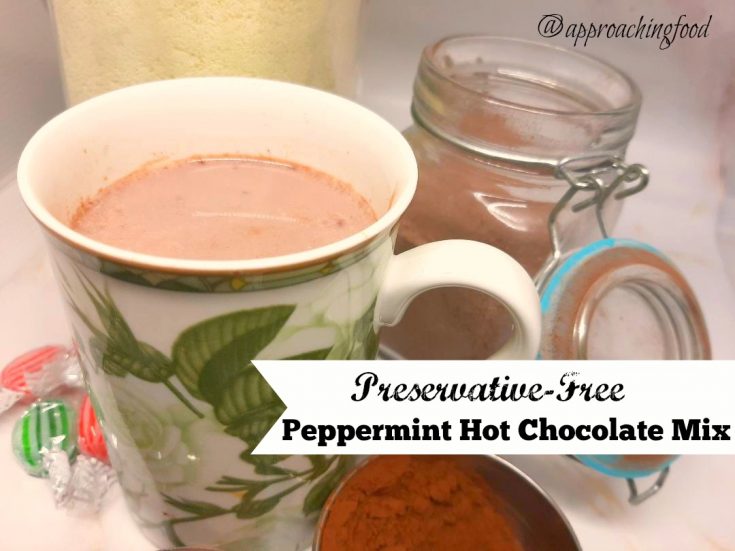 This rich and creamy peppermint hot chocolate mix is as easy to use...just add boiling water!
Ingredients
4 peppermint hard candies
12 tbsp. milk powder
4 tbsp. cocoa
8 tsp. sugar
pinch of salt
Instructions
Using a mortar and pestle, grind the peppermint candies into a powder. You need to have 4 tsp. (the equivalent of a tsp. per cup).
Add all the ingredients into a bowl and mix.
To make up a cup of hot cocoa, take 4 tbsp. of this mixture and add in a cup of boiling water. Stir and enjoy!
Nutrition Information:
Yield:
4
Serving Size:
4 tbsp.
Amount Per Serving:
Calories:

85
Total Fat:

1g
Saturated Fat:

1g
Trans Fat:

0g
Unsaturated Fat:

0g
Cholesterol:

4mg
Sodium:

59mg
Carbohydrates:

16g
Fiber:

1g
Sugar:

9g
Protein:

3g
The trick to making this cocoa pepperminty is to add in ground up peppermint candies. Make sure you use all-natural ones (available at local bulk or natural food stores) in order to avoid preservatives in the finished hot cocoa. You could even use ground up candy canes if you have extra candy canes. Or, why not add in a ground up hard toffee candy? You'd have caramel hot chocolate mix! Mmm…caramel hot chocolate mix! Wrap it up with a chocolate-dipped spoon, and you've got yourself a great hostess or last minute gift to go!
Next Post: Either something rich and delicious, because it's the holidays and I do love my comfort foods, or…something super-healthy because the new year approaches, and I've already eaten a lot of comfort foods! Either way, it'll be yummy!