Yesterday I got together with my parents and siblings to celebrate one of my sister's birthdays, and also to find out the gender of a new baby who will be joining us in 6 or so months! I had to find out the gender ahead of time of course, so that I could make the gender reveal cake. It was a hit! Everyone but the expectant mother and father-to-be were surprised. Also surprisingly easy to make this cake once you understand how to fill a cake with candy. Want to learn how to make one too? Let's get to it!
Firstly, I recommend reading my post on Cake Decorating 101 — you'll learn some of my best tips about cake decorating, including the fact that it is much easier to ice a slightly frozen cake than a crumbly, wobbly, non-frozen one. I also suggest that you read my post on how to make the best buttercream ever — it really is the only buttercream recipe that you'll ever need!
I decided to make the gender reveal cake a 'naked cake', so that it only has a light crumb coat of icing on it (just enough to keep the crumbs iced down, but still thin enough that you can see the layers of the cake through the icing on the sides). Considering that the cake is filled with candy, I thought we didn't need to have a thick layer of icing on top of it too!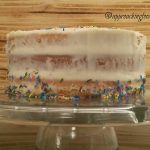 Candy-Filled Gender Reveal Cake
Fill this naked-cake with the expectant mother's favourite candies, and have everyone guess the sex of the baby before the cake is cut! Fun and tasty for everyone!

Ingredients
3

cake layers (use your favourite recipe)

1

batch

buttercream icing

1-1 1/2

cup

assorted candies in pink or blue

3

tbsp.

multi-coloured sprinkles

1

tbsp.

silver dragees
Instructions
Place first layer of cake on cake tray. Spread a layer of icing on the top.

Place second layer of cake on a separate plate or tray. Using an upside-down martini glass (or small bowl) cut out a circle of cake from the centre. Eat the centre of the cake, for quality control purposes. (Yum!)

Place second layer of cake on top of the first layer. Ice the top of the second layer of cake (i.e. the ring of cake that is all that is left of the second layer).

Fill the centre of the second cake layer with candies. Pack them in firmly. You want there to be lots of candy to spill out when you remove the first slice of cake.

Place the third layer of cake on top of the second layer.

Ice the top of the cake. Thinly ice the sides of the cake, using an offset spatula (or the edge of a very straight knife, or just a ruler) to scrape off the excess. To get the look of a naked cake, you want to be able to see the layers of the cake.

Using a pinch of sprinkles at a time, throw sprinkles at the bottom edge of the cake (I usually do this over a sink, while firmly holding the iced cake on a slight slant to give the best access. Note that the cake has to be pretty chilled to be able to do this without the layers slipping off. Another reason why chilling the cake layers helps keep the cake together!)

Using the silver dragees, make a question mark on top of the cake.

Using the leftover sprinkles, sprinkle them over the top of the cake.

Chill the cake thoroughly before serving. Then, cut a slice, plate it, and listen to the cheers of the onlookers as they find out the sex of the new baby! (You'll also hear appreciates mmm's as they eat that delicious buttercream-covered cake!)
I know that pink and blue are extremely stereotypical ways to signify the sex of a baby (I mean, I'm female and my favourite colour is and always has been blue), but they're also currently the most universally recognized (at least in the Western world) gender signifiers, which is why I used them. In other words, you do you, boo!
Oh, and while I call it a gender-reveal cake, I also recognize that gender and sex are not necessarily interchangeable terms. I like to be precise with my words. I'm a bit of a logophile. But enough of that. Back to fun with food!
While I termed this recipe a candy-filled gender reveal cake, you really could make it a baby announcement cake as well! Fill it with baby-themed candies (think candy pacifiers and candy lego building blocks) and it's a fun way to surprise a gathering of people! If no one knows that it is a surprise cake, everyone will be surprised when they find out there's themed candy in the centre!
Or make it a themed cake for a child's birthday party! You could fill it with candy lego blocks (lego-themed party), candy dinosaurs (dinosaur-themed party)…the possibilities are only as limited as your access to candy is!
Next Post: Hmm. Good question. Maybe some super-easy blueberry jam? I did just buy a blueberry bush, so I've got blueberries on the brain! 
Linking Up at Meal Plan Monday!