This year we hosted my family for both Christmas Day and New Year's Eve, and put out yummy things to nosh on each time. One of the items was a lovely cheese and crackers tray. I love cheese and crackers as an appy, so I made one for each get-together. But after New Year's was over, we still had some leftover brie. Not an entire wheel, but at that point I was rather cheese-and-crackered out, so thought I'd try to repurpose it into something else. (Not that leftover brie is a problem — I mean, it's brie!) I also had some leftover cranberry sauce that I had made (so yummy and so easy — try it yourself!) so I decided to use that too. And voila,  I decided to turn it into Pastry-Wrapped Cranberry Baked Brie!
It really is rather easy. Just take some pie crust (I used my vodka pie crust recipe), some cranberry sauce, some brie, and wrap it up all together, pop it in the oven, and voila, cheesy melted goodness, wrapped up in buttery pastry with a dollop of sweetness!
It really is easy to make, and it looks (and tastes!) impressive. Want to make one of your own? Let's!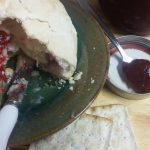 Pastry-Wrapped Cranberry Baked Brie
This dish takes a brie and adds tangy cranberry sauce and buttery pie crust to it, for a delicious (and easy!) appetizer!
Ingredients
1

wheel

brie

1

recipe

pie crust

6

tbsp.

cranberry sauce
Instructions
Heat oven to 425 degrees Fahrenheit.

Roll out 2/3 of the pastry dough into a circle. Spread 3 tbsp. of cranberry sauce in the centre.

Place the brie on top of the cranberry sauce-covered pastry, and spread the remaining 3 tbsp. of cranberry sauce on top of the brie.

Bring up the edges of the pie crust to wrap around the brie.

Roll out the remaining pie crust into a smaller circle and place on top of the brie. Pinch the edges of the pastry together so that no cheese or cranberry sauce is showing.

Wrap in aluminum foil and place on a baking sheet. Bake for 20 minutes, and then remove foil and bake for a further 20-30 minutes or until the crust is golden brown.

Let sit for 10 minutes to let the cheese slightly solidify again, and serve! It will be ooey-goo-ily delicious!
By the way, you can use store-bought pastry dough and store-bought canned cranberry sauce, but it is just as easy and takes just as long to make it yourself as to go shopping for dough and sauce, so I encourage you to try making it from scratch yourself. If you make it, let us know in the comments what you thought of it!
p.s. – In case you were wondering, yes, once again I am typing this with an infant sleeping on me. She's so cute and cuddly that I don't even care that I have to contort myself to balance both her and my laptop at the same time! I really am enjoying this mom thing.
Next Post: Tex-Mex Potato Wedges? Or Cherry & Vanilla Oreo Mini Cheesecakes? Mmm…comfort food at its finest!
Linking Up at Full Plate Thursday!