Ever since I figured out how to make jam, I've been making batch after batch of fruit jam. Why? Because homemade jam tastes WORLDS different from any store-bought jam! It's just packed so full of flavour, that you don't feel like you're eating jellified sugar as with some packaged jam — homemade jam is worth the VERY small amount of time it takes to make. And you don't even have to decide on one fruit; you can mix up a number of berries and make Bumbleberry Jam!
I'm mixing up blueberries and blackberries today, to make my own version of bumbleberry jam. And, to make it even easier, I'm leaving out the pectin too. All you really need to make this jam is berries, sugar, and a dash of lemon juice! (Not even water.) I like to make pectin-free jam as it's one less packaged thing I need to add to my food (I told you I was a hippie-in-the-making!). It does result in a slightly looser-set jam, but I'm quite ok with that. You could also add fruit pectin via apple cores (I use this when making apple jelly) or lemon seeds (I have still to use this tip) but it's also quite ok to leave out the pectin entirely; you just have to the berry and sugar mixture to a jammy stage (I'll explain more on this later).
Let's get to making us some homemade jam!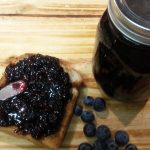 BUMBLEBERRY JAM
This berry jam contains only a few ingredients, and is easy to spread on toast or to mix in with yoghurt.
Ingredients
4 1/2

c.

mixed berries

(I used blueberries & blackberries. You could also add in raspberries if you wanted to.)

2 1/2

c.

sugar

1

tsp.

lemon juice
Instructions
Mix all ingredients together and place over medium heat.

As the sugar melts and the juices of the berries are drawn out, mash the berries so that only some whole berries are left.

As the mixture becomes more liquid, bring to a boil, and keep at a boil.

When the mixture reaches the "set" or "sheeting" stage (see below for more info), remove from heat and pour into a sterilized glass jar.

Let cool, and store in fridge. Will keep for a few weeks. Enjoy it spread on toast!
Recipe Notes
If the jam starts to smell caramelized, you've overcooked it. But not to worry -- add a dash of water to thin it out and call it 'caramelized bumbleberry jam'. Whose to know that you didn't do it deliberately? 🙂
I mentioned about how you need to boil the mixture until it reaches a jammy state. When that happens, you can safely say that your jam will have 'a good set'; in other words, it will be jam-like, instead of a runny sauce. How to know when it has reached this stage? Place a small dish in the freezer. Pour a small spoon of the hot jam mixture onto the plate. Swipe your finger through the mixture. Does the jam run together to become one blob again, or does it stay separated into two blobs? If it doesn't run together again, then it's a good set! Another way to measure if a jam will have a good set, is to take a wooden spoon and let the jam mixture run off the side. Does it run off in several rivulets? Not done. Does it run off in one thick drip? Then it's "sheeting", and it's going to have a good set! One warning: better to undercook than overcook. This particular jam (with blackberries) tends to be prone to caramelizing, so again, better to undercook than overcook. A slightly saucy jam is better than a solid lump of candied berries! FYI, you can always save an overcooked jam — just heat it in the microwave, add a bit of water, stir, and you'll have a looser jam (perhaps not properly set, but good enough to spread on toast!).
You might look at this recipe and think, wow, that's a lot of sugar! Don't worry, it won't over-power the flavour of the jam at all. I usually use the 1-1 rule (1 c. berries to 1 c. sugar) when making berry jams (especially strawberry jam), mostly because I use them to stir into my morning yoghurt to make homemade fruit yoghurt (topped with homemade granola, of course!). You can use less…but it won't taste as good and it won't set as much (lots of sugar in integral to get jam to thicken. Not enough sugar and you'll end up with berry sauce). While normally, I'm all for making a recipe healthier, I suggest trying this one as is before trying to reduce the sugar. Even if (and I don't think this will happen!) you didn't like it, ANYONE you know will be happy to eat your homemade jam!
As I said, I like to use this jam to stir into my morning yoghurt, but it's equally delicious on toast, or between cake layers, or to top a jammy cookie (make a pie crust, cut into cookie-sized circles, top with jam, and then top with crumble topping. Bake, and enjoy!). Let me know how you end up using this delicious jam!
Next Post: I'm working on fine-tuning my Best Ever Macaroni Salad. I thought I had gotten the details right, but then it mysteriously disappeared from the fridge when I got up to snack on it at midnight. The DH had a slightly guilty but satisfied look on his face, so I take it that the recipe is a hit! 
Linking Up at Meal Plan Monday!