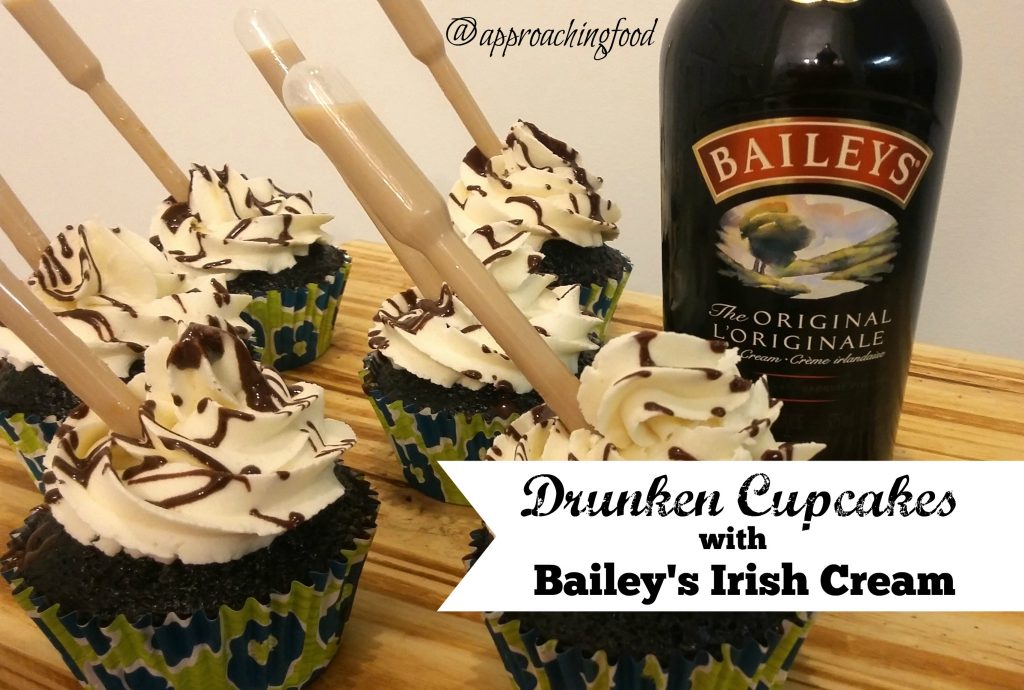 It's no secret that I love chocolate, and these cupcakes are a grown-up's version of chocolate cupcakes, all fluffy cake, pillowy buttercream with a hint of something stronger, and then the actual secret sauce…a shot of Bailey's Irish Cream. That's right, these are Drunken Cupcakes! Just pure deliciousness with a kick of something to open up your eyes and make your mouth go "um, yum!"
I cannot stress the deliciousness of these cupcakes enough. I baked a batch of Drunken Cupcakes with Baileys Irish Cream last week and gave one to the DH, who is notorious for not being fond of chocolate. He ate the entire cupcake in three bites. Then I brought in a batch to my workplace. My co-worker's reaction: "I LOVE YOU, YOU'RE THE BEST!!!" (And yes, it was an ALL-CAPS type reaction.) So, I feel pretty confident that these Drunken Cupcakes with Baileys Irish Cream will be a hit with your family and friends too!
Aside from being super-delicious, these Drunken Cupcakes are great to look at too! They're a bit of a conversation piece, and would be a hit at any dinner party, birthday party, drinks party, basically any time to be honest. (Like now. It's 2 am in the morning, I'm sitting on the sofa with my laptop and some fuzzy socks, and my insomnia is wide awake and partying. Some Drunken Cupcakes would really hit the spot.)
They're super-easy to make, as long as you can lay your hands on some plastic pipettes. I ordered mine online and got something like 50 of them for $5, so they're not terribly expensive, as baking accessories go. Got your plastic pipettes? Got some Baileys? Then you're good to go!
So, let's get baking!
Yield: 12 cupcakes
Drunken Cupcakes with Bailey's Irish Cream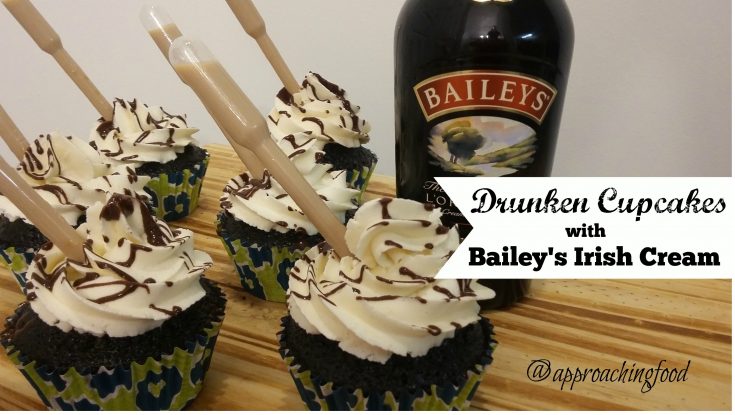 These lusciously rich chocolate cupcakes are topped with real Bailey's infused buttercream, and then finished with a chocolate drizzle and a full pipette of Bailey's Irish Cream!
Additional Time
30 minutes
Total Time
1 hour
30 minutes
Ingredients
12 pipettes
1/2 c. chocolate chips
2 tsp. vegetable oil
3/4 c. Bailey's Irish Cream
1 c. butter, softened
1/3 c. shortening
3 1/2 c. icing sugar (add more icing sugar if you like a stiffer icing)
1 tsp. vanilla extract
Instructions
Bake cupcakes according to directions, and set aside to cool. 

To make the Bailey's Buttercream frosting, whip butter and shortening together until thoroughly mixed. Add in icing sugar, vanilla, and 2 tbsp. Baileys, and mix until combined. Beat on high for at least 10 minutes.
Fit buttercream icing into a piping bag with a 1M piping tip. Pipe icing onto cooled cupcakes in a swirl, starting at the outside and ending on the inside. 
Mix chocolate chips and oil in a microwave-safe bowl and heat for two minutes, stirring every 30 seconds, until smoothly melted and mixed. (You can also do the same thing on the stove, preferably in a double-boiler, but a microwave is easier.) Let cool slightly. Pour into a plastic baggie and snip a small corner of the baggie off. Drizzle the melted chocolate over the frosted cupcakes. 
Using the leftover Bailey's Irish Cream (it will be 3/4 c. less two tbsp.), fill the pipettes. I found the best way to fill them up all the way was to pinch the top (as you would when sucking up basting juices with a turkey baster) and let it fill up, then turn it upside down so that the air rises to the top of the pipette, squeeze out the air, and suck up some more liqueur. Then stick one full pipette into every cupcake. And bam, a delicious conversation-starter!
Nutrition Information:
Yield:
12
Serving Size:
1 cupcake
Amount Per Serving:
Calories:

450
Total Fat:

26g
Saturated Fat:

14g
Trans Fat:

1g
Unsaturated Fat:

10g
Cholesterol:

46mg
Sodium:

156mg
Carbohydrates:

49g
Fiber:

1g
Sugar:

47g
Protein:

1g
See? Wasn't that easy? Bake the cupcakes, pipe the icing on, drizzle some melted chocolate over it, and stick in a pipette of liqueur. Much easier to make than you'd think! And wouldn't it be fun to do with different liqueurs? Maybe a Chambord? With a raspberry garnish? In terms of recipe experimentation, there's as many combinations as there are liqueurs! What would be your favourite? Let me know in the comments!
Next Post: I'm thinking Pumpkin Gnocchi. Or Maple-Glazed Pumpkin Slices. Either or, really. Any preferences?