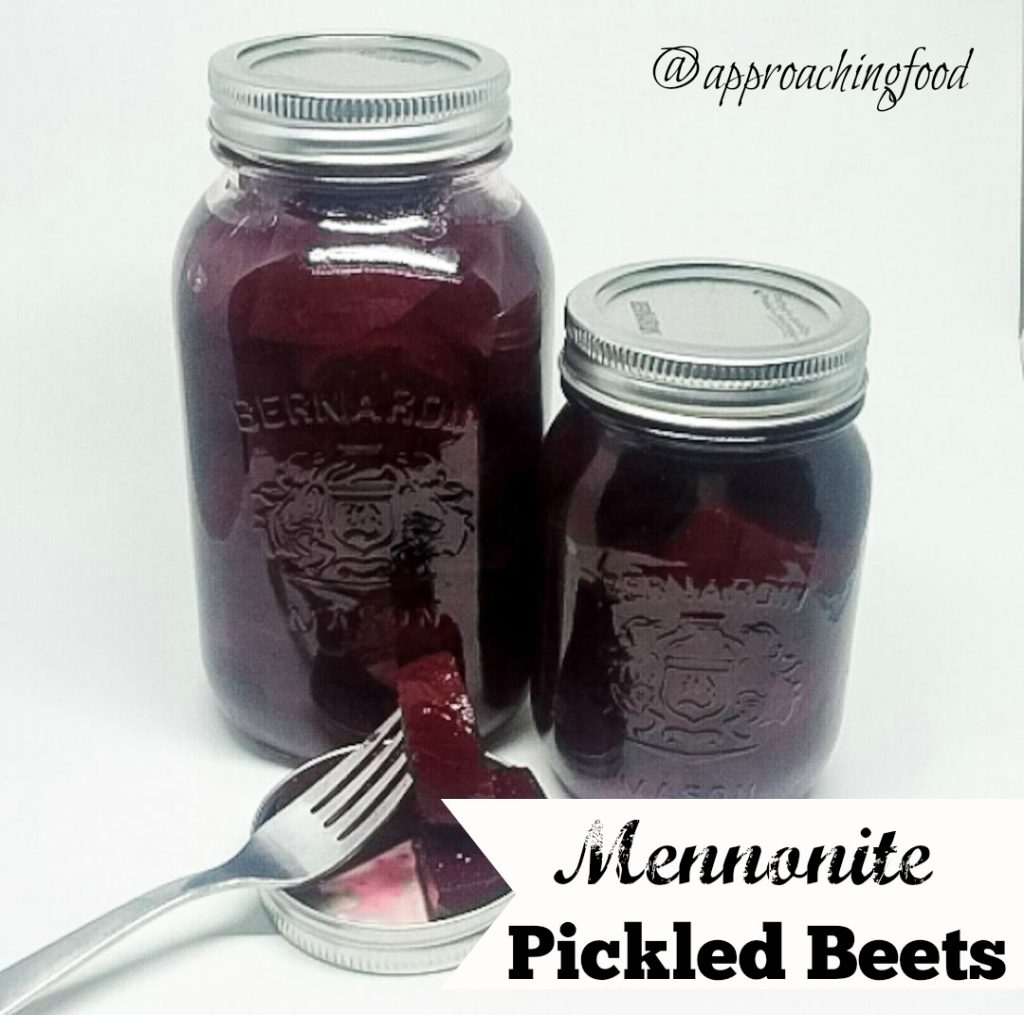 Given that it's fall, root vegetables are having their moment. My local grocery store had 10 lb bags of root veggies on sale for $1.97 last week, which is the best price you'll find all year. So I? Bought 30 lbs worth. That's right — 30 lbs of delicious root veggies! Ten pounds each of carrots, onions, and beets. Time to get on a preservation kick!
I chopped, blanched, and froze 5 lbs of carrots, as well as all 10 lbs of onions. Onions don't freeze perfectly, but eh, good enough.
KITCHEN HACK
How not to cry when chopping onions: wear swimming goggles! You might look silly, but hey, you won't be crying! (The same wasn't true for the DH. After chopping 10 lbs of onions, the fumes had drifted out of the kitchen where I was working, along the hall, and into the man cave where the DH was. Let's just say it was an emotional moment and leave it at that. Tee hee hee!) Seriously though, swimming goggles — do it!
So. That's the carrots and the onions taken care of. But how to preserve (and eat) the beets? I made beet and bean hummus one time (sound bizarrely horrible, I know, but it's actually bizarrely delicious), which we ate with homemade tortillas. And we've been eating salad topped with roasted beets, crumbled goat cheese, and vinaigrette all week. But still. Ten pounds of beets is a LOT of beets!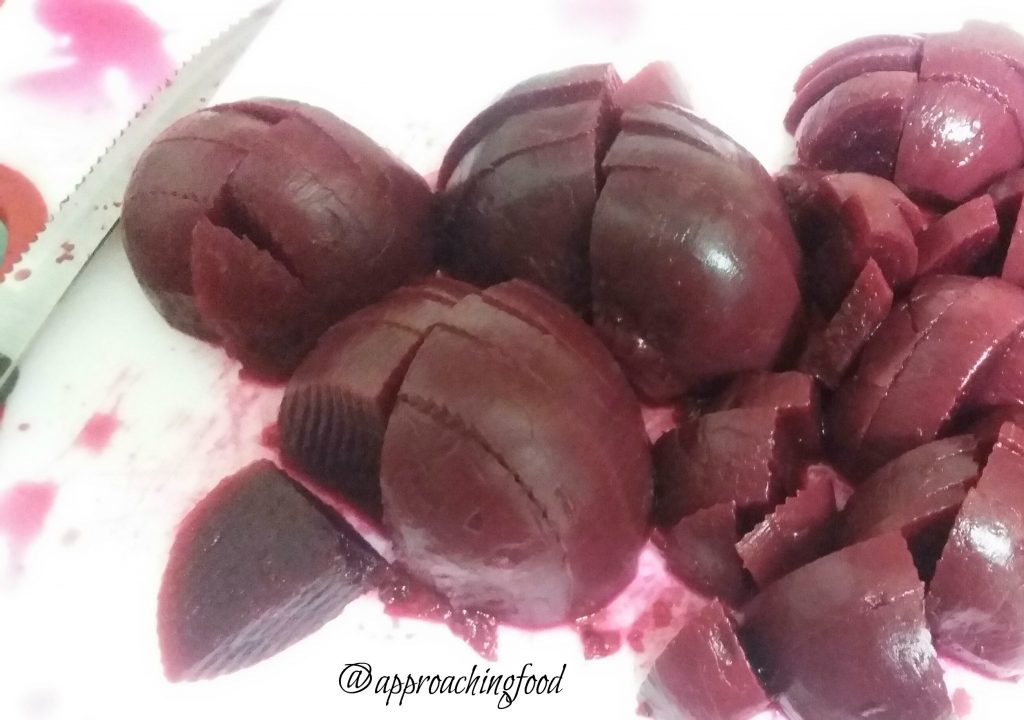 So I called up my mom and got her to tell me the pickled beet recipe that she used when I was growing up. I asked her where she found it, and she told me that she had received the recipe from a neighbour, who had said that it was a recipe from a Mennonite community. This is a verrrrry easy recipe that even a beginner cook can make, and it's great as a side dish to round out a meal and bring some 'eat the rainbow' colour to your plate. All you're doing is boiling, peeling, and chopping the beets, and then mixing the chopped beets with a quick pickling syrup. Easy as pie. (Actually, much MUCH easier.)
Shall we?
Easy Mennonite Pickled Beets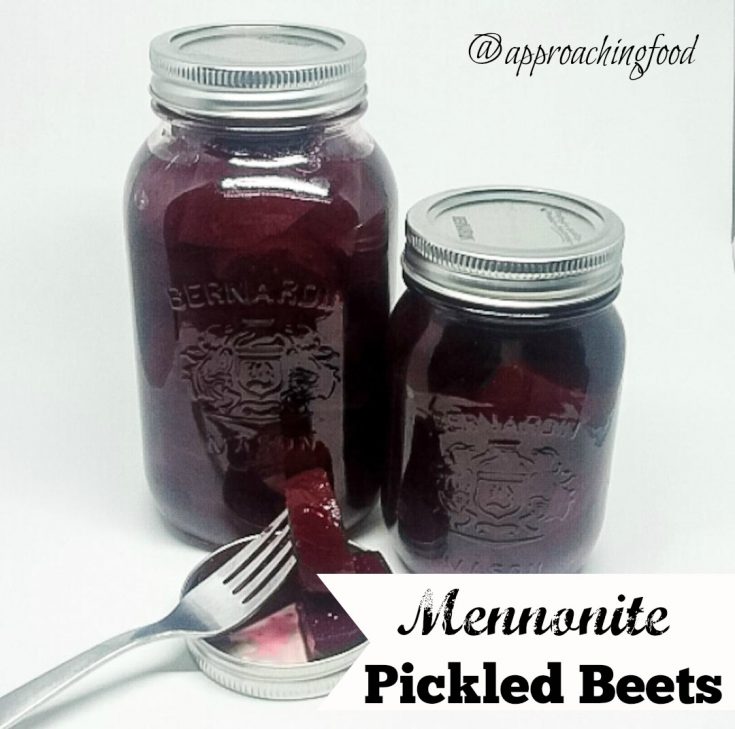 This flavourful side dish is packed full of zesty flavour! Stays well in the fridge, plus they can well too! And as simple as all get out!
Additional Time
10 minutes
Total Time
1 hour
5 minutes
Ingredients
8 medium beets
1 c. vinegar
1/4 c. water
3/4 c. sugar
1/8 tsp. pepper
3/8 tsp salt
pinch of cloves
Instructions
Boil beets until tender. Let cool, and the skins will rub right off under cold water.
Slice the beets to your desired thickness (I tend to do a 'rough chop', but then again, I have no time for finicky cutting). 
Next, bring syrup ingredients (everything but the beets!) to a boil, and mix with sliced beets. Bam, done!
Nutrition Information:
Yield:
8 servings
Serving Size:
1/2 c.
Amount Per Serving:
Calories:

100
Total Fat:

0g
Saturated Fat:

0g
Trans Fat:

0g
Unsaturated Fat:

0g
Cholesterol:

0mg
Sodium:

150mg
Carbohydrates:

24g
Fiber:

1g
Sugar:

23g
Protein:

1g
The longer you let the beets sit in the pickling syrup, the stronger the pickled flavour will be. You can serve these beets hot or cold (I love both!), as a side dish, on top of a salad, or just eat them with a fork. I like to can mine so that I can enjoy fresh autumn flavour all winter long, but you do you! And eat them knowing that not only do they taste delicious, but they're packed full of nutrients! #WinningAtAdulting #TasteStillComesFirst
Next Post: Homemade Yoghurt? Homemade clean eating granola? Lentil sprouts? Oh dear, have I gone to the crunchy side? Fear not! More sugar (and fall flavour) is on the way with apple pie and pear custard squares!