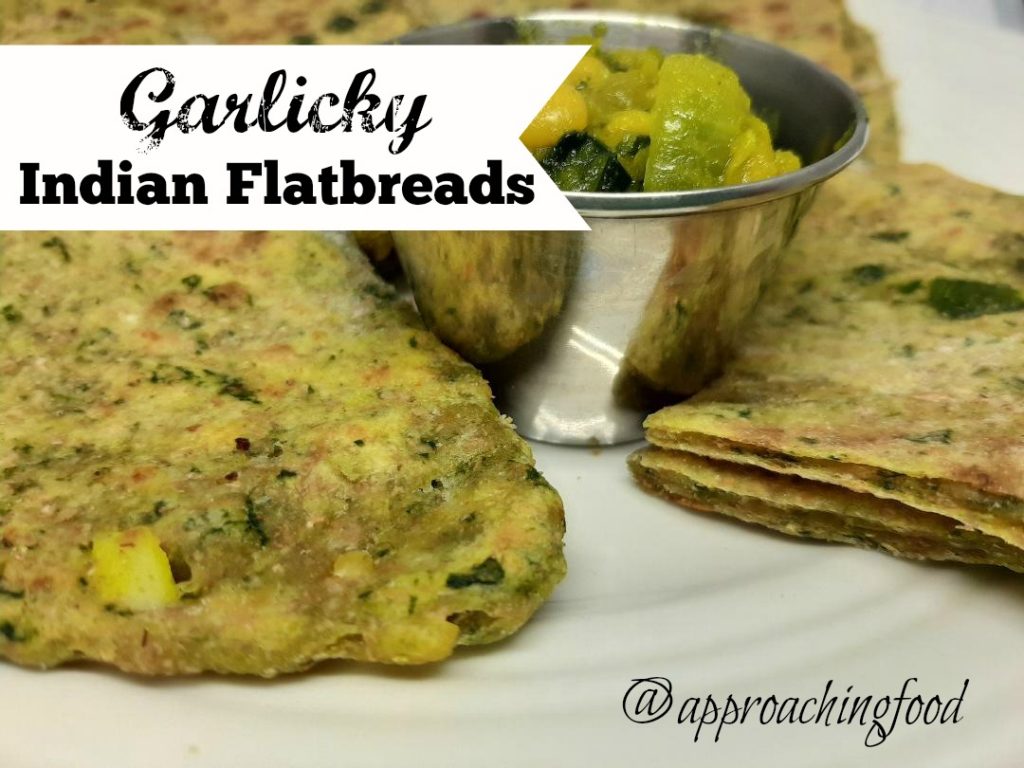 A friend of mine recently introduced me to paranthas, and now I'm in love with making these easy Garlicky Indian Flatbreads! One of the ingredients is leftover dal (Indian stew made with lentils, beans, or peas), so it has a higher protein content than regular flatbreads. I love a good garlicky naan bread, so I thought I'd make a garlicky version of a parantha too! Mmm…garlicky carbs…who could resist?
Not only do these flaky and layered flatbreads have a higher protein content than most breads, due to the lentil/bean/pea stew they contain, but if you make them with whole wheat flour, they're also pretty high in fibre. Plus, if you make them with a Spinach & Split Pea Dal like I did, you also have pretty (and nutritious!) chunks of spinach through the flatbread too!
Have I enticed you enough to try them? Honestly, they're so easy! You just mix up the dough, then roll them out, spread some oil on them, fold them in half, roll them out again, and dry-fry them in a hot pan. And voila, fresh flatbreads to go with your meal! Trust me, your guests/loved ones will be very impressed! And your tummy will be happy!
Let's get to making some garlicky paranthas!
Yield: 6 flatbreads
Garlicky Indian Flatbreads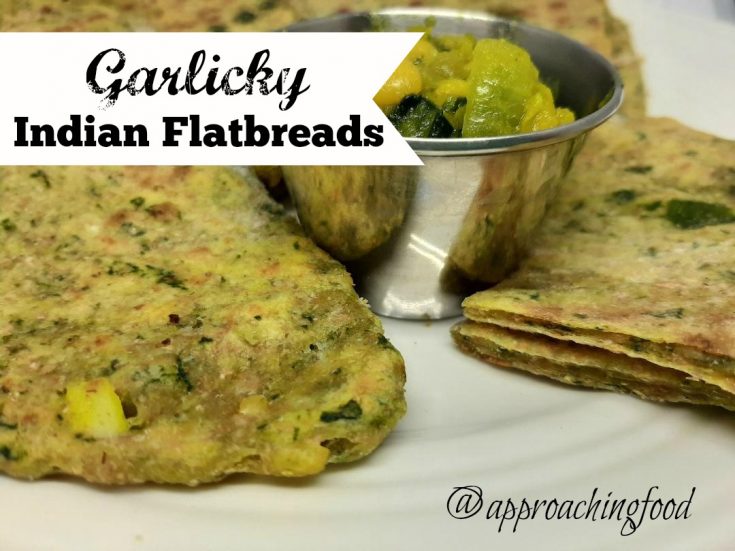 These Indian flatbreads are high in protein and fibre, and will pull apart into flaky layers of garlicky goodness. Great to serve with soups and stews, they also reheat well in the microwave!
Ingredients
1 1/2 c. whole wheat flour, plus extra for dusting
1/2 c. water
1/4 tsp. cayenne pepper
1/2 tsp. garlic powder
1/4 tsp. salt
2 cloves garlic
1/4 c. oil
Instructions
Finely chop garlic.
Mix all ingredients, except for oil, in a bowl.
Divide dough into 6 pieces.
On a floured counter, roll out 1 piece of dough into a circle.
Brush dough circle with oil, and fold in half.
Brush half circle of dough with oil, and fold in half (so that it becomes a triangle).
Roll out the triangle of dough until about 1/4 cm thick.
In a dry frying pan (no oil), fry on high heat until the dough bubbles on top and the bottom has round brown circles. Flip over and cook until the other side is brown as well.
Repeat with remaining dough pieces.
Nutrition Information:
Yield:
6
Serving Size:
1 flatbread
Amount Per Serving:
Calories:

215
Total Fat:

11g
Saturated Fat:

1g
Trans Fat:

0g
Unsaturated Fat:

9g
Cholesterol:

0mg
Sodium:

153mg
Carbohydrates:

26g
Fiber:

5g
Sugar:

1g
Protein:

6g
You can use white flour instead of whole wheat flour in this recipe, if that's your preference, and I think it'd be fine to use any leftover bean or lentil stew. If you use a different bean or lentil stew that I did, let me know in the comments how your flatbreads turned out!
If you like garlicky naan bread, you'll love these easy-to-make AND protein- and fibre-rich Garlicky Indian Flatbreads! If you're really into garlic, you could even brush the tops with melted butter and chopped garlic just before serving. Mmm…garlicky carbs with nutritional value…now that's a guilt-free indulgence!
Next Post: I'm thinking my gluten-free Cheesecake Brownies! So good, so chocolate-y, and did I mention the cheesecake part?