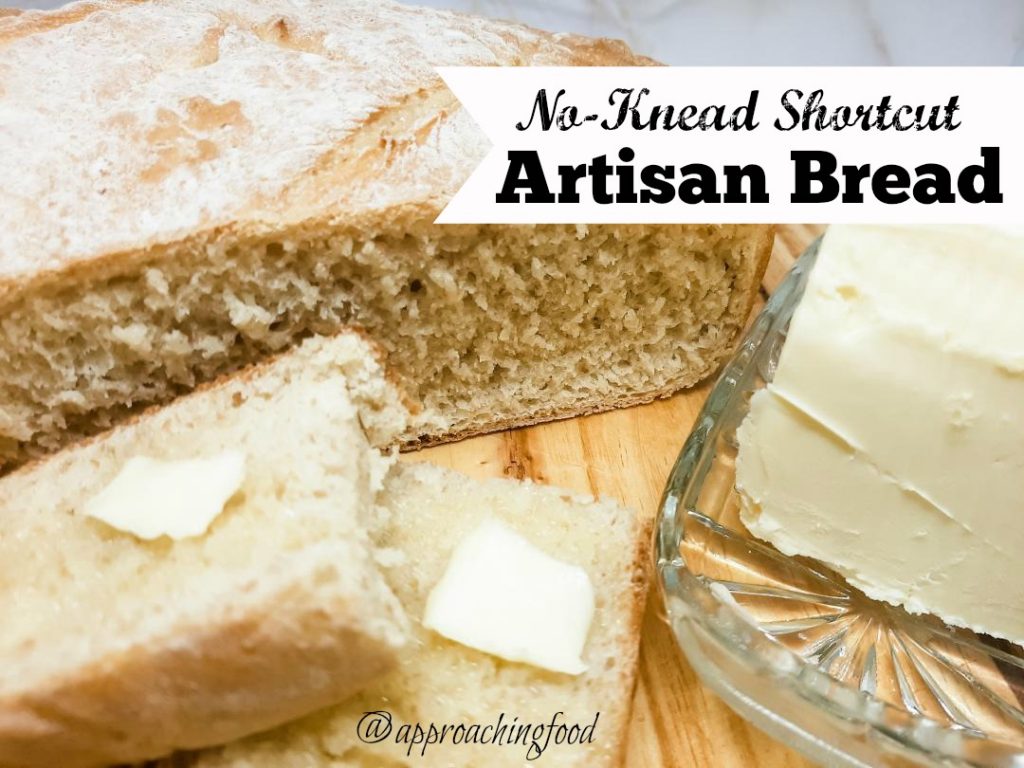 My husband says that there is nothing better than freshly baked homemade bread just out of the oven, warm and fragrant and slathered in butter! Despite my chocoholic tendencies, I do have to agree with him; there is just something about freshly baked homemade bread that beats out storebought bread by a mile. But who has time (or energy) to knead dough and let it rise and knead again and let it rise and blah, blah, bleh. Which is why I created this No Knead Shortcut Artisan Bread!
The shortcut is…pizza dough! I know, weird, right? But it's actually perfect — super-easy and preservative-free! I've said it before: pizza dough is the answer to everything!
I use this recipe to make both white bread and whole wheat bread, but you can also use a mix of flours. For the loaf shown in the picture, I used a 3/4 white and 1/4 whole wheat mixture; it makes me feel good to know that I'm being healthy by adding whole wheat to my diet. (Also makes it easier to justify eating more chocolate later on!)
Want to make some of this super-easy artisan bread? Let's!
Yield: 1 loaf
No-Knead Shortcut Artisan Bread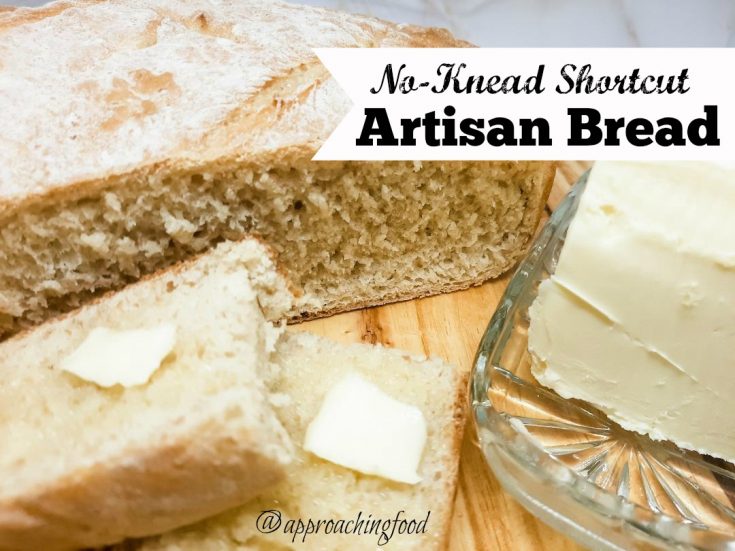 This super-easy and preservative-free artisan loaf is made with only 5 ingredients. It's actually pizza dough in a fancy form!
Ingredients
2 1/4 tsp (1 pkg) quick active dry yeast
1 c. warm water
2 1/2 c. flour
2 tbsp. vegetable oil
1 tsp. sugar
1 tsp. salt
Instructions
Dissolve yeast in warm, almost hot, water.

Add rest of ingredients and mix together in a stand mixer (or mix by hand. I've done both).

Roll dough into a ball and place in the centre of a large piece of parchment paper. Let rise until doubled in size (this might depend on the freshness of your yeast, anywhere from 30 minutes to an hour).

Dust top of dough with a generous dusting of flour, and use a sharp knife to score the dough.

Heat your oven to 400 degrees Fahrenheit and stick a Dutch oven (or any covered casserole dish that has high sides) in the oven while it heats up.

When oven is fully heated, place parchment paper (with dough on top) in the pre-heated Dutch oven. Cover with lid.

Bake for 20 minutes, then remove lid and bake for another 10 minutes until top of loaf is golden brown.

Remove from oven and let cool slightly, slice, and serve warm with butter!
Nutrition Information:
Yield:
10 slices
Serving Size:
1
Amount Per Serving:
Calories:

142
Total Fat:

3g
Saturated Fat:

0g
Trans Fat:

0g
Unsaturated Fat:

3g
Cholesterol:

0mg
Sodium:

235mg
Carbohydrates:

25g
Fiber:

1g
Sugar:

1g
Protein:

4g
The secret to that oh so pretty artisan crust? Just before putting the dough in the oven, dust the top with a bunch of flour, and then make a couple of swipes across the top with a sharp knife. The loaf will bake up super pretty! You can do all sorts of designs. But you do need to make sure the top of the dough is very floury, and you do need to have a very sharp knife. Then, voila! Artisanal…er, artistry!
I do love fresh bread, and this No Knead Shortcut Artisan Bread is a sure-fire way to impress. Whether you eat this bread fresh out of the oven slathered with butter, whether you use it to make next level grilled cheese (which is what I did last weekend!), or whether you wrap it in butcher paper and twine and gift it, this bread is oh so easy and oh so delicious. The fact that it is preservative-free and made with only five ingredients is a bonus!
Next Post: Hawaiian calzones? Or my Sesame Ginger Garlic Broccolini Stir fry, served over Cauliflower Rice? Let me know in the comments!