Are you a trying-to-be-healthy carb-lover like me? I love pretzels, I love freshly baked bread, basically just give me a carb (preferably dipped in chocolate) and I'm a happy camper. But I'm trying to be my healthiest self, which means cutting out preservatives and packaged foods. I know I feel healthier when I eat preservative-free, so…I came up with Preservative-Free Shortcut Pretzel Bites! Think pretzels crossed with fresh buns, and you're on the right (and preservative-free) track!
These delicious bites of salty, buttery carb heaven are actually made out of pretty healthy ingredients. You just use my Easiest Pizza Dough in the History of Ever as a base, and then boil tiny balls of the dough in a baking soda bath, before finishing them off in the oven.
I looooove fresh loaves of bread, but I tend to make more quick breads than yeast breads, simply because I have no patience for double risings. That's why I love this recipe so much. Just mix up the dough, wander off to do something else for an hour or so, then come back and boil the bites of dough and pop 'em in the oven, and bam! You've got a pile of freshly baked appetizers or snacks or mini slider buns!
Let's get to making some!
Yield: 24 pretzel bites
Preservative-Free Shortcut Pretzel Bites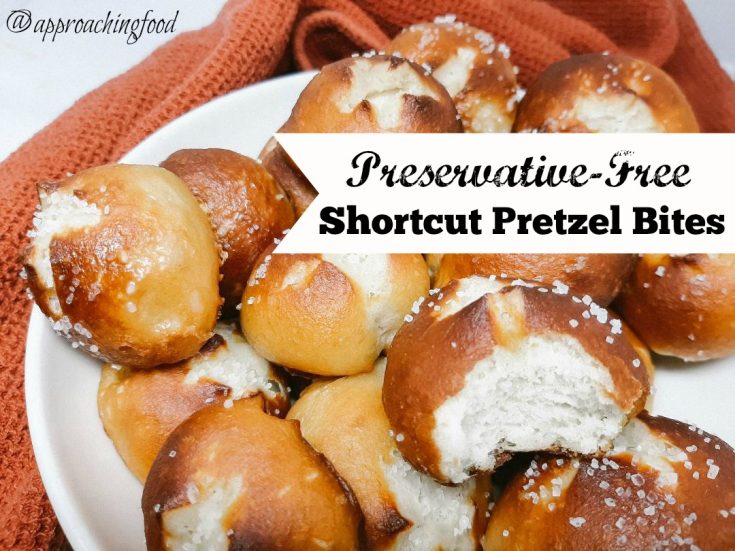 These short-cut pretzel bites use super-easy pizza dough as a base. Plus, they freeze and reheat well!
Total Time
1 hour
46 minutes
Ingredients
2 1/4 tsp (1 pkg) quick active dry yeast
1 c. warm water
2 1/2 c. flour
2 tbsp. olive oil (or veg. oil. You use what you've got!)
1 tsp. sugar
1 tsp. salt
5 c. water
1/3 c. baking soda
1 tbsp. butter, melted
1 tsp. large grain salt (aka pretzel salt)
Instructions
Dissolve yeast in 1 c. warm water. When the yeast looks bubbly (about 5 minutes), add rest of ingredients and mix until combined into a dough.

Place dough in an oiled bowl, cover, and let rise for an hour in a warm place.

Divide dough into 24 equal pieces, and roll them into balls.
Mix 5 c. water with the baking soda, and bring to a boil.
Place the dough balls into the boiling solution, and let cook for 90 seconds, making sure to turn them halfway through.
Place dough balls on a parchment paper lined cookie tray, use scissors to snip a cross in the top of each dough ball, and bake in a 400 degree oven for 16 minutes until golden and brown.
Remove buns to a cooling rack, and brush with melted butter. Immediately sprinkle the pretzel salt on top, and enjoy!!!
Notes
When letting the dough rise, I often heat my oven to 200 degrees Celsius, turn it off, and pop the dough in. Perfect temperature for rising dough!
Nutrition Information:
Yield:
24
Serving Size:
1 pretzel bite
Amount Per Serving:
Calories:

63
Total Fat:

2g
Saturated Fat:

0g
Trans Fat:

0g
Unsaturated Fat:

1g
Cholesterol:

1mg
Sodium:

1031mg
Carbohydrates:

10g
Fiber:

0g
Sugar:

0g
Protein:

2g
These Preservative-Free Shortcut Pretzel Bites are great dipped in cheese sauce, used as mini hamburger buns, or simply snacked on in front of the tv. Which is what I'll be doing tonight! Once my toddler is in bed, it's time for me to relax with some Netflix and a bowl of pretzel bites. Add a glass of wine and it's a cozy night in for me! How you do like to eat your fresh pretzel bites? Let us know in the comments!
Next Post: Either my Skor Brownies (de.ca.dent, yo!) or my Preservative-Free Shortcut Everything Bagels. Yes, I know, I'm heavy-handed with the 'preservative-free' term lately, but I'm trying to emphasize that aspect of my blog. Got to niche down! Also, preservative-free = healthier, and honestly, nothing tastes as good as being healthy does.