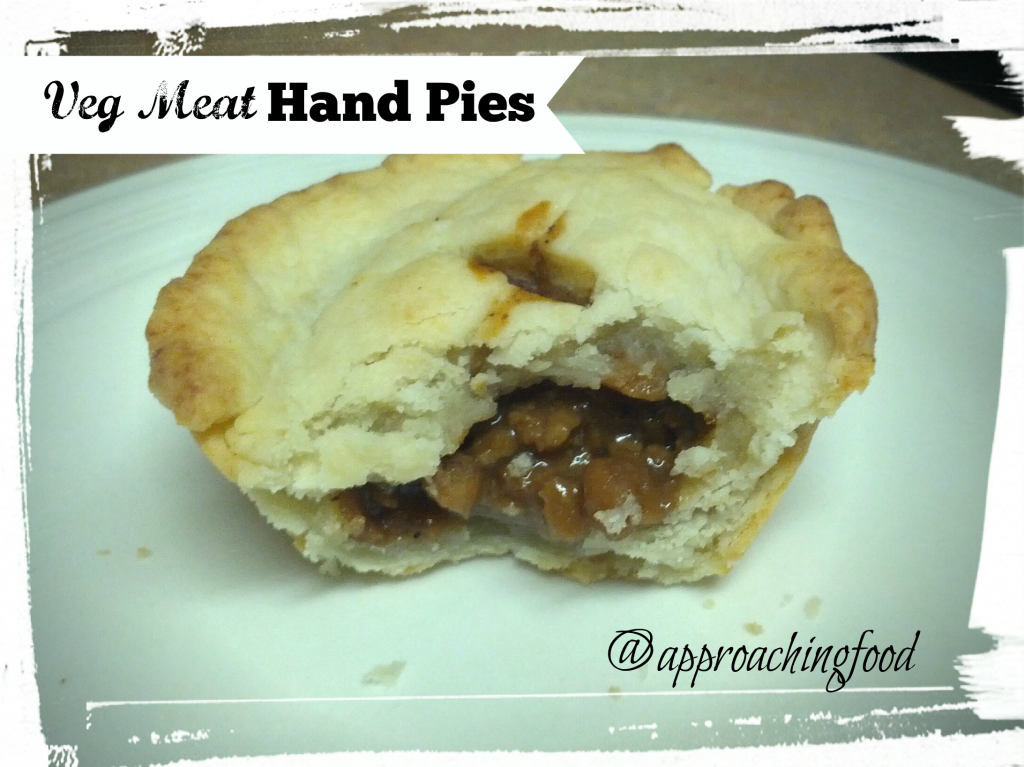 So. These meat pies are soooo good! Hot out of the oven, with a meaty, saucy filling, in a flaky, golden crust, or straight out of the fridge for a quick snack or lunch, they're tasty both ways!
The recipe makes 6 hand meat pies, or 1 full pie. If you make a standard pie as opposed to the hand-held ones, you'll use all the meat filling, but if you make the hand pies, you'll only use half the filling. With any leftover filling, stick the rest in the freezer for the next batch of pies! Or make twice the pie crust and end up with a dozen of these tasty hand pies! They freeze well, so you can stick them in the freezer for lunches, quick dinners, or those midnight snack cravings.
What I love about them is that you can switch them up easily. Got frozen veggies in the freezer? Add them in! Last night's leftovers? Add them too!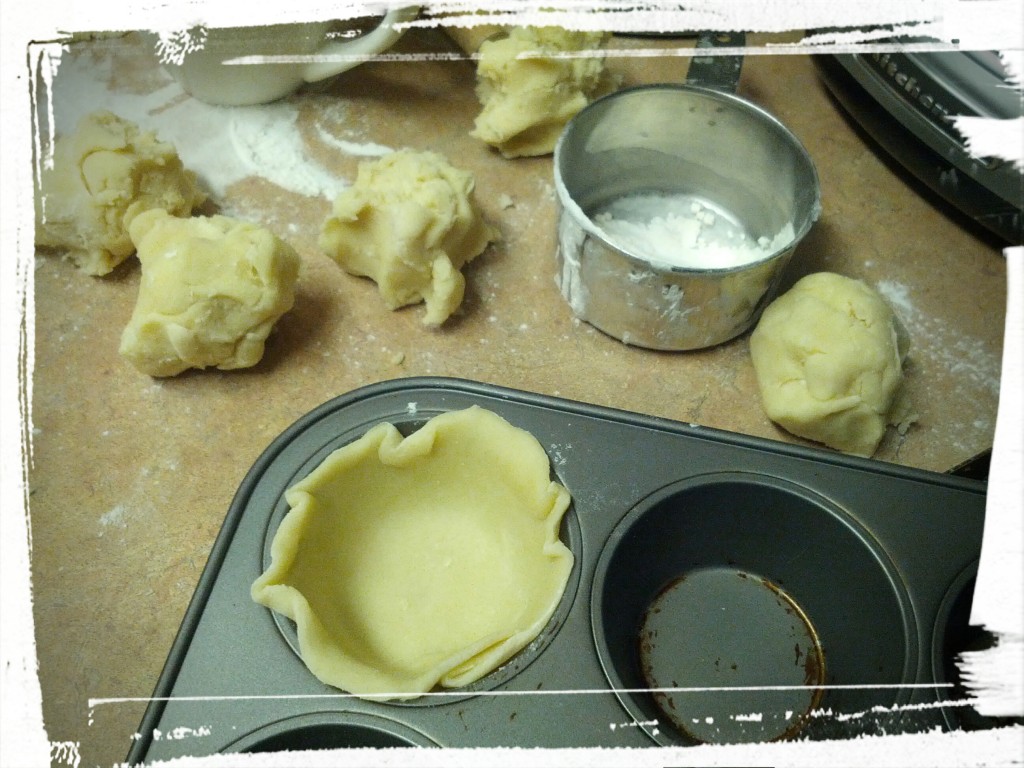 Are you wondering why there's vodka in the crust? Well, I explored that more in my Pie Crust Odyssey, but basically it's because it holds the dough together but will evaporate when baked, making the crust extra flaky.
I'm kind of cheating with this recipe, because I've posted about it before (although I used TVP then, so…maybe not cheating?), but the meat pies are just so good that I couldn't resist sharing them again! This is some seriously good pie.
Yield: 6 hand pies or 1 large pie
Meat Hand Pie with Vodka Crust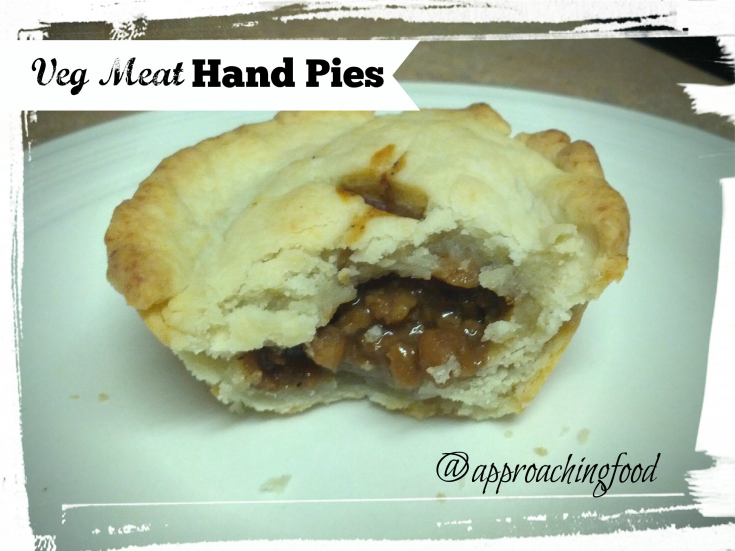 These meat-filled hand pies are a great alternative to preservative-filled frozen meat pies. That flaky crust? So yum!
Ingredients
1 package meat (I used Yves' Veggie Ground Round)
1 package (or homemade) gravy
Instructions
Make the gravy and mix with the meat. Set aside. 
Take the pie dough and cut (or tear) into 6 pieces.
Roll out each piece and use a large mug to cut out a circle. Take that circle and roll it out slightly.
Push that circle of dough into an ungreased muffin pan, and fill it 2/3rds full with the meat mixture. 
Take the scraps from that 1/6th of pie dough, and smoosh into a circle.  
Press that circle of dough onto the meat-filled dough into the muffin pan, crimping the edges of the base and top together (it doesn't have to be perfect).
Cut a slit into the top. 
Bake in a 450 degree oven until the tops are golden brown. Let cool slightly before removing from pan. Enjoy hot or cold!
Nutrition Information:
Yield:
6
Serving Size:
1 hand pie
Amount Per Serving:
Calories:

209
Total Fat:

11g
Saturated Fat:

4g
Trans Fat:

0g
Unsaturated Fat:

6g
Cholesterol:

5mg
Sodium:

204mg
Carbohydrates:

22g
Fiber:

1g
Sugar:

1g
Protein:

3g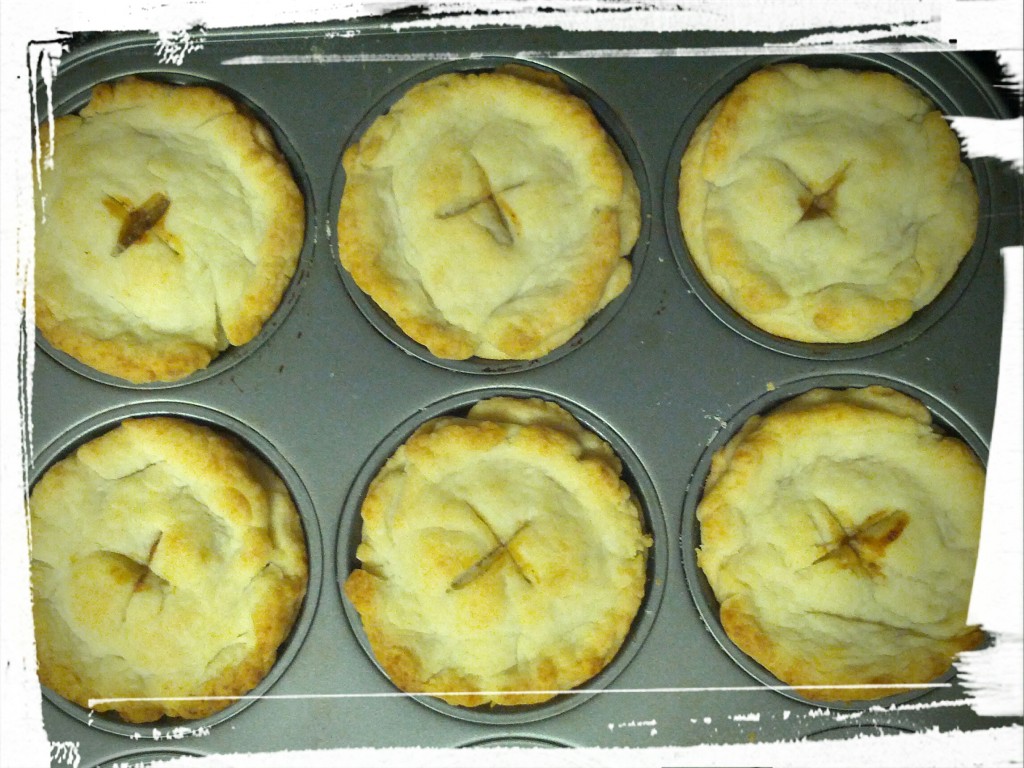 I took one to work the next day and a colleague as well as the office cat were interested in them. I did not share — that cat also has IBS issues (it's like we're twins! *grin*) and is on a strict diet. So I had to eat the meat pie myself. With salad. Because that's what's for lunch.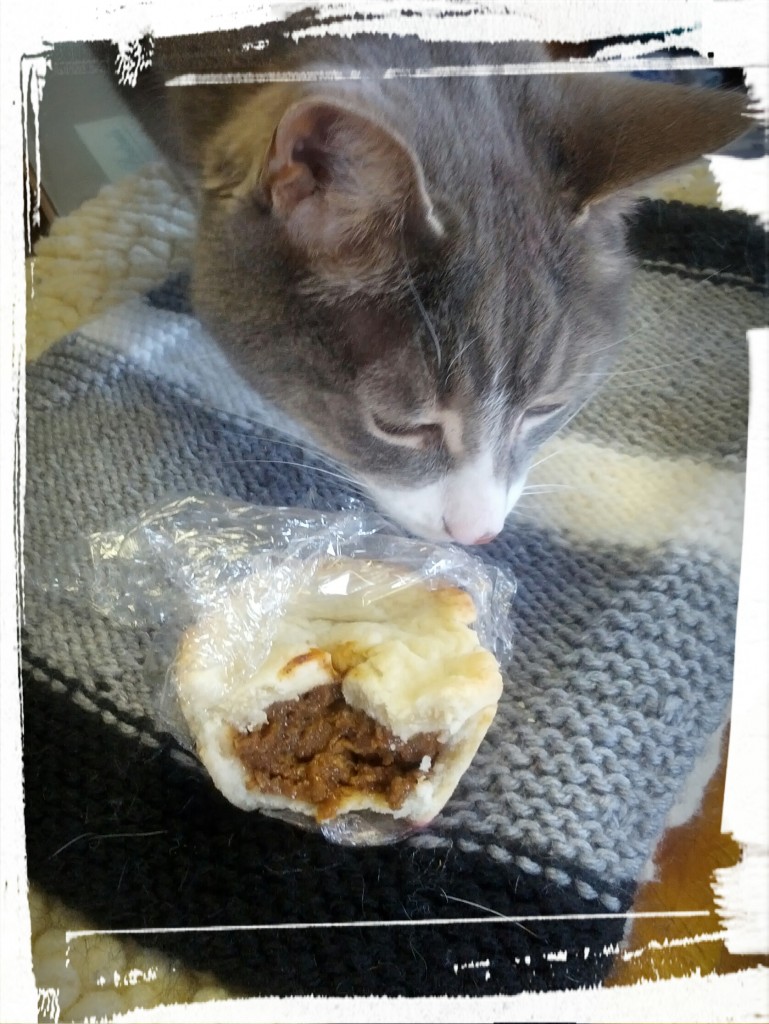 Next Post: Ham and Parmesan Crepes and my Grandmother's Cooking.