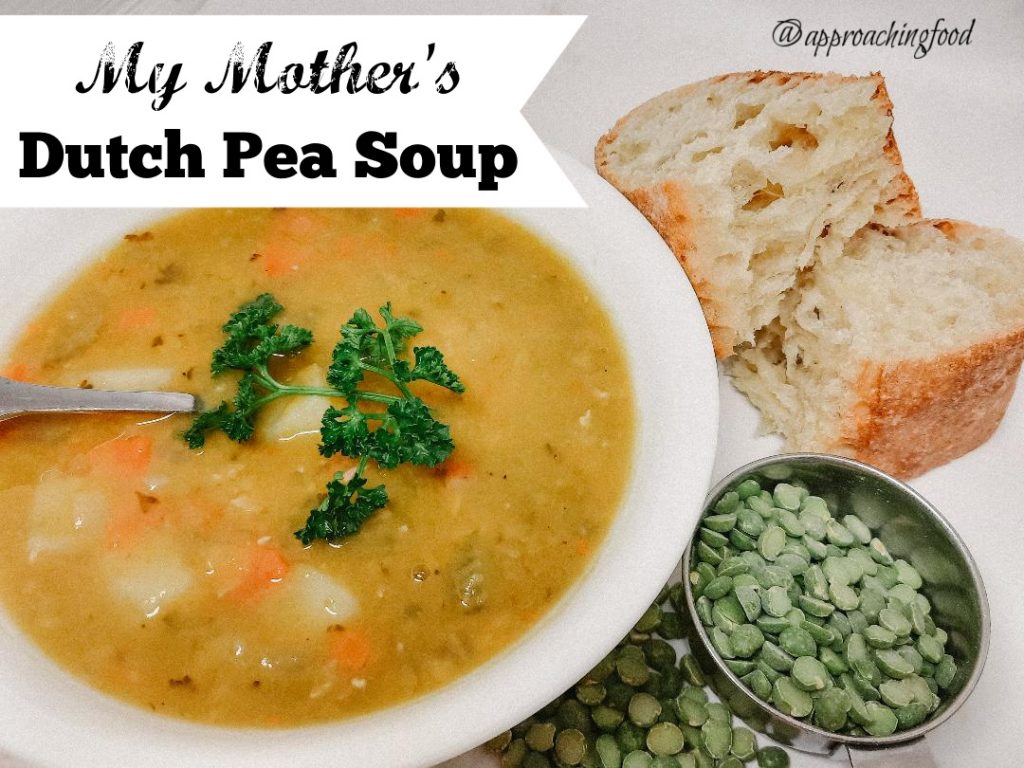 It's a bitterly cold winter day as I write this, the sort of day one wants to warm up with a thick and hearty soup. Well! I have the BEST soup recipe for days like this! My mother's Dutch Pea Soup, thick and hearty, filling and tasty, full of flavour and even better the next day. My mum says that it's basically the Dutch national dish, and she's not wrong!
Best served with thick and crusty rustic-style bread, this soup is SERIOUSLY better the next day! Remember that old song, "Pease porridge hot, pease porridge cold, pease porride in the pot nine days old!" Well, I wouldn't leave it in the pot for 9 days, but I do think a day or two actually improves the flavour! Just add a little water to thin it out, heat, and enjoy!
And bonus, this is a great food for babies! It's basically a cross between a textured and a pureed food, and with soft chunks of potato and carrot to nom on. I froze a batch in ice cube trays and am defrosting it as needed to serve to my 9 month old.
Let's get to making some!
Yield: 6 servings
My Mother's Dutch Pea Soup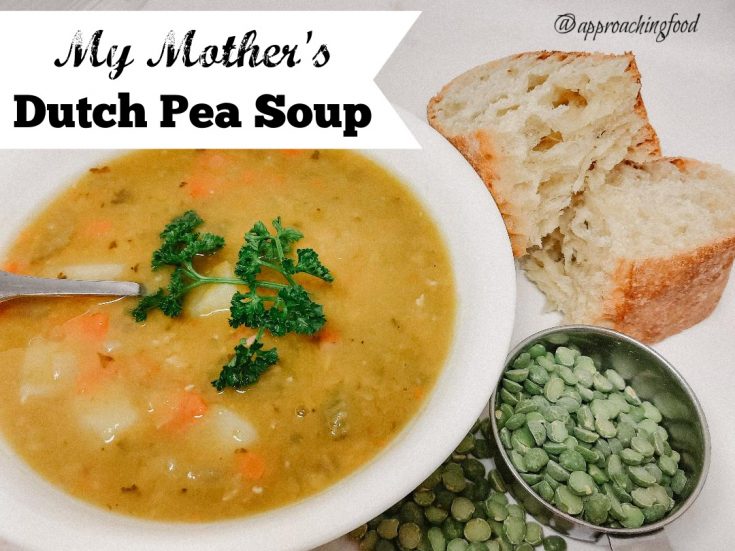 This hearty soup will warm you up from the inside, plus it freezes and reheats well! A winter must-make!
Total Time
3 hours
30 minutes
Ingredients
2 5/8 c. dried green peas
3/4 c. celery, chopped
3/4 c. carrots, chopped
3/4 c. onion, chopped
3/8 c. parsley or celery leaves, chopped
1 1/2 potato, cut into chunks
2 tsp. salt
pepper to taste
Instructions
Bring 12 c. of water to boil.
Add all ingredients as soon as the water just starts to bubble (stir every now and then).
Put on low, and simmer on low for about 3 hours.
Check and stir frequently!
Notes
In Holland, this soup is often served with sliced sausage simmered with it, or chopped ham or bacon. When I was a meat-eater, I loved it with meat! But as a vegetarian, I love it as it is!
You can also mix up the peas. My mum suggests half yellow and half green peas. I say, use whatever you have!
Nutrition Information:
Yield:
6
Serving Size:
1 bowl
Amount Per Serving:
Calories:

126
Total Fat:

0g
Saturated Fat:

0g
Trans Fat:

0g
Unsaturated Fat:

0g
Cholesterol:

0mg
Sodium:

819mg
Carbohydrates:

26g
Fiber:

6g
Sugar:

7g
Protein:

6g
This cozy dish is perfect for wintry days, freezes well, and gets better with age! Studded with chunks of potato and carrot, flavoured with celery, and hearty enough to stick to your ribs on a bitterly cold day, my mother's Dutch Pea Soup is a must-make!
Next Post: You know how I've promised Spanakopita Hot Pockets for a while now? Well, I actually bought the ingredients recently. Recipe coming soon!