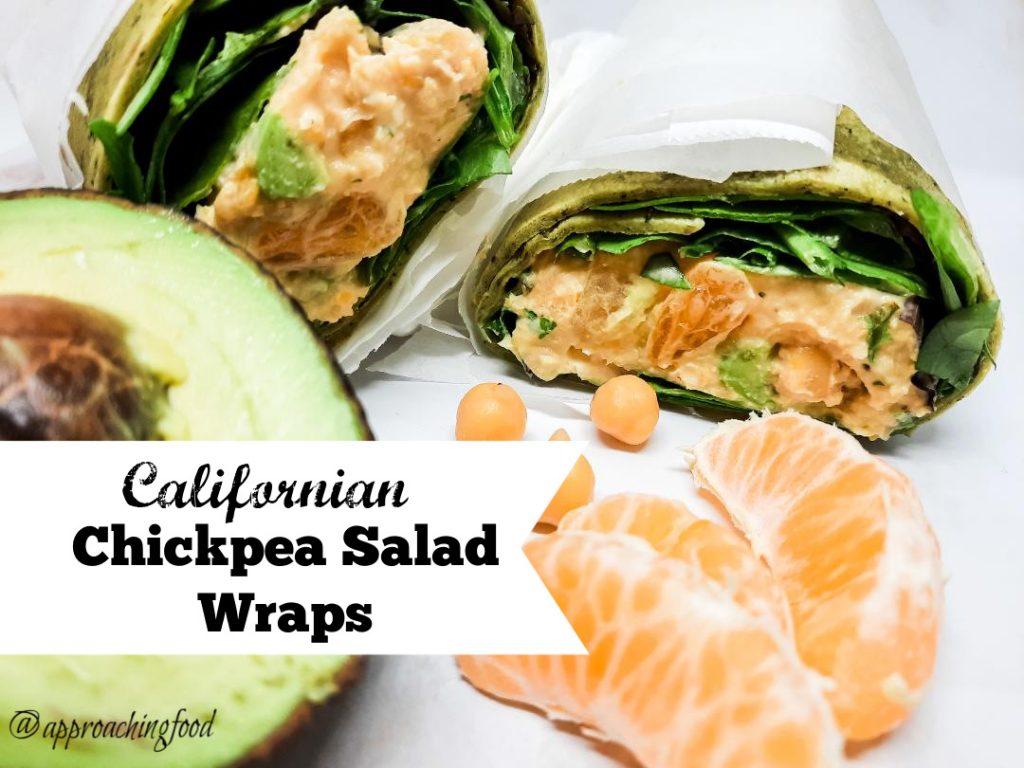 Welp, it's been a hot minute since I posted (erm, nearly a year? What?!). What have I been doing? Motherhood! Albeit in a pandemic. I've been thinking about blogging, and developing recipes, and taking photos, but just never seemed to have a chance to sit down and write up a post, let alone do all the associated social media and SEO optimization and such. If you follow me on the 'gram, you'll have seen some content, a lot of it related to kid meals and school lunches, although of course there is yummy homebaking (fresh breads! cooooookiiiiieeees! easy, healthy soups!) thrown in there too. It's all about balance, isn't it? Whether it's motherhood or food or even blogging. And I do plan to get back to a more regular blogging schedule. Speaking of which, let's get our recipe on!
These fresh and healthy Californian Chickpea Salad Wraps are soooo tasty, but still super-easy to throw together. Juicy mandarin segments, creamy avocado, crunchy protein-filled chick-pea salad, fresh greens, all wrapped up in a floury tortilla…I've made this recipe on repeat for the past year! It's easy to hold in one hand while 'encouraging' a child to eat, plus it's just so fresh, tasty, healthy, and YUMMY (key factor, obs), that it feels like a treat to eat.
And did I mention that it comes together in minutes? Even faster and easier than my Shortcut Spanokopita Hand Pies (another quick and yummy lunch idea). So what are we waiting for? Let's get to the recipe!
Yield: 4 wraps
Californian Chickpea Salad Wraps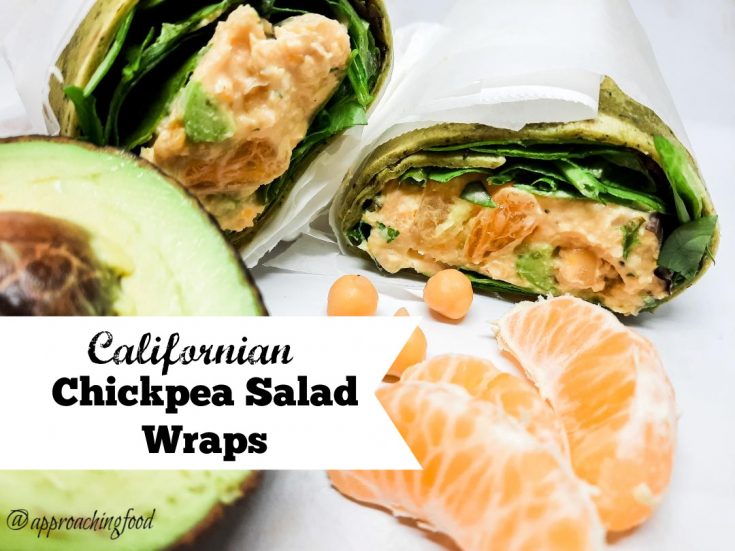 Salad in a wrap, these Californian Chickpea Salad Wraps pack a hefty greens and protein punch, but with the brightness of mandarins and the creaminess of avocado!
Ingredients
1 can chickpeas
1/2 c. mayonnaise
2 tbsp. nutritional yeast
salt and pepper to taste
4 spinach tortillas
1 avocado, sliced
1/2 can mandarin segments
2 c. micro-greens
Instructions
In a blender, blend chickpeas, mayo, nutritional yeast, and salt and pepper, until mixture is chunky (very quickly done).
Layer the ingredients: spinach tortilla, microgreens, chickpea salad, sliced avocado, and mandarin segments.
Roll up or wrap up burrito-style, and enjoy!
Notes
While I used spinach wraps, you can also just use regular white flour ones. And although I mention microgreens in the recipe, you can also use spinach or any other green you have available. As for mandarins, you can use canned ones or fresh ones! It's a very flexible recipe!
These fresh and easy Californian Chickpea Salad Wraps are a bright lunch spot on a dreary winter's day, or a vibrant way to feed yourself on a springy, summery day. Bright with citrus, creamy with avocado, full of greens, and crunchy with protein-packed chickpea salad, it's basically a salad in handheld form, wrapped up in a tortilla. Yum-city!
Next Post: I do love baking, and is there anything that smells better than fresh bread? But patience and time, I have not. So, a shortcut to the rescue! It's Jalapeno and Cheddar Bagels! OMG so good!