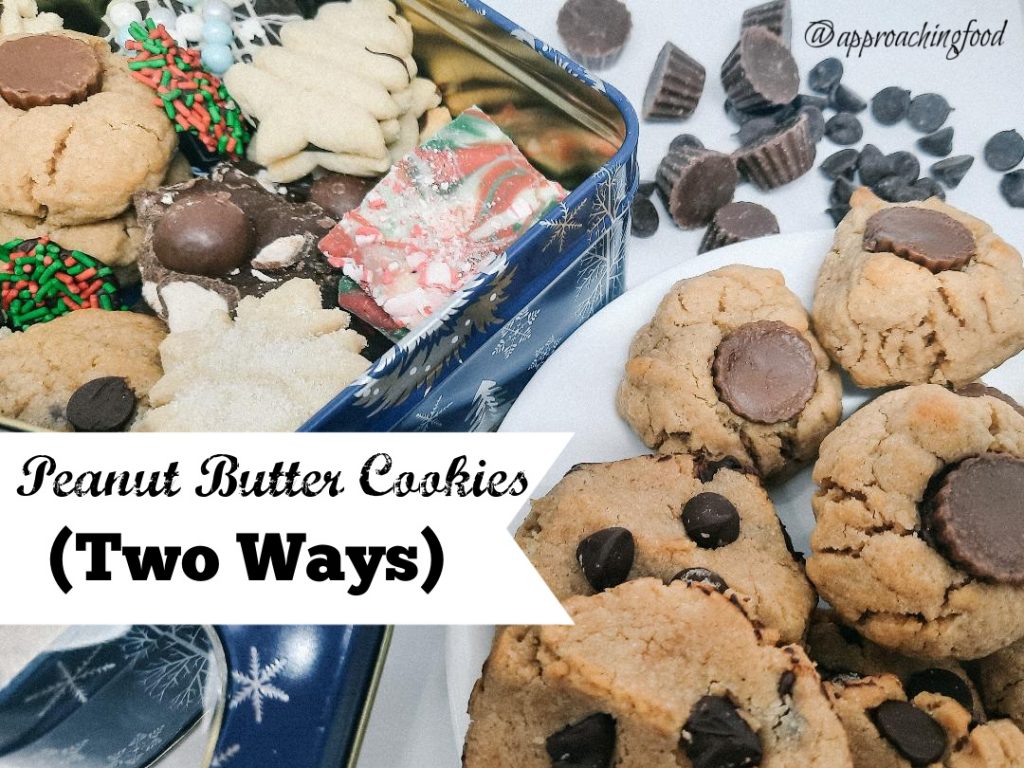 I'm a confirmed chocoholic as I've previously stated, but occasionally I'll throw in some nutrition and/or other flavours, such as peanut butter. And with two kids I'm all about saving time, so when I came up with this recipe to make peanut butter cookies that used one dough but made two different types of cookies? Oh yeah, baby! These golden, crumbly, protein-packed Chocolate Peanut Butter Cookies can be made with chocolate chips for your classic pairing, or can have mini pb cups in the centres for an extra dose of peanut butter. Either way, COOKIES! *makes happy Cookie Monster noises*
Every year around the winter holidays, I put together cookie tins to hand out to friends and neighbours. This year I gave tins to my parents' neighbours as well, to thank them for being such good neighbours to my getting-elderly parents. They help shovel and mow, and it's so appreciated. So delicious cookie (and candy!) filled tins were sent their way, packed full of yummy things like my candy cane bark, holiday pastilles, and these yummy, buttery, crumbly peanut butter and chocolate cookies!
Want to make some yourself? I highly recommend it!
Yield: 24
Chocolate Peanut Butter Cookies, Two Ways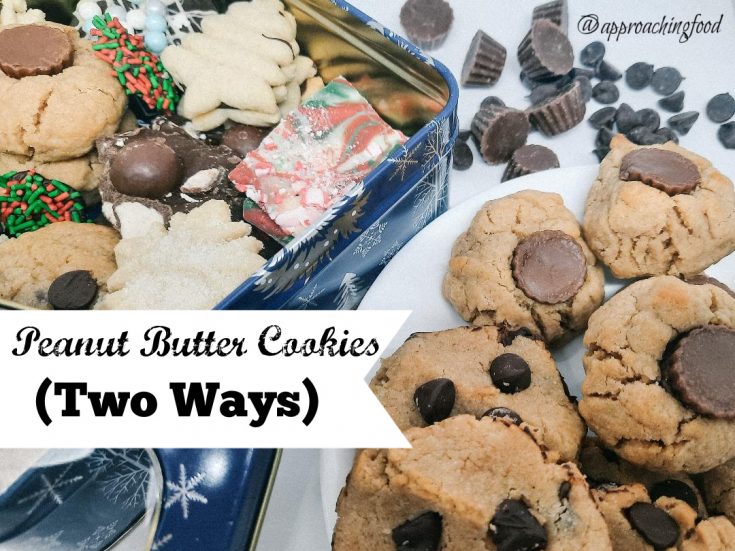 Use this delicious peanut butter cookie dough to make TWO types of cookies!
Ingredients
1/2 c. sugar
1 c. peanut butter
1/2 tsp. baking powder
1 egg
1 c. flour
splash of vanilla extract
1/2 c. chocolate chips
12 mini peanut butter cups
Instructions
Mix all ingredients except for chocolate chips and chocolate pb cups together.
Divide dough in half and add chocolate chips to one half.
On a parchment paper lined cookie sheet, place rolled 12 balls of chocolate chip peanut butter dough, and flatten with fingers or a fork.
On another parchment paper lined cookie sheet, place 12 balls of plain peanut butter dough.
Bake chocolate chip cookies for 10 minutes in a preheated 375 degree oven (or until bottom of cookie is golden brown), then remove from tray and let cool on a cooling rack.
Bake plain pb cookies for 8 minutes, remove from oven and push a mini pb cup into each cookie. Return to oven for 2 more minutes, or until bottom of cookie is golden brown. Remove from tray and let cool on a cooling rack.
Bam! Two types of cookies, done!
Nutrition Information:
Yield:
24
Serving Size:
1
Amount Per Serving:
Calories:

129
Total Fat:

7g
Saturated Fat:

2g
Trans Fat:

0g
Unsaturated Fat:

4g
Cholesterol:

8mg
Sodium:

71mg
Carbohydrates:

14g
Fiber:

1g
Sugar:

8g
Protein:

3g
The cookies you make will look different, depending on the type of peanut butter that you use. If you use natural peanut butter, the surfaces will look a little cracked, as mine do. If you use smooth and creamy peanut butter, the type with added sugar and such, the surface will be smoother. I try to eat as preservative-free as possible, so I use the all-natural type, but you do you, boo!
These buttery, crumbly Chocolate Peanut Butter Cookies are *chefs kiss* good with a glass of milk (dairy or otherwise). And with the holidays in full swing, save your energy and make two types of cookies with one type of dough! Peanut butter and chocolate is such a classic pairing — you can't go wrong!
Next Post: Spanakopita Hand Pies — I'm a gonna get this recipe to you, I will, I will! (Eventually. Being a mom of two in a pandemic is busier than I expected, not gonna lie.)