Growing up, my mother always cooked us certain family favourites, and her mother's German Meatball recipe is definitely a favourite. These super-sized meatballs are fried in butter and then simmered,. They're flavourful yet tender, and served in a European-style meat gravy. My grandmother's German Meatballs are amazing served with potatoes and a vegetable, for a typical meat-potato-and-veg dinner, or chilled, sliced, and served on fresh, homemade bread for a super-yummy meatball sandwich. The yummy flavour is due to a secret and unexpected ingredient!
I loved the meat version that I grew up eating, but when I became a vegetarian I said good-bye to them and thought it was a flavour long-lost to me. But you know how plant-based 'meat' is having a moment now? Well, I found a package of plant-based ground beef and suddenly *craved* that familiar childhood flavour. I know, I know — if you're a carnivore, you'll consider plant-based ground beef to be an oxy-moron. My darling DH is a carnivore of cattle-farming heritage, so trust me, I know! But that's the genius of this recipe; you can use ground beef if you eat meat, or simply replace the meat 1:1 for plant-based ground 'beef' (or 'bif', as I jokingly call it). Either way, the recipe works!
When you want a good, solid comfort food meal, but nothing too laborious, this is the meal that you want! Stick a few potatoes in the microwave, and steam a few green beans (or make these Pan-fried Lemony Green Beans!) while the meatballs are cooking, and an old-fashioned dinner is ready in 45 minutes.
Oh, and that secret ingredient? A pinch of nutmeg. I know, weird, right? But it totally works! You can't taste it in the dish but somehow it just makes the meatballs that much tastier.
Now, let's get to making these behemoths!
Yield: 6 large meatballs
My Grandmother's German Meatballs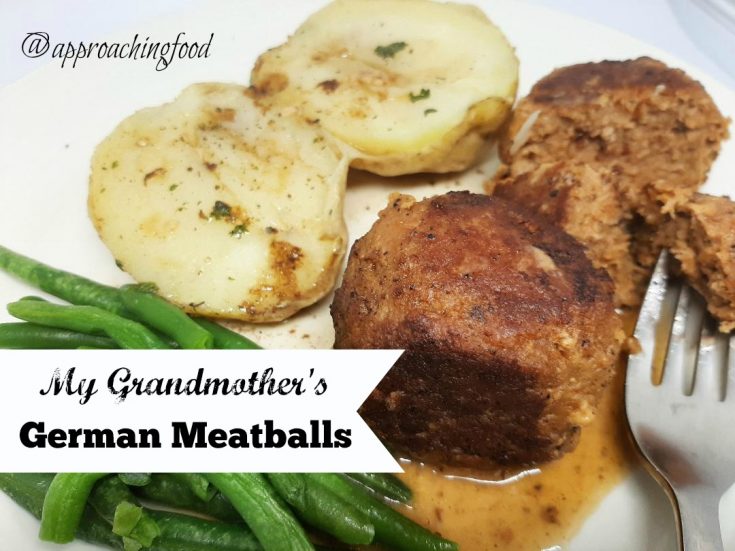 These flavourful yet tender meatballs are made the same way my grandmother did, fried then simmered, and served with an au jus gravy. Easier than you think, and oh so yummy!
Ingredients
1 lb (500 g) ground beef (I used plant-based ground 'beef')
1 egg
1/4 tsp. salt
1/4 tsp. black pepper
1/4 tsp. ground nutmeg
1/2 c. breadcrumbs
2 tbsp. salted butter
Instructions
Mix all the ingredients together (except for the butter) until just mixed.
Divide meat mixture into 6, and roll into large balls using your hands.
Melt butter in a saucepan and fry the meatballs over a medium-high heat until dark brown on all sides (about 15 minutes).
Add 1/2 c. water to the pan, reduce the heat to medium-low, cover with a lid, and simmer for 10 minutes.
Depending on how much au jus gravy you like, you can add another 1/2 c. of water to the saucepan, and simmer for another 10 minutes.
The meatballs should be ready now; if you're using real meat, confirm that they are no longer pink on the inside but are thoroughly cooked, and serve!
Notes
I used freshly homemade breadcrumbs (I just popped some fresh bread in a blender for a few seconds), but you could use storebought. Whatever you have is fine!
Nutrition Information:
Yield:
6
Serving Size:
1 meatball
Amount Per Serving:
Calories:

123
Total Fat:

8g
Saturated Fat:

4g
Trans Fat:

0g
Unsaturated Fat:

3g
Cholesterol:

54mg
Sodium:

214mg
Carbohydrates:

7g
Fiber:

0g
Sugar:

1g
Protein:

6g
While I made the recipe the way my mom always did, making large meatballs that are essentially a serving each, you could make mini meatballs if that's your thing. You do you!
And again, while I served these with the European-style meat gravy (technically an 'au jus' gravy), you could easily thicken up the gravy with some flour, for a brown gravy type of sauce. It's all about personal preference!
Let me know in the comments which type of gravy you serve with your meatballs! And if you make these meatballs, be sure to let me know what you think of my grandmother's 100-year-old recipe!
Next Post: Likely my Brunch-Worthy Cinnamon Roll Bread. I need more of it in my life!