I love chocolate ice cream, especially now that summer is here and the days are occasionally sweltering. But every now and then I like to switch up my ice cream routine and make a new flavour. I happily admit to being a chocoholic, which is why my Gluten-Free Chunk o' Brownie Ice Cream is a favourite, but I also love a good classic strawberry ice cream, such as my No Churn Strawberry Ice Cream. Still, sometime you want to jazz up the usual, which is how I came up with this Chocolate Peanut Butter Swirl Ice Cream!
Rich and creamy, this ice cream gets its chocolate flavour from Dutch processed cocoa (which makes it less acidic with more mellow undertones). The actual ice cream base is whipped cream mixed with condensed milk. The swirls of peanut buttery goodness that melt in your mouth? You get those by drizzling in melted peanut butter between layers of chocolate ice cream before freezing the whole concoction.
You will never eat a more deliciously yet authentically decadent chocolate peanut butter ice cream than this one, and yet it's only made with 4 ingredients! I know, it's hard to believe, but this luscious ice cream is made from only a few items: whipping cream, condensed milk, peanut butter, and cocoa. It's pure, baby!
You know how when you buy a cheap ice cream bar, you can leave it out in the sun and it doesn't really melt and just sort of becomes like warm foam between two cookies? Yeah, that's the stabilizers in ice cream. But if you make this recipe for Chocolate Peanut Butter Swirl Ice Cream, you get the real thing: ice cream that tastes like you churned it on your grandmother's back porch after Sunday dinner, with cream from the cow out in the pasture. In other words, it's the real deal! No stabilizers, preservatives, artificial colours or flavours, or anything but real food.
This recipe will make 5 servings of a healthy serving size of 1/2 c. each, which might seem a bit small but trust me, it's rich enough that a single serving is just the right size. I mean, you *could* eat the entire batch in one evening like I did (#trueconfession), but I don't recommend it. Learn from my gluttony and pace yourself; you'll feel healthier for it. In my mind, a single serving of this ice cream is practically healthy! I mean, only four ingredients? It's so pure! It's so healthy! It's practically a vegetable! Ok, so maybe not, but I definitely feel better about eating this ice cream than one that will not melt in the sun. That's just not natural!
But enough blither-blather, let's get to the ice cream!
Yield: 4 servings
Preservative-Free Chocolate Peanut Butter Swirl Ice Cream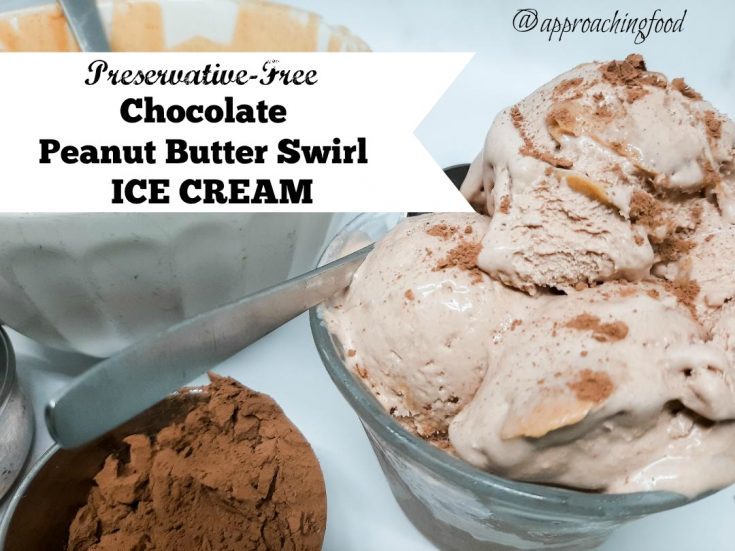 This rich and creamy chocolate ice cream has real peanut butter swirled throughout it, but is only made from four ingredients. Pure and authentic never tasted so good!
Ingredients
1 c. whipping cream
1/2 c. condensed milk
1/4 c. peanut butter
1 tbsp. cocoa (Dutch-processed is best)
Instructions
Whip cream with cocoa until stiff peaks form (using a bowl and beaters that were in the freezer for 15 minutes will speed this up significantly).
Fold in condensed milk.
Churn in an ice cream maker until it is the consistency of soft serve (or just skip this step entirely; it will just take longer to freeze).
Melt peanut butter in the microwave until melted but not hot (you don't want to melt or cook the ice cream base).
Layer ice cream base with melted peanut butter in a loaf pan, using a fork to drizzle peanut butter between the layers of ice cream base.
Freeze for 2 hours or until scoopable consistency. Enjoy!
Nutrition Information:
Yield:
5
Serving Size:
1/2 c.
Amount Per Serving:
Calories:

340
Total Fat:

26g
Saturated Fat:

14g
Trans Fat:

1g
Unsaturated Fat:

10g
Cholesterol:

64mg
Sodium:

113mg
Carbohydrates:

22g
Fiber:

1g
Sugar:

19g
Protein:

7g
While I made this Preservative-Free Chocolate Peanut Butter Swirl Ice Cream with an ice cream machine, you can easily make it a no churn recipe. Once you've mixed up the whipped cream and condensed milk, layer that mixture with the peanut butter drizzle in a loaf pan, and freeze. That's it! Having an ice cream machine just speeds up the process. And I'm all about eating ice cream asap!
Next Post: Easy Vegan Banana Bread Muffins? Chocolate Nice Cream? Garlic, Ginger, and Sesame Broccoli over Riced Cauliflower? Not sure, but those are all recipes that will be coming up soon!