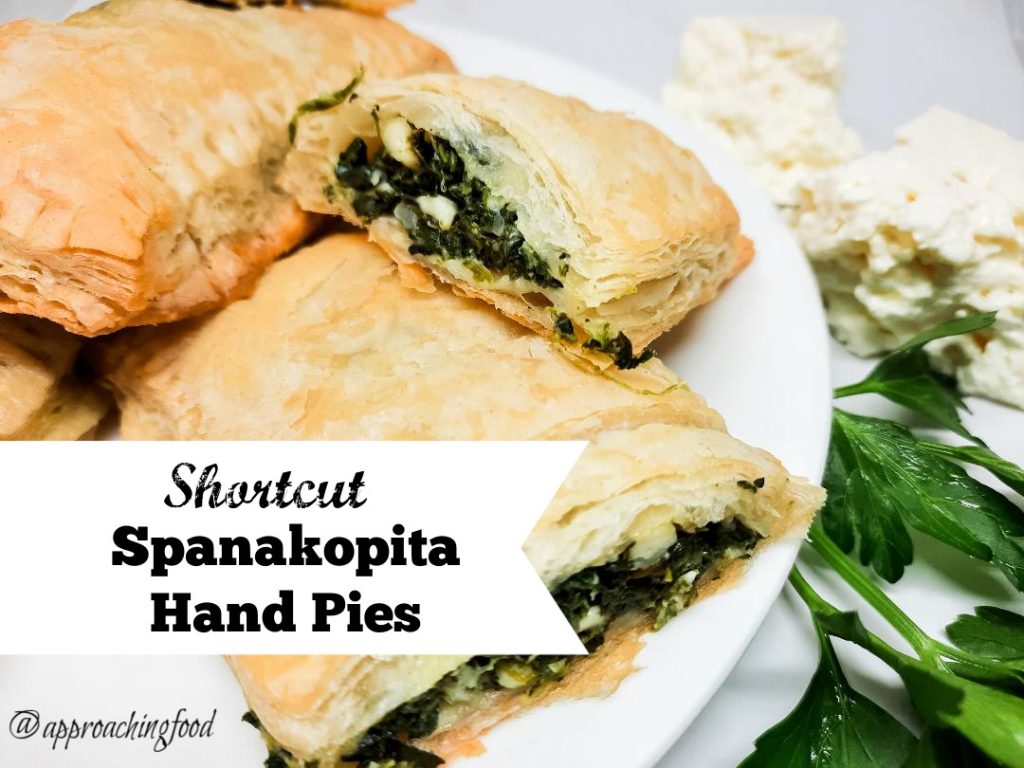 Now that I'm a SAHM of two, lunch is usually a quick meal for me. I just want to get both kids fed without the kitchen looking like a disaster zone, and if I can eat something too, in between plating the toddler's lunch and spoon-feeding the baby, then bonus. But occasionally I want a proper lunch, one that's quick and easy, but also extremely delicious! That's where these Shortcut Spanakopita Hand Pies come in! Golden puff pastry encases the seasoned spinach and onion filling, flecked with hearty chunks of feta cheese. Easy to throw together, easy to eat with one hand, and just SO YUMMY!
Light and flaky yet also hearty, this pastry melds the ease of hand pies (think Hot Pockets, but pastry), with the deliciousness of traditional layered spanakopita. Seriously easy to make! I use store-bought puff pastry, because while I'm all about preservative-free and homemade food, I'm also in a stage of life where I'm not going to make puff pastry from scratch (see this easy Lemon Curd Turnover recipe!); I'd rather play with my daughters. Balance, amirite?
Defrost the spinach, add fried onion, crumbled feta, and a few other seasonings, roll out the pastry, put in the filling, seal, and bake. Super easy, and you've got lunch set for a few days! My mother saw me throw these together, and was impressed with the speed at which they came together, even though my 3 y.o. was "helping" (i.e. making handprints in the dough) while my baby crawled at my feet.
Want to make some yourself? Let's!
Yield: 8 hand pies
Shortcut Spanakopita Hand Pies
These flaky pastries are basically spanakopita in handheld pie form! Easy to make for a delicious light meal!
Ingredients
1 small onion, chopped
1 clove garlic, minced
1/4 c. parsley, chopped
2 tbsp. olive oil
1 egg
1/2 c. crumbled feta
1 frozen pkg. of spinach, defrosted
salt and pepper to taste
1 pkg. (450 g.) all-butter puff pastry, defrosted
Instructions
Heat 1 tbsp. of oil in a frying pan, and fry onion and garlic until translucent and fragrant.
Toss in a bowl with all remaining ingredients (except for 1 tbsp. oil and the puff pastry), and mix.
Cut pastry in half and roll each half out into a lasagna pan sized rectangle.
Cut each rectangle into 8 small rectangles.
Put 1/8th of filling in centre of 8 rectangles.
Dab the edges with water, then place another rectangle on the filling, and seal with a fork.
Bake in a preheated 425 degree oven for 15 minutes, then remove to brush the tops with the remaining oil, and bake for another 10-15 minutes.
Cool, and enjoy!
Nutrition Information:
Yield:
8 hand pies
Serving Size:
1
Amount Per Serving:
Calories:

106
Total Fat:

9g
Saturated Fat:

3g
Trans Fat:

0g
Unsaturated Fat:

5g
Cholesterol:

35mg
Sodium:

169mg
Carbohydrates:

4g
Fiber:

1g
Sugar:

1g
Protein:

3g
Want to be a bit more elegant? Serve this flaky pastry with a pretty side salad on some nice china, and you've got an elegant yet light luncheon meal to serve guests. If you wanted, you could even roll the dough and filling into pastry roll-ups, as opposed to making a hand-held pie. Just spread the filling on the rolled out pastry, roll up, slice, and bake! Stylish presentation — and frankly, even easier to do than hand pies!
Flaky and buttery, yet hearty and filling, these Shortcut Spanakopita Hand Pies are the ideal lunch. A seasoned feta and spinach filling wrapped in layers of light pastry make for a pretty presentation and a yummy meal!
Next Post: I've got another quick and easy yet delicious lunch for you — Californian Chickpea Salad Wraps! If tuna salad was vegetarian and went to California, this is what it would be!