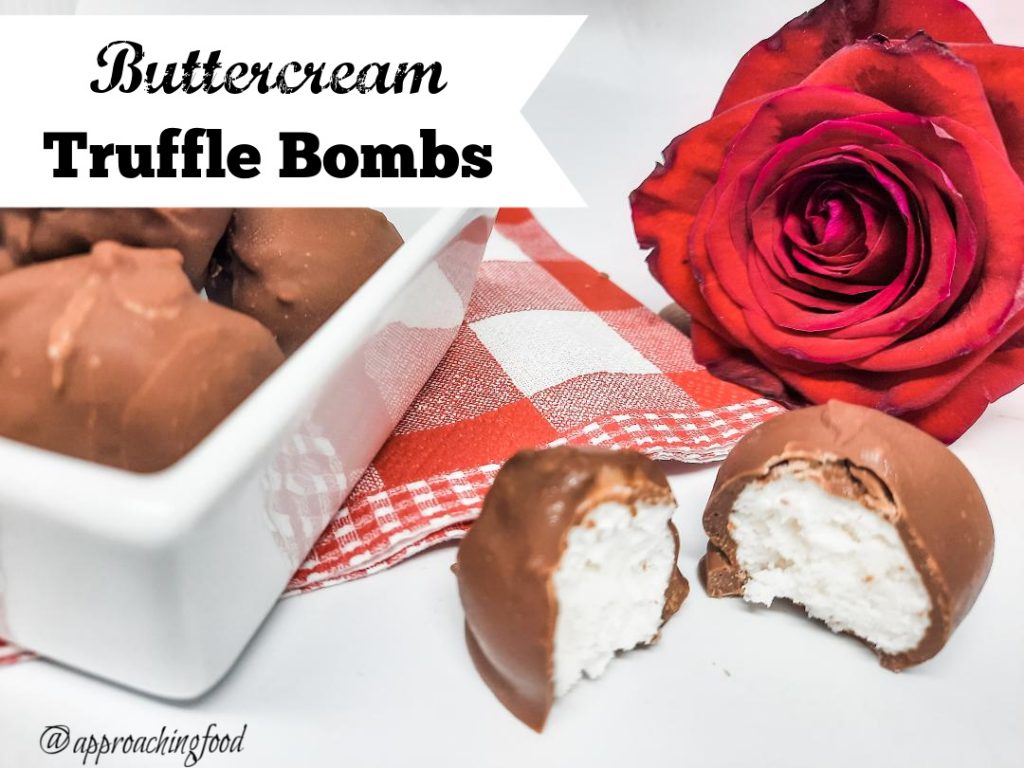 It was Valentine's Day yesterday and I made these sweet little Buttercream Truffle Bombs for my family. The truffles are little bites of vanilla-infused buttercream enrobed in milk chocolate, and are just perfect for a little bite of homemade confectionary to go with a morning coffee (or afternoon snack or dessert or evening snack or midnight snack or whenever the urge strikes). These little morsels seriously melt in your mouth, and it's hard to stop at just one as they're just so more-ish!
As fancy as these Buttercream Truffle Bombs look, they're actually super-easy to make! Any newbie cook can make these, and even better, they will use up those random spoonfuls of buttercream icing that you have left when icing a cake or decorating cupcakes. Being frugally inclined (I reallllly dislike wasting food), I usually just freeze any leftover buttercream, and then toss it into the next batch and mix it all in. But I actually prefer making these truffles! Preservative-free candy CAN be easy to make!
Bonus, they can be any flavour of buttercream! Chocolate, strawberry, vanilla…the possibilities are as endless as your imagination.
Yield: 12 truffles
Buttercream Truffle Bombs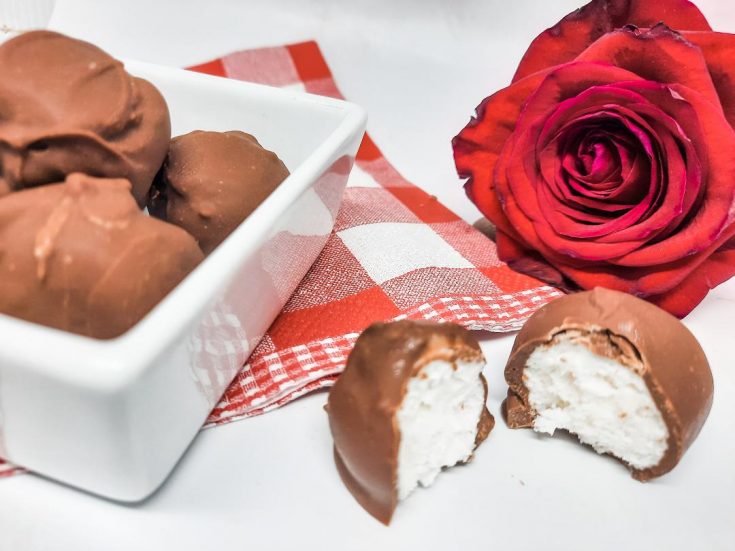 These incredibly easy truffles are made of melt-in-your-mouth homemade buttercream and covered in melted chocolate, for a sweet dessert sure to impress!
Additional Time
20 minutes
Ingredients
1 c. chocolate melting wafers
Instructions
1. On a parchment paper lined cookie tray, pipe buttercream icing into little round blobs, and place in freezer to harden for 10 minutes.
2. Once slightly hardened, roll the buttercream into round globes, and return to freezer.
3. Melt chocolate wafers in a cup in the microwave, stirring every 30 seconds, until melted. Let cool slightly.
4. Once cool, dip the buttercream balls into the chocolate and return to the parchment paper lined tray. The chocolate coating should harden almost immediately.
5. Keep truffles in freezer if you prefer firmer truffles, or in the fridge for slightly softer truffles. Enjoy!
Notes
I used an official candy dipping tool to dip the buttercream balls into the melted chocolate, but you could also use a toothpick or even a fork.
To up the presentation factor, you can drizzle contrasting chocolate (ex. white chocolate) on top, and add coloured decorating sugar, sprinkles, or turbinado sugar on top. To REALLY up the presentation, you could even dab a bit of gold-leaf on top!
Nutrition Information:
Yield:
10 truffles
Serving Size:
1 truffles
Amount Per Serving:
Calories:

104
Total Fat:

6g
Saturated Fat:

3g
Trans Fat:

0g
Unsaturated Fat:

2g
Cholesterol:

4mg
Sodium:

25mg
Carbohydrates:

12g
Fiber:

1g
Sugar:

10g
Protein:

1g
I made these Buttercream Truffle Bombs for my family, but what to do if your sweetie isn't a sweets person? Make a rose out of…meat! It's SO easy! If you follow me on IG (@ApproachingFood), you'll have seen me post a pic in my stories of the super-fancy yet super-easy-to-make salami rose that I made for my husband. You just take a cup and fold a piece of salami in an upside down taco shape over the edge. Overlap all around the cup edge, and then repeat. Turn upside down and remove the cup. Voila — a keto rose! My husband loved his rose! He doesn't have a sweet tooth, so when my daughter and I made chocolate-dipped strawberries to gift to him…they were really to eat ourselves after he dutifully admired our daughter's handiwork. Which…win-win!
I highly recommend trying out these super-easy Buttercream Truffle Bombs! They take only minutes to make, have a significant wow factor (who else do you know who makes their own chocolates?), and are melt-in-your-mouth delicious!
Next Post: I bought the ingredients to make Spanakopita Hot Pockets, but I also have a super-yummy recipe for Californian Mock-Tuna Wraps (I eat this at least once a week). So, we'll see which recipe I share with you next! Any preferences? Let me know in the comments!