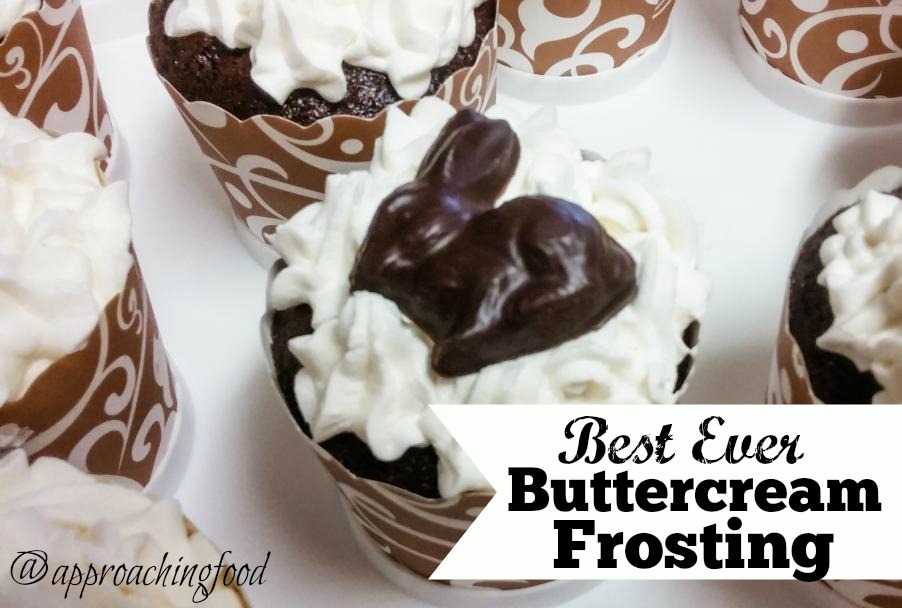 I like to find (or develop!) the best preservative-free recipes for everything that I like to eat. The best pizza dough? Got it. The best apple crumble? Got that too. I even found the always perfect chocolate cake/cupcake recipe, and never stray from it, because it's just so perfect. And I think the only thing to top a chocolate cake with, is my Best Ever Buttercream Frosting!
I love when people try my buttercream frosting — they always make happy nom-nom noises. Music to a baker's heart! Usually I wing my buttercream recipe, as I know the ingredients and am happy to play around with quantities. Also, sometimes — okay most of the time — I can't be bothered to measure out ingredients and just eyeball it. But for you, dear blog readers, I finally measured the amounts, and came up with…the only buttercream recipe you'll ever need!
I piped this icing on top of chocolate cupcakes. But before I did that, I used a strawberry huller. Why? Because…
KITCHEN HACK: Use a strawberry huller instead of a cupcake corer — one less item to clutter up your kitchen!
Once I had made a hole in the centre of the cupcakes, I filled it with a mixture of chocolate ganache and whipped cream (essentially a chocolate mousse). Then I piped the buttercream icing on top, and topped the whole thing with a chocolate bunny! The cupcakes were a hit at an Easter dinner that I attended!
Want to make some delicious buttercream yourself, and have your friends and loved ones make happy nom-nom noises? Let's!
Yield: 3 cups
Best Ever Buttercream Frosting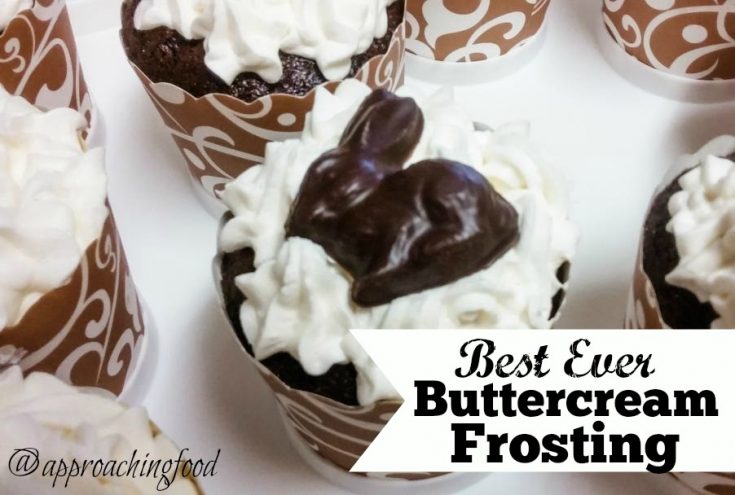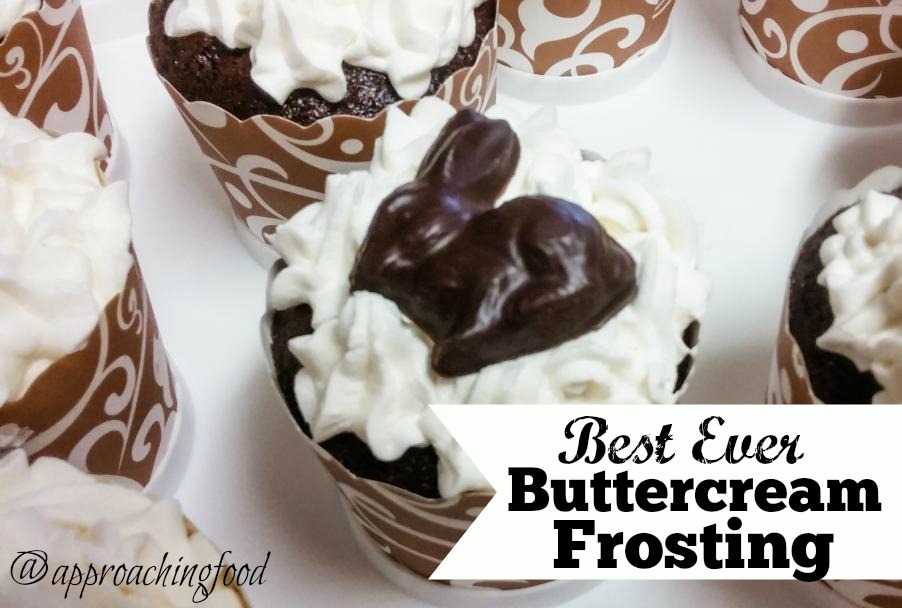 This 4-ingredient buttercream icing is preservative-free & tastes better than you can imagine! In the off chance that you have leftover icing, it also freezes well.
Additional Time
10 minutes
Ingredients
1 c. butter, softened
1/3 c. shortening
3 1/2 c. icing sugar (add more icing sugar if you like a stiffer icing)
1 tsp. vanilla
Instructions
Whip butter and shortening together until thoroughly mixed.
Add in icing sugar and vanilla, and mix until combined.
Beat on high for at least 10 minutes.
Spoon into piping bag (or spread on a cake with an offset spatula), and enjoy everyone's happy mouth-gasms!
Notes
The longer you whip the icing, the fluffier it will be, and the larger the volume. As such, the recipe makes between 3 and 4 cups of icing.
Nutrition Information:
Yield:
14
Serving Size:
1/4 c.
Amount Per Serving:
Calories:

274
Total Fat:

18g
Saturated Fat:

10g
Trans Fat:

1g
Unsaturated Fat:

7g
Cholesterol:

38mg
Sodium:

105mg
Carbohydrates:

29g
Fiber:

0g
Sugar:

29g
Protein:

0g
The shortening is part of what makes the icing so fluffy; the other reason the icing is so fluffeh-licious (what? it's a word!) is because all the beating adds a lot of air to the icing and makes it pillowy soft (as opposed to super-thick). So don't skimp on beating the icing! This Best Ever Buttercream Frosting will taste delicious no matter how long you mix it for, but it will be extra fluffy and MUCH easier to pipe, the longer you beat it. And the fact that it's preservative-free? Winning!
Next Post: Something healthy. Probably. Stay tuned!