It's hot in Toronto right now, and I'm trying to stay cool. I'm eating all the ice cream, while standing in front of the air conditioning, and still I'm hot. My newly acquired fig tree is happy, but I am just not built for climate change weather; I'm built for fall days and cold snow so crisp your eyelashes frost over. In lieu of that, I've been drinking tons of water to try and stay cool, but that gets boring after a while. So, Lemon Basil Iced Tea to the hydrating rescue!
How did I come up with this recipe? Well, I accidentally bought a lemon basil plant instead of a plain ol' basil plant, and let me tell you, the two are nowhere near the same. Lemon basil tastes like lemony mint to me, while regular basil tastes…basil. And then my lemon basil plant had a bumper crop. What to do? Iced tea for evvvvvverrrrryyyyoooonnnne!
Yield: 8 cups
Lemon Basil Iced Tea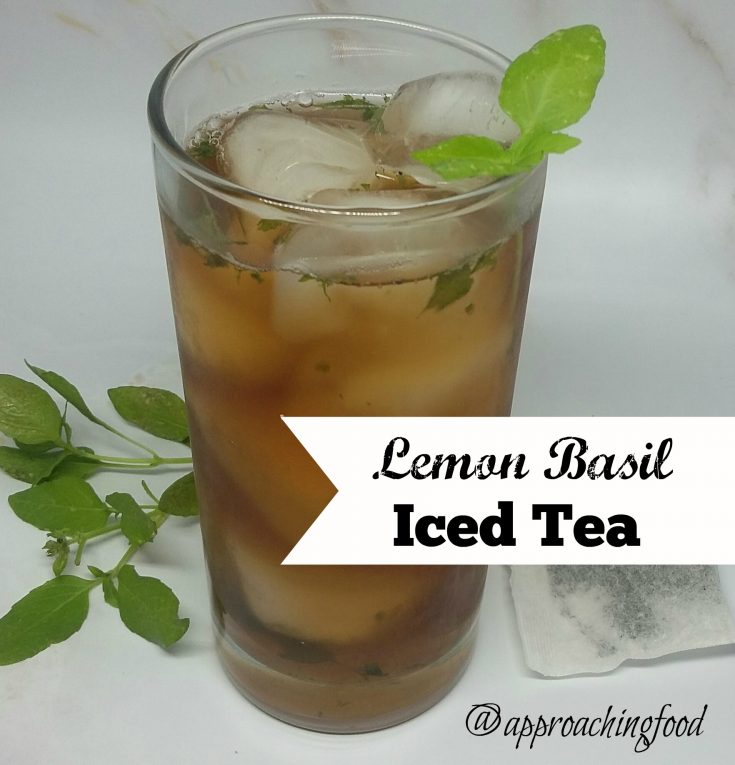 This super-easy iced tea has a unique flavour, and is light years ahead in tastiness compared to the preservative-filled powdered stuff.
Ingredients
8 c. boiling water
2 tea bags (I recommend a nice black tea -- standard tea bags are fine)
1/2 c. sugar
2 branches of lemon basil
Instructions
Steep the tea bags in the boiling water for 20 minutes.
In the meantime, using a mortar and pestle, muddle the sugar and the leaves of the lemon basil. (Basically, grind it up until the leaves look...ground up, and the sugar is vaguely greenish.)
Remove the tea bags and stir in the sugar mixture until the sugar dissolves.
Pour over ice to serve right away, or put into fridge and serve very cold.
Nutrition Information:
Yield:
8
Serving Size:
1 c.
Amount Per Serving:
Calories:

55
Total Fat:

0g
Saturated Fat:

0g
Trans Fat:

0g
Unsaturated Fat:

0g
Cholesterol:

0mg
Sodium:

10mg
Carbohydrates:

15g
Fiber:

1g
Sugar:

13g
Protein:

0g
I served this iced tea in Moroccan tea glasses at a dinner party I had recently and it was a hit, so I thought I'd share the recipe with you. It's essentially a basic sweet iced tea but has a nice lemony minty (with a hint of basil) flavour. You could easily substitute in some lemon juice and regular basil if you don't have a lemon basil plant. Iced tea is so easy to flavour! What is your favourite iced tea flavour? Fresh raspberries muddled with sugar? Spearmint & a hint of lemon? Let me know in the comments!
And if you usually make iced tea from a powder, well…this is just as easy. And preservative-free, obviously, so skip the fake tea and make your own — so, so easy! You get some Lemon Basil Iced Tea, and you get some Lemon Basil Iced and you get some Lemon Basil Iced Tea, and…you get the idea!
Next Post: Chilled Cream of Curried Squash Soup. So delicious, so elegant, so stunningly easy!