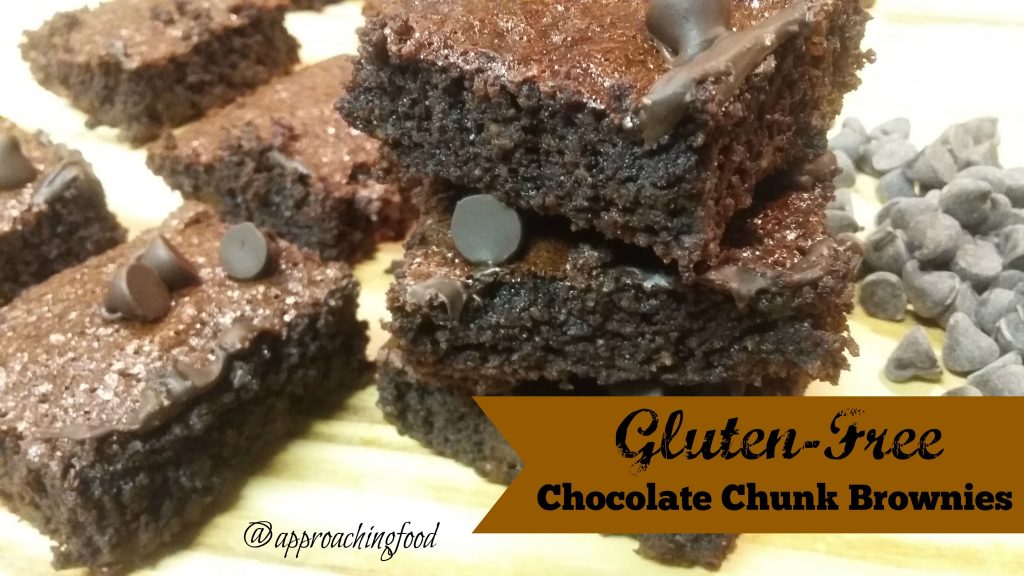 A lot of people these days are on gluten-free diets, either because they can't eat gluten, or because they feel healthier without eating it. But have you ever looked at the ingredient list of some of the gluten-free brownie mixes available in stores? Poly-ethyl-blah-blah-blah…no thank you! But how to avoid it? Well, let me tell you the secret ingredient that will make your life so much easier (and also more brownie-filled!): OAT FLOUR!
That's right! In this recipe for Gluten-Free Chocolate Chunk Brownies, we're subbing out the refined white flour (gluten-filled) for some oat flour, on a 1-to-1 basis. And bonus, YOU CAN MAKE IT YOURSELF IN ONLY 5 SECONDS! No need to buy a package of oat flour – just take some regular gluten-free oats and whizz them in the blender (or coffee grinder or spice grinder) for 5 seconds until it's all powdery. Voila, oat flour! Easy, peasy, amirite?
Ok, so I've told you how to avoid gluten when making brownies, but you still like the convenience of store-bought mixes? They are pretty easy to toss together, aren't they? What if I told you could toss together this brownie recipe in two minutes – the same time it would take to mix up a batch of store-bought brownies? So maybe it takes 30 seconds more to make these brownies than a box mix, but if 30 seconds is the price to pay for healthier food, well, sign me up!
Want to make some gluten-free (not that you'd know it) brownies? Let's!
Yield: 12 brownies
Gluten-Free Chocolate Chunk Brownies
These gluten-free brownies are super-moist, super-fudgey, full of chocolate chunks, and best of all, preservative-free!
Ingredients
½ c. honey
2 eggs
1 tsp vanilla
½ c. butter melted
½ c. oat flour
1/3 c. cocoa powder
¼ tsp baking powder
¼ tsp salt
½ c. chocolate chips (or chunks)
Instructions
Mix honey, melted butter, eggs, and vanilla together.
Add in oat flour, cocoa, baking powder, and salt, and mix until combined. Don't worry if you think you can see a few oat bits – it won't be visible in the final product.
Stir in chocolate chips, and pour mixture into a well-greased 9x9 baking pan.
Bake in a 350 degree oven for 20-25 minutes.
Remove from oven, sprinkle a few more chocolate chips on top, let cool in pan, and then cut into squares. Enjoy! (And try not to nom all of them at once. If you can. I may have eaten them for lunch while developing the recipe. That's right, my lunch was brownies. Je ne regrette rien!)
Nutrition Information:
Yield:
12
Serving Size:
1 square
Amount Per Serving:
Calories:

185
Total Fat:

11g
Saturated Fat:

6g
Trans Fat:

0g
Unsaturated Fat:

4g
Cholesterol:

51mg
Sodium:

133mg
Carbohydrates:

21g
Fiber:

1g
Sugar:

16g
Protein:

3g
These brownies are deliciously moist and chocolatey. And if you leave out the chocolate chips, they're even refined sugar free! How awesome is that?
If you like super-fudgy brownies (like me!), take the brownies out of the oven 3-5 minutes early. They'll seem a bit undercooked, but just let them cool completely before cutting them into squares. Then, revel in those delicious, moist, and fudgy brownies!
If you make these gluten-free brownies, let us know in the comments how you think they stack up compared to store-bought mixes! Isn't it a good feeling knowing that your yummy gluten-free brownies are also preservative-free? And can you believe how easy it was to make that oat flour? Shockingly easy, right?
If you liked this recipe, please share it on social media! I'm determined to share the word about how easy it is to go preservative-free – health is wealth, after all!
Next Post: Pillar content! 5 Preservative-Free Lunches You Can Make This Week, as promised in last week's post. Hopefully this week the baby allows me to spend a few hours doing the recipe reformatting necessary to make that post! Ah, that baby…so demanding, yet so cute!