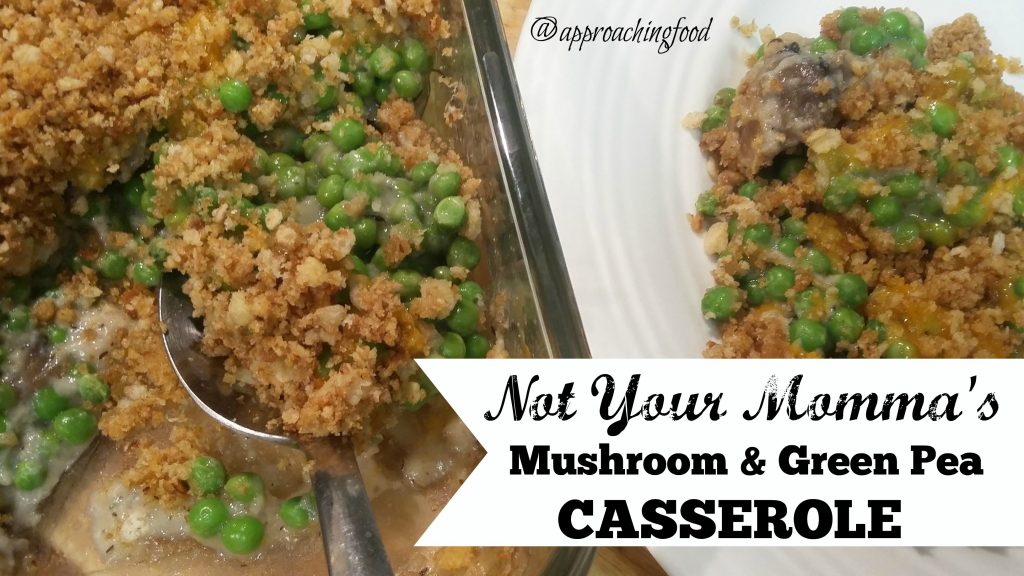 While I didn't grow up going to the neighbourhood potlucks or church suppers, I've certainly heard of the dishes that are infamous for being brought to those events. Case in point, that goopy mushroom pea casserole made with canned cream of mushroom soup and frozen peas, and topped with things like French fried onions. You know the dish I'm talking about? Easy to throw together and full of preservatives? What if I told you I have an EVEN YUMMIER recipe, AND it's preservative-free? Well, I do! It's Not Your Momma's Cheesy Mushroom & Green Pea Casserole, and it's oh emm gee so delicious!
I mean, I didn't grow up eating gelatin 'salads' and dishes like that, but there is something to be said for your classic comfort food dish. So why not make it healthier and just as delicious? This dish is also so, so, SOOOOOO easy to throw together!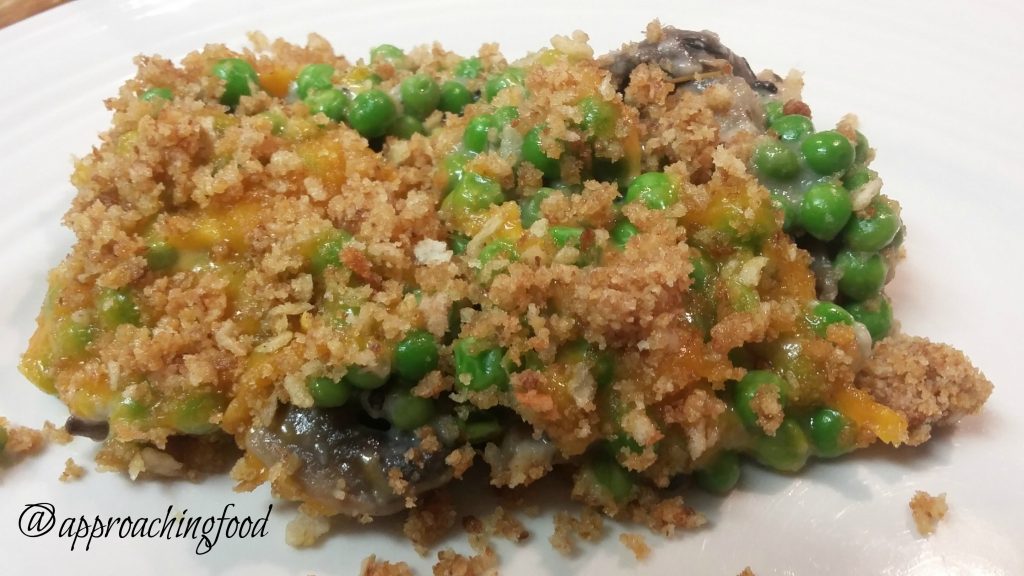 Basically, you mix together a batch of my homemade Knock Your Socks Off Cream of Mushroom Soup (way more flavourful than canned, not to mention healthier!) with some peas, top it with grated cheese, then buttered breadcrumbs, then pop it in the oven to bubble and sizzle and…you're ready for dinner!
Just think, chunks of real mushrooms mixed with sweet peas in a creamy, herbed sauce, topped with melted cheddar cheese and golden buttered breadcrumbs? This is a dish that makes me look forward to dinner, just so that I can have another serving!
Shall we make some? Let's!
Yield: 12 servings
Not Your Momma's Cheesy Mushroom & Green Pea Casserole
Chunks of real mushrooms mixed with sweet peas in a creamy, herbed sauce, topped with melted cheddar cheese and golden buttered breadcrumbs. Perfect for a large get-together or just cause you want some healthy comfort food!
Ingredients
750 g. bag of frozen peas
1 c. breadcrumbs (I use homemade)
¼ c. butter, melted
1 c. cheddar cheese, grated
Instructions
Butter a large lasagna-sized pan.
Mix together the cream of mushroom soup and frozen peas. You can mix it right in the pan.
Top with the grated cheddar cheese.
Mix the breadcrumbs and melted butter together and sprinkle on top.
Bake for 20-30 minutes in a 350 degree oven, until top is golden and you can see the casserole bubbling in the corners. Enjoy!
Nutrition Information:
Yield:
12
Serving Size:
1/12
Amount Per Serving:
Calories:

165
Total Fat:

8g
Saturated Fat:

4g
Trans Fat:

0g
Unsaturated Fat:

3g
Cholesterol:

19mg
Sodium:

275mg
Carbohydrates:

16g
Fiber:

3g
Sugar:

3g
Protein:

7g
This recipe makes a large lasagna-pan-sized casserole, which means it's great for large get-togethers or when you want to have leftovers to pack for lunches or just for another dinner.
I like to eat this as a main course, since the peas are full of protein, so I check off my veggie and protein requirements with one dish, but I serve it as a side dish for my husband. Either way, it's just super-yummy!
I will say, if I don't want to make a fresh batch of homemade cream of mushroom soup in this recipe, I've used leftover homemade soup that I've frozen and defrosted but it makes the dish a tad more liquidy, so keep that in mind. If you use frozen-then-defrosted homemade mushroom soup, you might want to let the dish sit for a bit after baking it, just so that the dish has a chance to set a bit. Or not. I personally have no patience for that, and will scoop it steaming into a bowl for me to gobble up, but hey, you do you, boo!
This cheesy mushroom pea casserole is one dish that my husband and I will play-argue over: "You already had a second helping, the last bit is mine!" "But it's my main dish, I need to eat more of it!" Yes, it's that yummy! A preservative-free vegetable dish that people fight to eat? Um, can we say WINNING! (Yes. Yes, we can!)
p.s. – Want something bizarre yet charming to follow on fb? Check out the 'Show Me Your Aspics' fb group. So quirky and fun and light-hearted. Also addresses that age-old question of 'If it's made of gelatin/agar agar, can it still be a salad?' What do YOU think? Let us know in the comments!
Next Post: Another core content Pillar Post! This time I'm writing about 5 Preservative-Free Lunches that you can toss together this week, whether for work lunches, school lunches, or is-it-lunch-yet stay-at-home-parent lunches.