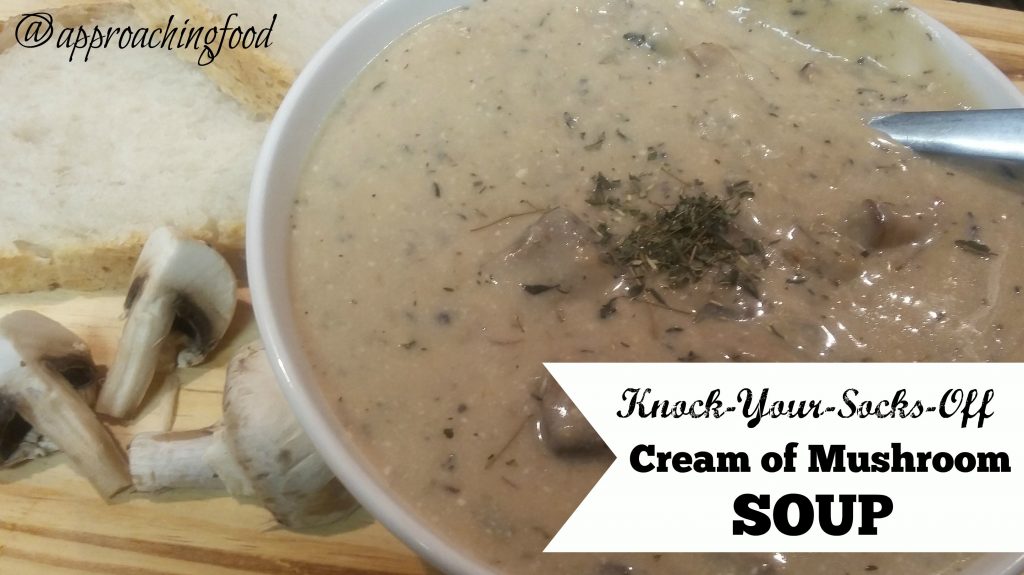 Have you ever had that canned Cream of Mushroom Soup? Kind of bland and goopy, right? It might just be me, but I absolutely cannot stand canned cream of mushroom soup – so beige and unnatural. But have you ever had HOMEMADE Cream of Mushroom Soup? With chunks of real mushroom floating in a creamy herbed base? There's a world of taste difference between canned and homemade, not to mention there are no nasty preservatives in homemade soup. But it's so hard to make homemade soup you say? Pffft! Try this recipe for Knock Your Socks Off Cream of Mushroom Soup; it's surprisingly quick and easy and OMG it's delicious!
I can easily eat bowlfuls of this soup just because it's yummy; it's really just a bonus that it's preservative-free too. I love that I can feel good knowing exactly what I'm putting into my body, while happily stuffing my face just cause the food is yum.
Plus, any recipe you have that calls for canned Cream of Mushroom soup, replace it with this one – it'll make the recipe that much more delicious, not to mention healthier too!
Want to make some? Lets!
Yield: 2 servings
Knock-Your-Socks-Off Cream of Mushroom Soup
This fragrant mushrooms soup is full of chunks of real mushrooms, all in a herbed and creamy base.
Ingredients
3 tbsp butter
2 c. chopped mushrooms
3 cloves garlic
2 c. water
1 square stock
2 tsp. dried thyme
1 tsp. pepper
1/4 c. milk
4 tbsp. flour
1 c. yoghurt
Instructions
Wash the mushrooms and chop or slice them. (I like to quarter them.) Mince the garlic.
Melt the butter and fry the garlic and mushrooms until they're tinged golden-brown and have shrunken about 1/3 in size.
Stir in the flour and fry for two minutes. The mixture will clump up and that's ok.
Stir in the milk. Again, the mixture will be all clumpy and that's ok.
Add in the water, stock, thyme, and pepper, and stir until the mixture is smooth.
Let cool slightly and stir in the yoghurt. Serve, and revel in the fresh and creamy taste!
Notes
You can use liquid stock instead of a square of stock plus two cups of water, as long as the liquid is equal to two cups. You can even use homemade vegetable stock -- in fact, I recommend it!
Nutrition Information:
Yield:
2
Serving Size:
1 c.
Amount Per Serving:
Calories:

397
Total Fat:

22g
Saturated Fat:

13g
Trans Fat:

1g
Unsaturated Fat:

7g
Cholesterol:

59mg
Sodium:

418mg
Carbohydrates:

37g
Fiber:

5g
Sugar:

14g
Protein:

16g
Since I was trying to make a healthier version of Cream of Mushroom soup, I used yoghurt instead of cream. Yoghurt will end up the slightest bit grainy in the soup, especially if you stir it into very hot soup. I personally do not care, as I love the health benefits of yoghurt (probiotics, get in my gut!), but if you are super keen to photograph your soup, you could replace the yoghurt with milk and get a smoother final look. Eh. You do you, boo!
Let us know in the comments how you think this preservative-free Cream of Mushroom Soup stacks up compared to the canned version! And share it on social media, so we can get a preservative-free revolution going on!
Next Post: I've been a busy little blogging bee and am working on my pillar posts, so will have a summary post of 5 Preservative-Free (And EASY!) Dinner Recipes for the Beginner Cook (and Anyone Who Likes Good Food)