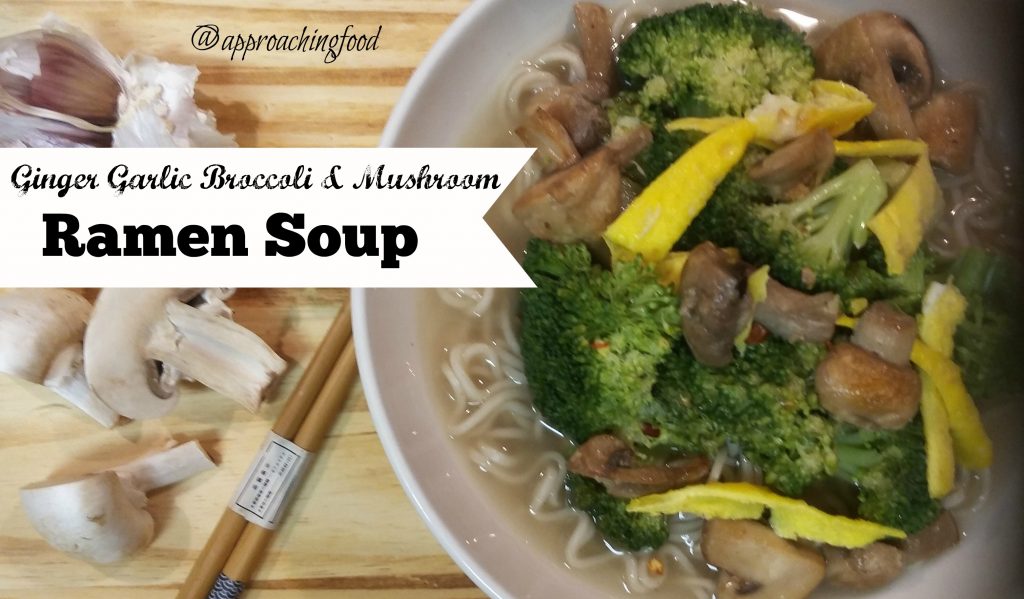 I've been eating a lot of soup lately, as part of my plan to lose the baby weight, and this Ginger Garlic Broccoli & Mushroom Ramen Soup hits the spot! There's enough carbs, protein, fibre, and broth to keep me full, and lots of deliciously flavoured veggies because…deliciously flavoured veggies!
I actually started with a recipe for ginger garlic bok choy, but subbed in broccoli instead because that's what I had. I added in mushrooms and a bit of an egg omelette, for a meaty bite. Once I quickly stir-fried the broccoli, pan-fried the mushrooms (and then fried up the omelette in the same frying pan), I spooned it all over the noodles and broth. Et voila, a hearty, healthy meal!
While I used (egad!) prepackaged noodles for the soup, I highly recommend just making up some broth and adding noodles. It's pretty easy to do and fewer preservatives! But, I believe in progress not perfection, and I'm slowly cutting out almost all preservatives in my kitchen. It's a trade-off — if I only have 15 minutes to make dinner, do I want to stick a frozen something (that is definitely full of preservatives) into the oven, or do I want a bowl of soup where only the noodles aren't preservative-free, but the stir-fried vegetable topping is pure healthiness? For me, I'm happy to quickly whip up this easy veggie noodle soup; it only takes 15 minutes to make!
Want to make some too? Let's!
Ginger Garlic Broccoli & Mushroom Ramen Soup
This healthy, hearty noodle soup whips up in 15 minutes -- faster than take-out!
Ingredients
1 package ramen noodles (packet w/ broth)
1 head broccoli
1 egg
2 tsp. vegetable oil
1 tsp. ginger, zested or finely chopped
2 cloves garlic
1/4 tsp. hot pepper flakes
3 tbsp. water
1 tsp. sesame oil
Instructions
Prepare noodles according to package.
Wash and cut florets off head of broccoli, chop garlic, and wash and slice mushrooms.
Heat 1 tsp. oil in a frying or saute pan, and add garlic, hot pepper flakes, and ginger. Fry one minute or until fragrant.
Add in broccoli and water and put a lid on the pan. Cook over medium heat for 10 minutes.
While the broccoli is steam frying, fry the mushrooms in the remaining 1 tsp. of oil.
Set mushrooms aside, and use the same frying pan to fry up the egg (either as a sunny-side up egg or as an omelette -- whichever you prefer).
When broccoli is done, stir in sesame oil and mushrooms.
Split the noodles and broth between two bowls, top with the broccoli and mushroom mixture, and put half of the egg on top.
Enjoy!
Notes
Pro tip: I prefer to zest my ginger as opposed to chopping it finely, as it's soooo much easier. I pre-peel ginger and then freeze it, and zest it straight from the freezer.
Nutrition Information:
Yield:
2
Serving Size:
1
Amount Per Serving:
Calories:

299
Total Fat:

17g
Saturated Fat:

5g
Trans Fat:

0g
Unsaturated Fat:

11g
Cholesterol:

93mg
Sodium:

861mg
Carbohydrates:

29g
Fiber:

2g
Sugar:

1g
Protein:

9g
The soup isn't spicy, as I was also cooking for the spice-adverse DH, but you could easily add in some more hot pepper flakes for a bigger oomph per bite ratio. You could also easily switch out the veggies for other ones. Kale? Swiss chard? Ooh, I think Swiss chard would be really nice in this!
If you make this recipe, let us know which vegetables you used! And, if you're so inclined, I'd appreciate a share on social media! This blogger has goals! (Very delicious chocolate-chip studded ones.)
Next Post: I'm in a soup kinda mood these days (see above), so I think I'll share my Knock Your Socks Off Cream of Mushroom Soup recipe! Better than any preservative-laden canned soup you'll ever have!