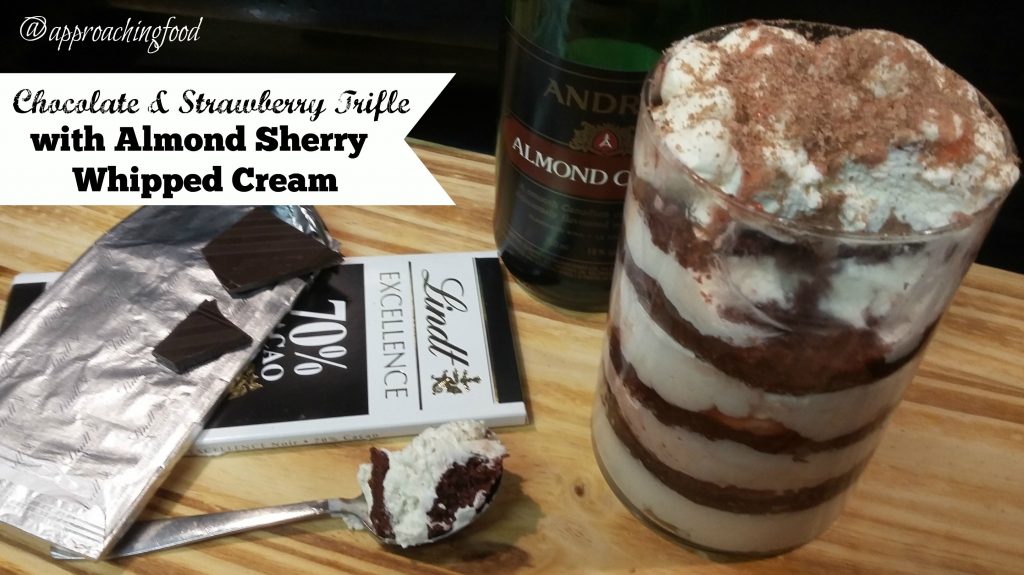 I didn't grow up eating trifles. In fact, I don't think I even knew what they were until I read about them in British novels as a young adult. Are you familiar with them? They're usually elaborate looking concoctions of whipped cream and alcohol-soaked cake, sometimes with fruit, sometimes with chocolate, and always very rich. But when I was rummaging through my freezer recently, and came across some chocolate cake rounds from a few months ago, I knew just what to make: Chocolate Strawberry Trifle with Almond Sherry Whipped Cream! Trifle always looks fancy, but it's really just a mish-mash of ingredients layered together! Looks fancy, easy to put together, no preservatives, and yummy? Bring it on!
I had some whipping cream in my fridge, so I whipped that up with some icing sugar, and poked around in my bar stand and pulled out a bottle of almond sherry that I use for baking. I decided to put the alcohol in the whipped cream as opposed to soaking the cake in it, simply because I'd need to use more sherry if I wanted to soak the cake, and I can't have alcohol since I'm a nursing mum. But a tablespoon or two just to flavour the whipped cream? Totally doable!
So now I had the cake rounds, I had the almond sherry whipped cream, but…I felt it needed a bit more oomph. I looked around my kitchen and came across a jar of strawberry preserves that the DH had bought for his mum when she visited us last month. Perfect! I melted it in the microwave and spread it on the cake layers. The preserves served a double duty — it moistened the cake layers, plus it added a bit of strawberry flavour.
Now, I have quite a few kitchen gadgets in the condo, but I simply don't have space for All The Baking Things. One of those things is a trifle glass. Hmm, what to do, what to do…I pulled out a vase and layered it up all purdy like! (Don't have a trifle glass? Eh, use any old glass container! I won't tell if you don't!)
Want a bit more of the specifics so you can make your own? Read on!
Yield: 10 servings
Chocolate & Strawberry Trifle with Almond Sherry Whipped Cream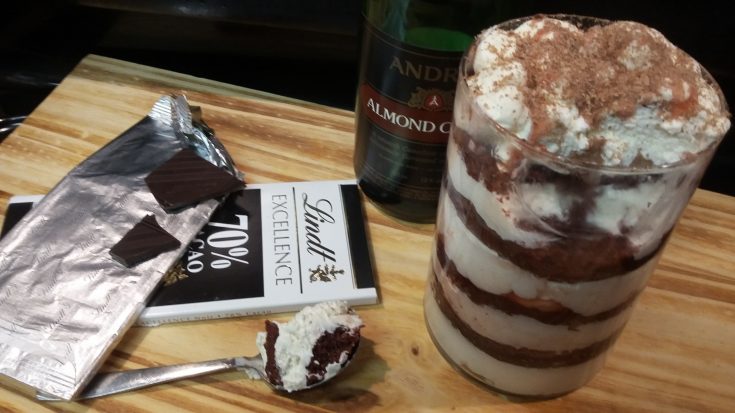 This lusciously layered Chocolate & Strawberry Trifle looks fancy but is super-easy to put together! Almond Sherry Whipped Cream? Yes, please!
Ingredients
2 chocolate cake rounds
1 c. whipping cream
1/3 c. strawberry jam
1/3 c. icing sugar
2 tbsp. almond sherry
chocolate chunks or cocoa powder for dusting
Instructions
1.Bake the cake rounds. I suggest using this recipe, as it creates perfectly fluffy and delicious chocolate cake. Cool, then slice the layers in half lengthwise.
2. While the cake is cooling, make the whipping cream. In a cold bowl (put the bowl and whisk in the freezer for 20 minutes prior to using), mix the whipping cream, icing sugar, and almond sherry. Whip until stiff peaks form.
3. Heat the jam in the microwave for 30 seconds until completely melted.
4. Now, the fun part: layering the trifle! In a see-through glass container, place a few scoops of the flavoured whipped cream. Place a cake layer on top and press down until the whipped cream is flattened. Brush some strawberry jam on top of the cake layer.
5. Repeat until the last cake layer is used. Then top with the remaining whipped cream. If there is any strawberry jam left, drizzle that on top.
6. Dust with cocoa powder, or chocolate shavings. Chill, spoon out big scoops for each servings, and enjoy!
Notes
This recipe is easily adaptable! Prefer vanilla cake over chocolate? Go right ahead! And while you're at it, why not switch up jam flavours? Or toss in some macerated strawberries too? This trifle is as customizeable as you want it to be!
Nutrition Information:
Yield:
10
Serving Size:
1/10
Amount Per Serving:
Calories:

228
Total Fat:

14g
Saturated Fat:

7g
Trans Fat:

1g
Unsaturated Fat:

6g
Cholesterol:

32mg
Sodium:

113mg
Carbohydrates:

25g
Fiber:

1g
Sugar:

19g
Protein:

2g
By the way, I wrote in the title of this post about blogging breakthroughs. Well, I'm taking an online blogging course, and as part of that, I'm a member in several fb blogging groups. One of those had a super-successful blogger pop in to help out, and she was able to give me some critiques on how to up my blogging game. One of those things was to be more specific about what exactly I write recipes about. In other words, I need to niche down on my avatar.
This is something I've been thinking about and puzzling about for a while now. But I've decided! I'm big on encouraging people to get in the kitchen make good food and not to worry about being all perfect, so I've decided to focus on preservative-free recipes plus kitchen encouragement. Because, when it comes to healthy, delicious, homemade food, we all start somewhere! To that end, I've changed my tagline (click on the title of the blog to see it) and have added a page to my blog called Kitchen Encouragement. Let me know what you think; I'm all about the feedback!
And, if you like this or any other recipe, can you share it on social media? Much appreciated! As I've said before, I might be aiming at the moon, but one of these days I'll hit the stars!
Next Post: Likely a super-delish ramen soup dish I came up with. Not entiiiiirely preservative-free if you use store-bought ramen, but like I wrote above, isn't it all about progress, not perfection?