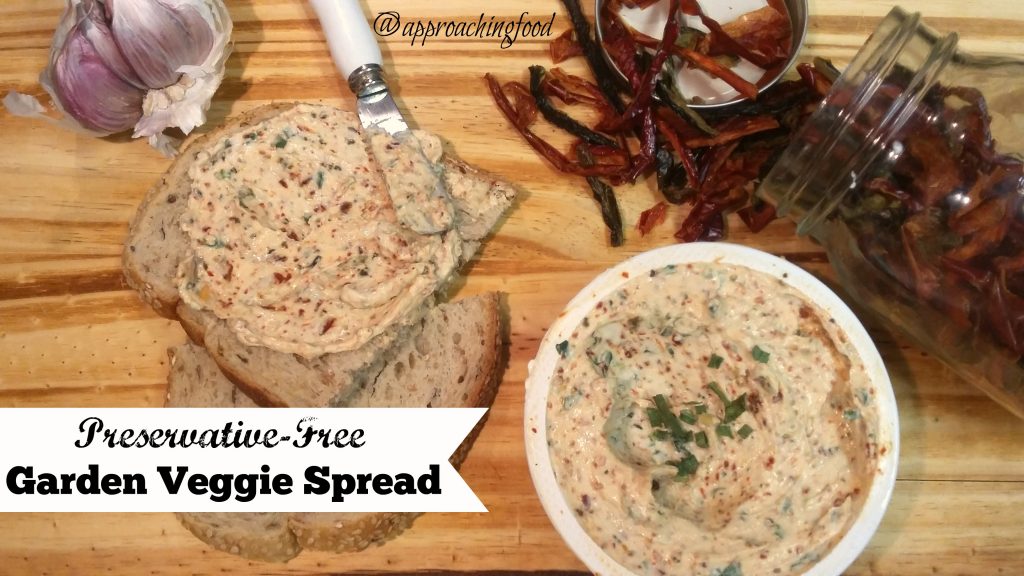 When I was a child, I used to loooooove eating raw red peppers. My mother would cut them into sticks and give them to us for lunches and snacks and I would gobble them up. I always said that when I was grown up, I would eat nothing but red peppers for a whole day. Fast forward a few years (*cough* decades *cough*) and my sweet husband, who knows that I still love red peppers, comes home from a shopping trip with several BAGS of them. Now, I love red peppers but there's only so many even I can eat. What to do? Well, I sliced and froze some, and then I dehydrated the rest. I used the dehydrated peppers in soups and stews and tossed them in my Best Ever Macaroni Salad, but I still had a ton left. That is, until I started making Preservative-Free Garden Veggie Spread!
This cream cheese spread is chock-full of veggies and is tastes absolutely incredible for something that only has four ingredients. It's slightly sweet and totally savoury and is perfect to spread on fresh bread, toasted bagels, or even crackers.
I plan to add it to the next cheese and cracker platter that I make; that is, if any is left after the DH and I finish taste-testing it! I can not overstate how delicious this spread is. And bonus, there are no nasty preservatives in it, only healthy ingredients.
This spread is so good, it will have you looking forward to meal times, just so you can eat more of it! (True story, just replace 'meal time' with 'late-night snack' and you'll be living my life!)
Want to make some yourself? Let's!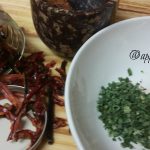 Preservative-Free Garden Veggie Spread
This healthy cream cheese spread is chock-full of veggies, but tastes like your favourite coffee shop bagel spread.
Ingredients
2

tbsp.

dehydrated red and green peppers

1

tbsp.

dried chives

1

tsp.

garlic powder

1

pkg.

cream cheese (227 g)
Instructions
Using a mortar and pestle, grind the dehydrated red and green peppers to a powder. You can leave a few larger chunks in, but most of it should be a finely ground powder. If you don't have a mortar and pestle, you can use a spice grinder, or even (IF you're making a large quantity) a blender.

Soften cream cheese in a microwave for 15 seconds. This makes it easier to mix everything together.

Stir all ingredients together.

And…you're done! Enjoy your super-delicious and healthy spread!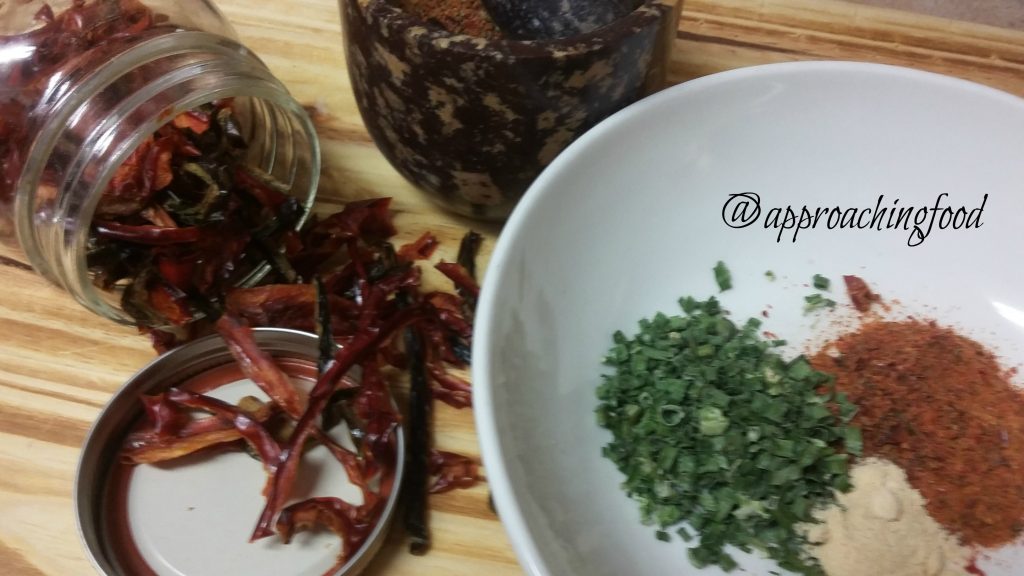 This Preservative-Free Garden Veggie Spread deepens in flavour the longer you let it sit, but you can also eat it right away. Personally, I like to heat it in the microwave for a few seconds after pulling it out of the fridge, so that the cream cheese spreads more easily, but if you're serving it on a cheese platter, room temperature would be perfect.
Next Post: Easy Chocolate & Strawberry Trifle with Almond Sherry Whipped Cream. Yes, it IS as delicious as it sounds! (Also way easier than it sounds!)