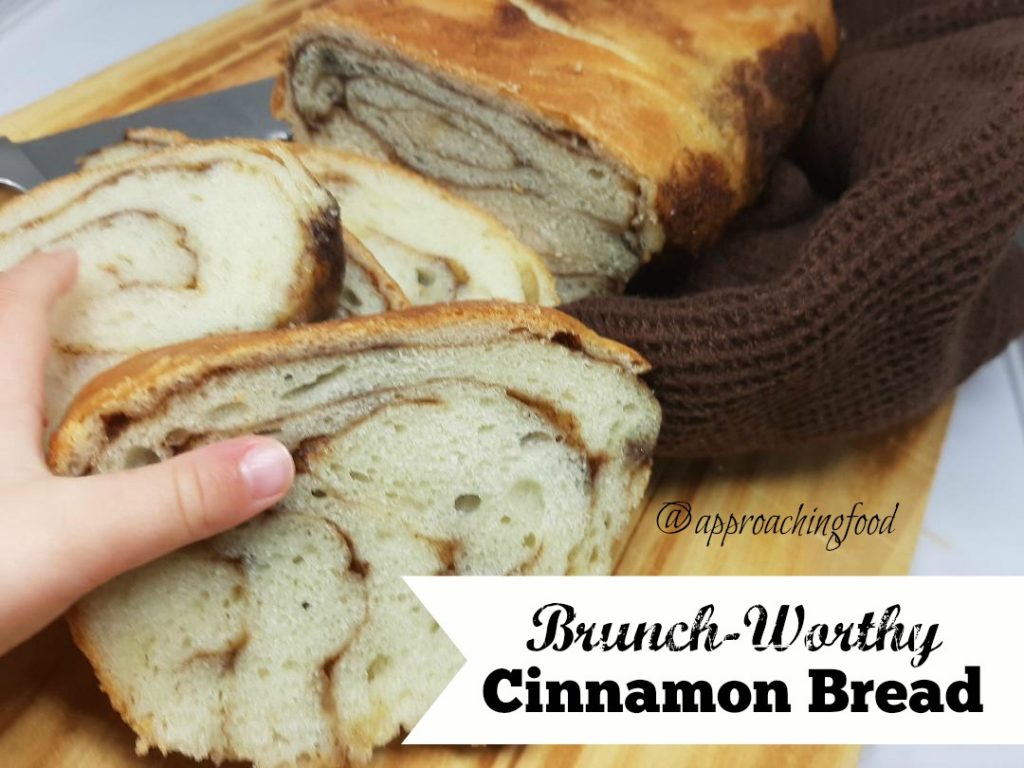 Warm, fluffy bread with sweet cinnamon swirls and a deliciously buttery crust…is there anything better on a Sunday morning? Serve this Brunch-Worthy Cinnamon Bread with a fruit salad and an omelette, and your mornings will never be the same!
While I suggest serving it for brunch, it's just as delicious as an evening snack. Or mid-afternoon snack. Or mid-morning snack…you get the idea! It's so good you'll never be able to stop at just one slice, though! The DH and I tend to plow through half a loaf at a time, it's so good!
This Brunch-Worthy Cinnamon bread freezes and reheats well, assuming you have any left to freeze! You could also make it in advance, freeze it whole, defrost the day before serving, and reheat in the oven. Or slice and toast it! Any way you slice it (baha! a cooking joke!), it's delish!
So, let's get to making it!
Yield: 1 loaf
Brunch Worthy Cinnamon Bread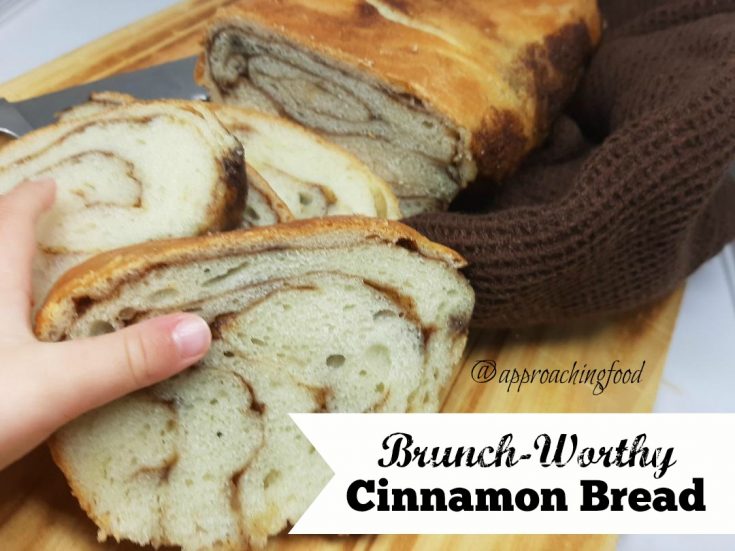 Fragrant and buttery, this cinnamon swirl bread is the stuff of brunch dreams. I suggest making a double batch, because it'll be devoured in a flash!
Ingredients
1/4 c. white sugar
3/4 tbsp. yeast
3/4 tsp. salt
1/8 c. oil
2 1/2 c. flour
1/2 c. butter, softened
1/8 c. cinnamon
1/2 c. brown sugar
Instructions
In a large bowl, add white sugar, yeast, salt, and oil to 2 cups of hot water. Let sit until the yeast is foamy, at least 15 minutes.
Add flour and mix until a soft dough forms.
Remove the dough from the bowl, oil the bowl, then put the dough back into the bowl and roll it around to get lightly coated in oil.
Place a damp towel or a piece of cling film on top of the bowl, and let sit in a warm place until the dough is doubled in size (1-2 hours).
In the meantime, mix the (soft) butter, cinnamon, and brown sugar into a spread.
Get a bread pan and prepare it by lining it with greased parchment paper.
Once the dough is risen, roll out the dough on a floured surface, into a rectangle about half an inch thick.
Slather the spread evenly onto the dough rectangle.
Roll up the dough, short end to short end, and place into the bread pan.
Cover again with the damp towel or cling film and let sit in a warm place until doubled in sized (1-2 hrs).
Bake for about 30 minutes in a 350 degree oven.
Remove from pan while still warm. If you are going to eat it later or freeze it, let it cool completely on a cookie rack. But you'll be hard pressed not to eat this delicious bread warm from the oven!
Notes
I strongly suggest lining your bread pan with parchment paper, which is something not usually done with bread. But this delicious loaf oozes buttery cinnamon and creates a sort of sticky bun type caramelization on the sides of the loaf, so using parchment paper ensures that the loaf will come out of the pan in one (delicious) piece!
Nutrition Information:
Yield:
10
Serving Size:
1 slice
Amount Per Serving:
Calories:

279
Total Fat:

12g
Saturated Fat:

6g
Trans Fat:

0g
Unsaturated Fat:

5g
Cholesterol:

24mg
Sodium:

251mg
Carbohydrates:

39g
Fiber:

2g
Sugar:

14g
Protein:

4g
This is a classic bread recipe, which does require two risings, so it's not a quickie recipe. But it's soooooo worth it! Honestly, you will not be able to stop eating it, and anyone who tastes it will think you are a baking god/dess! If you've never made bread before, no worries, it's still a pretty straightforward recipe. Just try it — I promise you won't be disappointed with this luscious cinnamony loaf!
A faintly sweet white bread with swirls of cinnamon and melted sugar, and buttery all throughout — just trying to find the right words to describe it makes me want to bake and eat this Brunch-Worthy Cinnamon Bread all over again! It's worth every minute of waiting for the dough to rise!
Next Post: Basil Mayo and How to Elevate A Sandwich to Food of The Gods. So good. So, so very good!