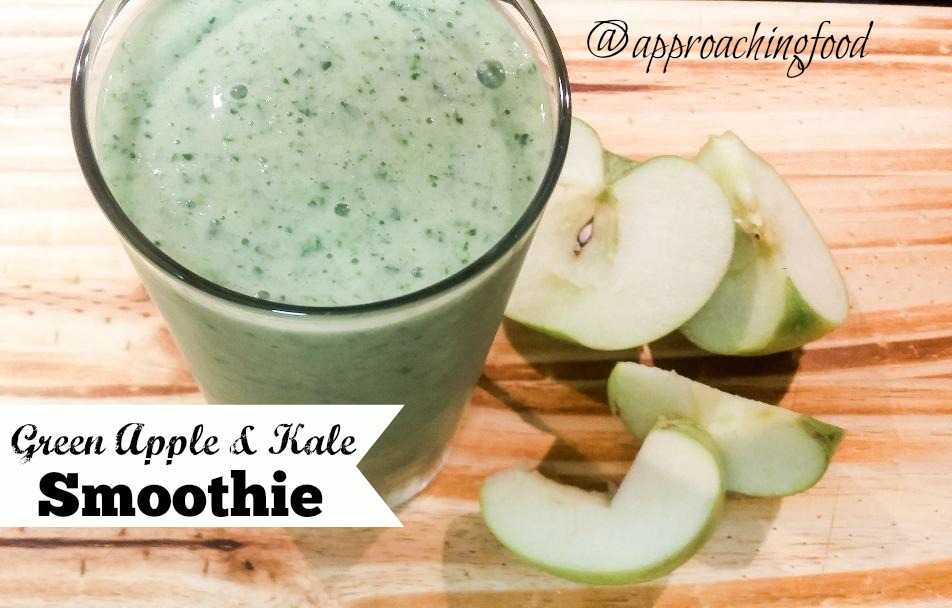 I've been dreaming of green apples lately. Crisp, tangy Granny Smith apples, that one bites into with a snap and that lovely sweet and sour taste that makes you pucker up and want to eat more. I'm guessing it's a pregnancy craving, as at the same time that I'm craving lemonade and green apples, I'm also becoming slightly turned off sweets. I KNOW. WHAT IS EVEN HAPPENING! But I believe in listening to my body, and apparently baby likes her fruits and veggies. All fruits. All veggies. All. The. Time. So, today's recipe is a new smoothie recipe, that combines fruits and veggies for a healthy meal replacement that is perfect for the summer heat that has just arrived: Green Apple & Kale Smoothie!
Frozen banana gives it a creamy, milkshake consistency, and sweetens it up naturally, while green apple and kale give it a lovely fresh green colour while cramming in the nutrients. Plus, a little yoghurt and milk adds some calcium & protein. You could add some almond butter in for a proper serving of protein, but I prefer the fresh taste of the smoothie as is.
You know you're feeding your body healthily when you drink this smoothie! 3-4 servings of fruits and veggies are packed into this smoothie, and it still feels like you're giving yourself a treat. There's nothing like sitting outside in the sun on your porch, deck, or balcony, enjoying the weather, while keeping cool drinking this whole food smoothie. Yum, yum!
Let's get to making one!
Yield: 1 serving
Green Apple & Kale Smoothie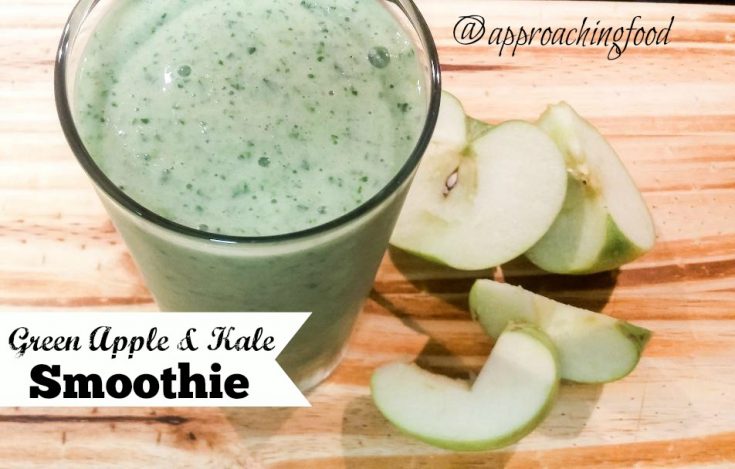 This deliciously creamy smoothie is also packed full of good nutrition! A great way to get your nutrients on the go.
Ingredients
1 c. kale, frozen
1 banana, frozen
1 Granny Smith apple
1/2 c. yoghurt (can be replaced with coconut yoghurt)
1/2 c. milk (can be replaced with nut milk)
Instructions
1.   Place all ingredients in the blender and...liquefy! 
2.   Serve in a chilled glass for maximum yumminess!
Nutrition Information:
Yield:
1
Serving Size:
1 glass
Amount Per Serving:
Calories:

341
Total Fat:

5g
Saturated Fat:

3g
Trans Fat:

0g
Unsaturated Fat:

2g
Cholesterol:

17mg
Sodium:

165mg
Carbohydrates:

63g
Fiber:

9g
Sugar:

35g
Protein:

16g
By the way, you can make this a vegan Green Apple & Kale Smoothie by using coconut yoghurt instead of dairy yoghurt, or simply replacing the yoghurt with the nut milk of your choice. I personally find that homemade cashew milk is a great way to increase the protein and nutrients in this smoothie.
Next Post: Not entirely sure. Probably something with fruit and veggies because this gestating woman has got CRAVINGS!