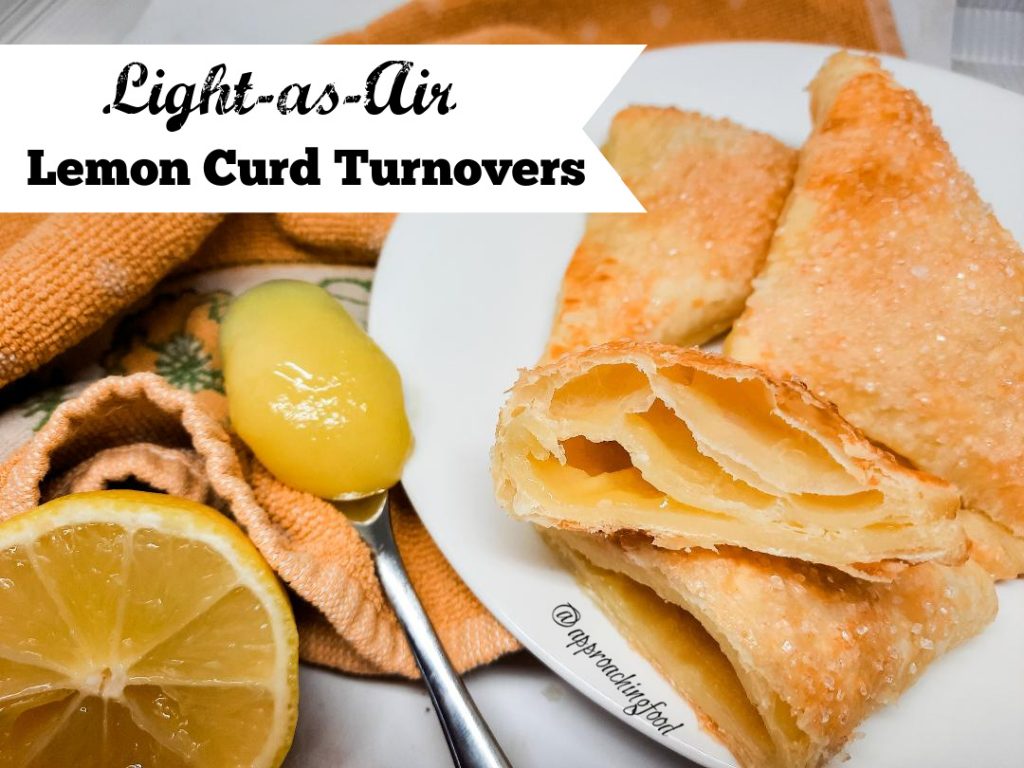 Craving a lemony treat but don't have much time? Want some luscious yet light turnovers that only take 4 ingredients? Have I got the recipe for you! These buttery, lemony treats are bakery-worthy, but so easy that I made them despite, er *with* the 'help' of my toddler last week. Flavourful and decadent tasting yet still light and flaky, these Light-as-Air Lemon Curd Turnovers are the new baked good that you never knew you craved.
With only four ingredients (and frankly, you could get away with just two), you can have these made, baked, and ready to eat within half an hour. The recipe calls for lemon curd (I HIGHLY recommend making your own — it's really easy!) and puff pastry, with a dash of milk and a sprinkle of coarse sugar (large crystal sugar) for decoration. While I recommend making your own puff pastry in order to avoid unnecessary preservatives in your food, I'm also pragmatic; sometimes a shortcut is needed, and using frozen puff pastry in this recipe is just fine.
How easy is this recipe? I made it with my toddler this week, despite her helping by smushing her hand in to the dough ("a handpwint, mummy!"), licking the lemon curd spoon ("blech" *continues licking spoon*), and sprinkling the sugar (all over the kitchen table. And under). And I managed to do this in between nursing my new baby! Yes, that's right! If you've been wondering why I haven't been posting recipes or basically doing anything on social media, it's because the pregnancy was kicking my butt. But now my little baby is here! And nursing means I get to consume extra calories…hopefully in the form of these Lemon Curd Turnovers!
Want to make some of these easy-peasy lemon-squeezy turnovers yourself? Let's!
Yield: 8 turnovers
Light-as-Air Lemon Curd Turnovers
These flavourful and flaky turnovers are filled with sweet and tangy lemon curd. Perfect to throw together for breakfast, brunch, or a sweet coffee break!
Additional Time
3 minutes
Ingredients
350 g. puff pastry, defrosted (about 1 pkg)
8 tbsp. lemon curd
1/4 c. milk
1/4 c. coarse sugar
Instructions
Roll out the dough, and cut into 8 squares.
Place one tbsp. lemon curd on each square, and fold the dough on the diagonal to form a triangle.
Using a fork, press the edges of the dough together to seal the triangle. Place turnovers on cookie sheet covered in parchment paper.
Brush the tops of the dough triangles with milk and sprinkle the sugar on top.
Bake in 400 degree oven for 20-25 minutes, or until the tops of the turnovers are golden brown.
Let sit 3 minutes in pan then remove to cooling rack to finish cooling.
Notes
If there is any leftover dough, just tear it into pieces and bake for 20 min at 400 degrees Celsius, and you'll have yummy flaky bite-sized biscuits!
Nutrition Information:
Yield:
8
Serving Size:
1
Amount Per Serving:
Calories:

334
Total Fat:

20g
Saturated Fat:

4g
Trans Fat:

0g
Unsaturated Fat:

15g
Cholesterol:

27mg
Sodium:

151mg
Carbohydrates:

35g
Fiber:

1g
Sugar:

15g
Protein:

4g
Honestly, these Light-as-Air Lemon Curd Turnovers look bakery-worthy, but are truly easy-peasy lemon-squeezy. I will say, that when you bake them, some of the filling will leak out…but that's ok! The end product is just so buttery, and flaky, and flavourful, and…mmm, I really want some more now! For such an easy recipe, the wow factor (and flavour factor!) is off the charts!
Next Post: Maybe my Two-Ingredient Healthy Chocolate Milkshake! With two kids, and one a newborn, I'm all about the ease factor! But also chocolate, because some things never change.