I was looking at Instagram the other day, and came across a mention of Pesto Couscous. My mind was instantly intrigued. Could a recipe be that simple? Take some couscous and add in some pesto? The answer, my friends, is yes! Heated, it makes a great side dish. Add in some protein and a colourful veggie, and you've got yourself dinner! Or…turn it into a salad! That's this week's recipe: Pesto & Garden Veggie Couscous Salad!
With the summer heat upon us, I've been feeling particularly like serving cold salads as a main course. Adding in garden fresh veggies and some chunks of BBQ'd protein, and you've got yourself a hearty main dish that won't keep you in a hot kitchen, and can easily be packed up for picnics or lunches.
I used corn, tomato, and cucumber in this dish, but you can add in whatever veggies you have growing in your garden or can purchase fresh at a local store. For the protein, I added in chunks of tofu marinated in BBQ sauce and then baked and cooled. You could use chicken — in fact, I'm sure my darling meat-a-tarian husband would have preferred it, but hey, she who holds the ladle rules the world! Or menu, at least.
Now, to make this entirely preservative-free, make sure to make that pesto yourself! It's easily thrown together in a blender and mixed up in 30 seconds, so go you!
Want to make this easy dish yourself? Let's get to it!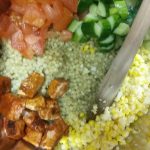 PESTO & GARDEN VEGGIE COUSCOUS SALAD
This easy yet hearty summer salad uses pearl couscous tossed with pesto and garden fresh veggies, topped with chunks of bbq'd protein, to make a refreshing but hearty summer dish.
Ingredients
1

c.

pearl couscous

(uncooked)

1 1/4

c.

water

2

heaping tbsp.

pesto

1

tomato, chopped

1

pickling cucumber, chopped

1

ear

corn

1/2

c.

bbq'd protein

(I used bbq'd tofu)
Instructions
Boil pearl couscous in water for 10 minutes or until cooked to your taste (it's just like boiling pasta). Drain.

Cook ear of corn (I cooked it for a few minutes in the microwave), and remove the niblets.

Add pesto to drained couscous and let cool.

When cool, add together pesto couscous, chopped tomato and cucumber, and corn niblets.

Stir, then top with chunks of bbq'd protein.

Chill to let flavours meld, and then serve.
I strongly prefer to use pearl couscous in this salad, both for mouth feel and for presentation, but if regular couscous is all you have, you do you, boo. As with the veggies, it's all about using what you've got! And what you've got with this dish, is a hands down hit for a potluck, work lunches, or dinner on a hot night. Even better is if you're able to use pre-cooked protein, leftover from another meal, or even from a store-bought rotisserie chicken. Less cooking means less time in a hot kitchen and more time eating and socializing! And I'm all about the eating!
Next Post: Any requests? I'd give you my own version of fried green tomatoes, but I know many people have strong feelings on the subject. Maybe something with seasonal fruit? Mmm…fruit! I'm pretty sure fruit is my spirit animal.
Linking Up at Meal Plan Monday, Happiness is Homemade, and Clever Chicks Bloghop! As well as Full Plate Thursday!