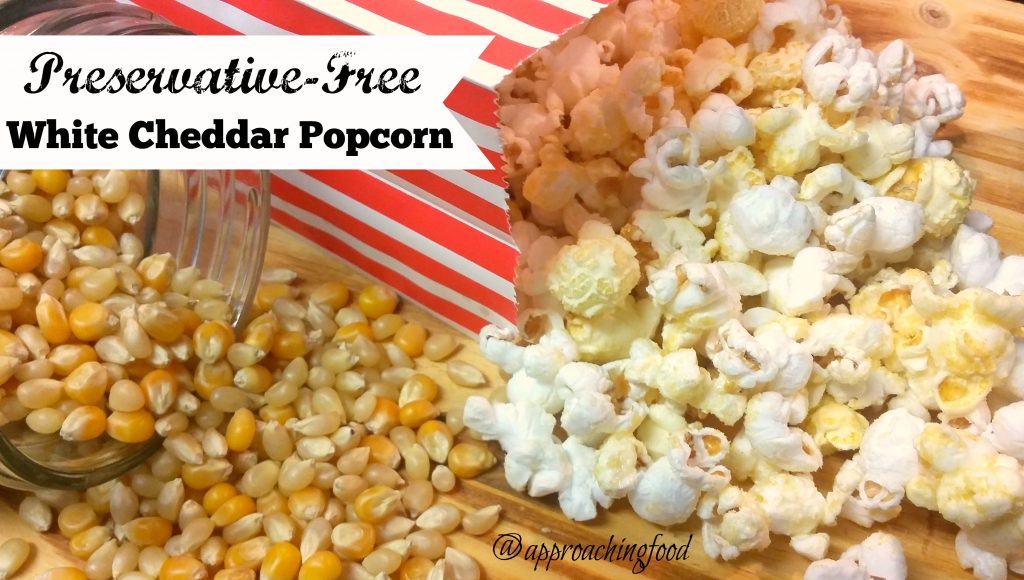 You know that yummy white cheddar popcorn that is sold in stores in the chip aisle? That's delicious and gets your fingers all sticky and is rather addictive but also full of preservatives? What if I told you I had come up with a copycat version that was preservative-free? Well…I did! My recipe for Preservative-Free White Cheddar Popcorn is so incredibly yummy, and actually rather healthy for you, full of B vitamins and fibre. But also yummy. So yummy. Did I mention the yummy?
Two ingredients make this popcorn taste like white cheddar: nutritional yeast and buttermilk powder. That's right, there's actually no cheddar cheese in the recipe! You have to eat it to believe it. And you will want to eat lots of it! I've used nutritional yeast in other recipes before, such as my Best Ever Macaroni Salad, and it does add a fragrantly cheesy flavour!
How delicious is this popcorn? Well, I made a batch for my sister and myself when my sister came over to spend some time with the baby. The DH saw what I had made, so I made a second batch for him. I went to nurse the baby and when I came back, my sister said "Oh, did you want me to save some for you? I thought it was all for me." They had eaten every kernel from both batches. So yes, it's pretty good!
Want to make some yourself? Let's!
Yield: 6 cups
White Cheddar Popcorn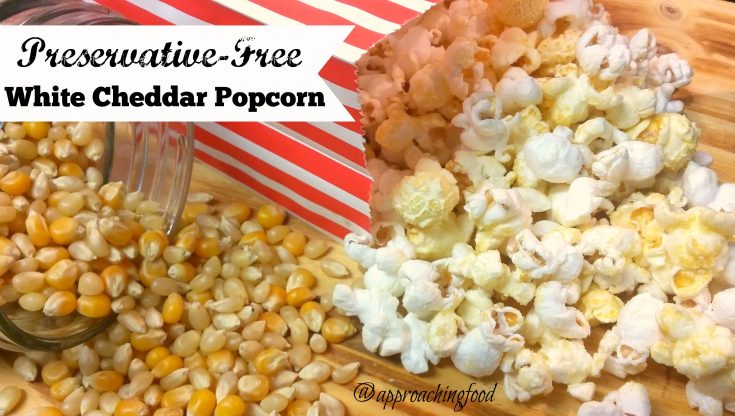 This preservative-free white cheddar popcorn is a copycat version of the store-bought kind, only healthier. But just as tasty!
Ingredients
1/4 c. popcorn kernels
1 tbsp. buttermilk powder
1 tbsp. nutritional yeast
1/2 tsp. salt
2 tbsp. butter
Instructions
Pop popcorn.
While popcorn is popping, grind the salt with a mortar and pestle until it is more of powdery than granular (takes maybe a minute).
Add in the nutritional yeast and grind until all is fine (less than a minute).
Stir in buttermilk powder into the nutritional yeast and salt mixture.
Melt the butter and drizzle it over the popcorn. Sprinkle the salt/nutritional yeast/buttermilk powder mixture over top, and mix thoroughly with two large spoons (like tossing a salad).
Enjoy!
Nutrition Information:
Yield:
6
Serving Size:
1 c.
Amount Per Serving:
Calories:

45
Total Fat:

4g
Saturated Fat:

3g
Trans Fat:

0g
Unsaturated Fat:

1g
Cholesterol:

11mg
Sodium:

233mg
Carbohydrates:

1g
Fiber:

0g
Sugar:

1g
Protein:

1g
I love that I can eat this preservative-free popcorn and know that what I'm putting into my body is healthy and not full of chemicals. Plus, how easy it is to toss together? I can already think of a few variations. What about rosemary and white cheddar? Or sriracha and white cheddar? Mmm…popcorn!
Next Post: Maybe a pillar post about 5 Preservative-Free Breakfasts That Are Easier Than You Think. They're also yummy, because that's extremely important!