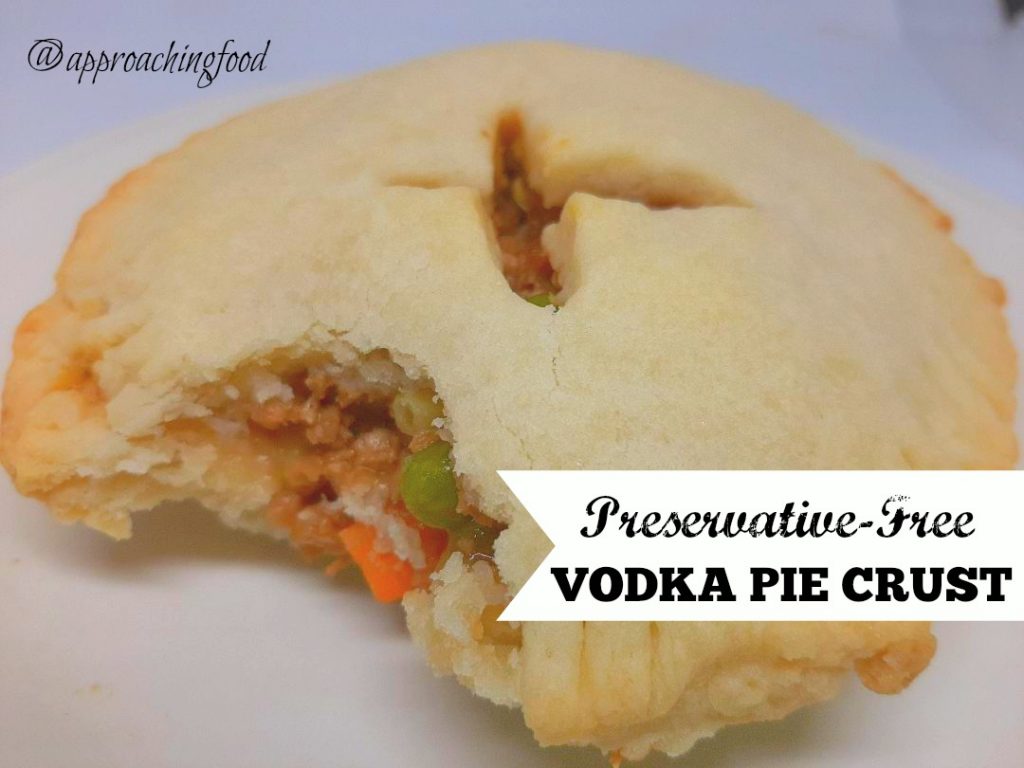 Do you usually use boxed pie crusts, IF you make pies? Trying to avoid preservatives in your food, but just love you some pie? Try making this Preservative-Free Vodka Pie Crust! It's flaky, buttery, melt-in-your-mouth good, and works equally well in a hearty pie or as a dessert pie. If you're going to eat pie, might as well make it worth eating! And boy howdy, this Vodka Pie Crust is sure worth eating!
If you've only eaten pies from the grocery store, and have never eaten homemade pie crust, well, it's a REVELATION (and yes, all caps is called for)! Honestly, there is nothing quite like homemade pie crust! Store-bought and frozen crusts are not worth the calories in my opinion, and certainly not worth ingesting preservatives for.
What makes this pie crust so super-flaky and yummy? Well, it contains both butter and vegetable shortening. Butter is what makes pastry taste so delicious, and vegetable shortening is what makes it flaky. This recipe also calls for a dash of vodka, which adds to the flakiness! (Plus, it's a conversation starter. I mean, who wouldn't want to eat pie made with vodka, amirite? Star of the potluck, right here!)
Let's get to making us some pie!
Yield: 1 pie crust
Preservative-Free Vodka Pie Crust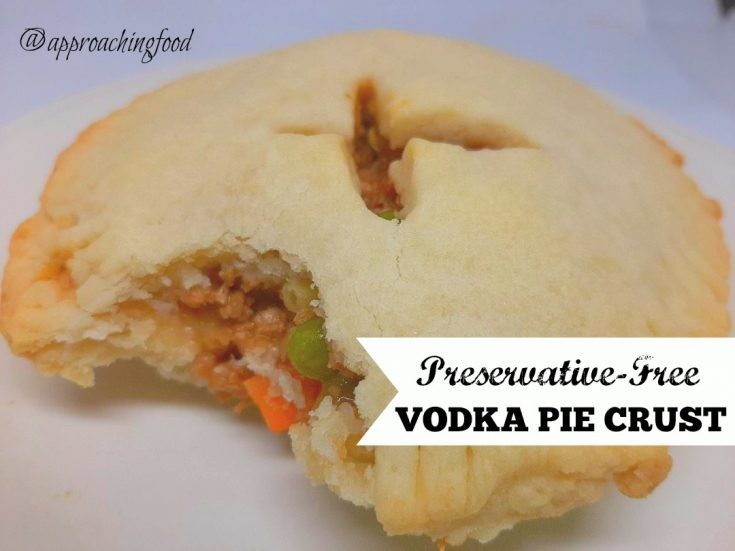 This preservative-free pie crust is flaky, buttery, and will blow any frozen or store-bought pie crust out of the water! Yes, it's that good!
Ingredients
1 1/4 c flour
1/2 tsp salt
1 tbsp. sugar
6 tbsp. butter
1/4 c. shortening
2 tbsp. cold water
2 tbsp. cold vodka
Instructions
Mix 3/4 cup flour with the salt and sugar in a mixer.
Add in the butter and shortening and mix until the fat is in small chunks and there is no loose flour.
Add remaining 1/2 c. flour and mix until just mixed — don't over-mix it, or the dough will become tough when cooked.
Add in the water and vodka (perhaps take a swig yourself?), and mix until just mixed — again, be careful not to over-mix it. 
Shape it into a ball, flatten it slightly, wrap in plastic wrap and put in the fridge for 45 minutes min. (Chilling the dough makes for a flakier crust. Do I always chill it? No. But it does make it flakier!)
Take the pie dough from the fridge and roll it out on a floured surface.
Transfer rolled out crust to a pie pan and fit into pan. Cut away any overhanging dough.
Fill with hearty or sweet filling.
Bake in a 425 degree oven until the crust is golden brown.
Notes
This recipe will make one pie crust. This will cover the bottom of a medium-sized pie pan, with some scraps to decorate the top. If you want to have a lid for your pie, double the recipe; you'll have enough dough to decorate the lid of the pie with fancy cut-out dough shapes too!
By the way, although the directions I give will make the most tender and flaky crust...if you're in a hurry, you can also just dump all the ingredients in the bowl and mix them up. The crust won't be quite as super-tender or super-flaky, but unless it's a cooking contest, who is going notice, and hey, sometimes expediency is the name of the game!
Nutrition Information:
Yield:
8
Serving Size:
1 slice
Amount Per Serving:
Calories:

219
Total Fat:

15g
Saturated Fat:

8g
Trans Fat:

0g
Unsaturated Fat:

6g
Cholesterol:

26mg
Sodium:

214mg
Carbohydrates:

16g
Fiber:

1g
Sugar:

2g
Protein:

2g
Honestly, you need to make this pie crust! Even if you only make this Preservative-Free Vodka Pie Crust for special occasions, you will quickly develop a reputation for being an amaze-balls cook. Every bite of flaky, buttery crust will win you kudos. Pin this recipe for later; you'll thank me! And, ff you make this pie, take a pic and tag me on instagram! You can follow me @approachingfood for more yummy food photos and preservative-free recipes!
Next Post: C is for Cookie, that's good enough for meeeeee, oh, cookie, cookie, cookie starts with C! (Also P for Preservative-Free!) That's right, it's Preservative-Free Copycat Oreo Cookies!