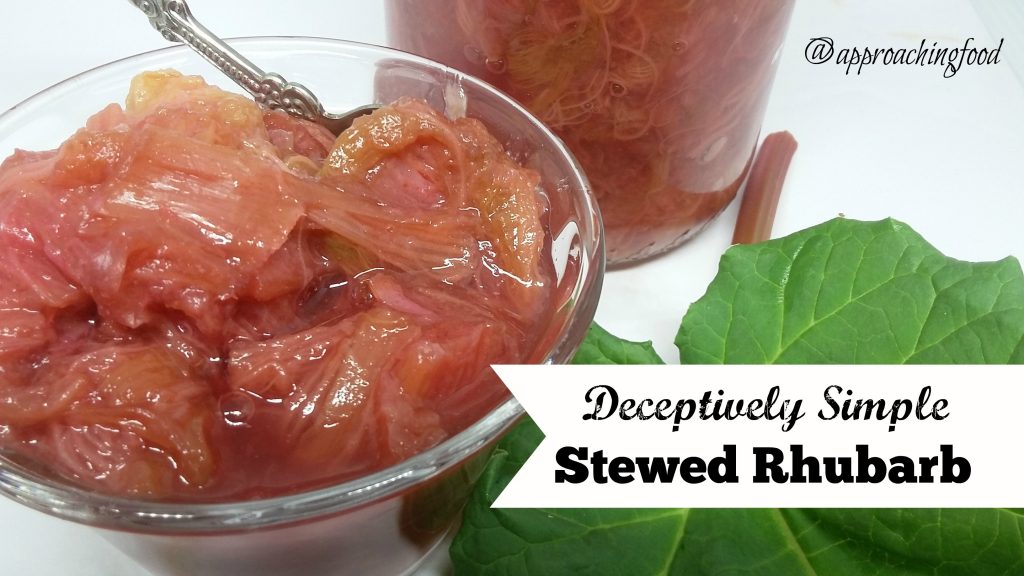 Growing up, my best friend (and next door neighbour) and I would always raid her mother's rhubarb patch and then happily eat the stalks raw, dipping the end in sugar and chomping away, for a sweetly sour treat. These days I'm slightly more refined in my tastes, and will stew my rhubarb before eating it. It's surprisingly easy to make for such an elegantly versatile dish, so I've named it Deceptively Simple Stewed Rhubarb!
I asked my mum for her recipe, but she said it wasn't much of a recipe as it's so simple. Nevertheless, the final product is rather elegant! I've eaten it served over ice cream or served on its own in little glass custard cups, but this Simple Stewed Rhubarb is even more versatile than that. You can make little parfaits by layering this with whipped cream and cake pieces in champagne or parfait glasses, or you could serve it as a sauce alongside a wedge or square of cake. Or take the sauce, boil it up with a bit of pectin, and you'll have jam.
No matter how you make it, you'll love this sweetly tart (or tartly sweet?) dish! With only two ingredients, you can't go wrong!
Yield: 2 cups
Deceptively Simple Stewed Rhubarb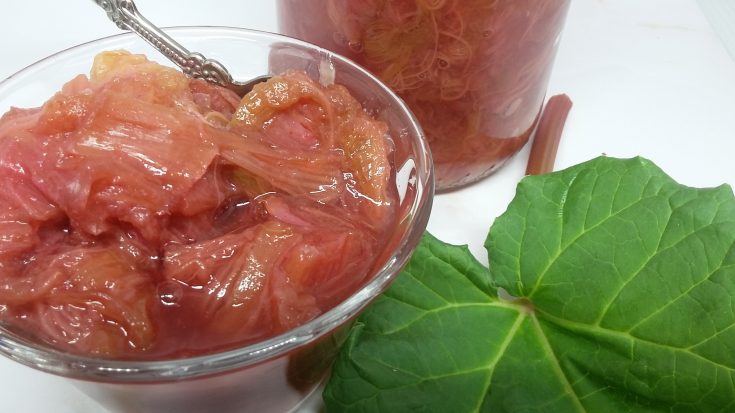 This easy stewed rhubarb has only two ingredients but is elegant nevertheless!
Ingredients
4 c. rhubarb, chopped into 1 inch pieces
1/2 c. sugar
1/4 c. water
Instructions
Mix all ingredients together and cook over medium heat for 15 minutes.
After cooked, stir to break up the chunks of rhubarb.
Let cool, and serve!
Notes
You can serve this chunky style, or smooth and very blended looking. It all depends on how much you stir it after it is cooked!
Nutrition Information:
Yield:
4
Serving Size:
1/2 c.
Amount Per Serving:
Calories:

123
Total Fat:

0g
Saturated Fat:

0g
Trans Fat:

0g
Unsaturated Fat:

0g
Cholesterol:

0mg
Sodium:

6mg
Carbohydrates:

31g
Fiber:

2g
Sugar:

26g
Protein:

1g
Despite its simple ingredients, this Deceptively Simple Stewed Rhubarb is quite elegant, and the perfect balance of sweet and tart. For a fruit-based, preservative-free dessert, you can't get much easier! This is my fave way to eat rhubarb. What's yours? Let me know in the comments!
Next Post: I'm thinking of making an ice cream cake with homemade brownies as a base and homemade ice cream on top, or I might share how to make a delicious lemon basil ice tea! Yes, it's summer and the livin' is delicious!