Do you like premium ice creams? In super-yummy flavours like Cherry Garcia or Irish Cream, made with real ingredients, and that just melts in your mouth like…well, really good ice cream? Have I got the (easy and preservative-free) ice cream for you!!! This no churn recipe has Chocolate Cherry Baileys PLUS a melt-in-your-mouth swirl of real chocolate PLUS it's made from real cream and doesn't have any preservatives in it. Basically, it's heaven in a bowl…or cone…or spoon, or frankly, I have even just eaten it from the pan. Yes, it's that good!
How good is this Baileys Chocolate Cherry Swirl Ice Cream? Well, I've been trying to get into recipe video-making and when my mom came over to visit, I had her watch my daughter while I tried to film myself making this ice cream. The video was a complete disaster (I didn't have A roll film, and the B roll footage was so awful it was practically D- roll), but my mother was super happy to help me out and try the ice cream. Her exact words, as she repeatedly took out the ice cream container from the freezer to have another helping: "Sorry, Margaret, I can't stop, it's so good!" It IS that good!
Shall I show you how easy it is to make? Let's!
Yield: 10 scoops
Baileys Chocolate Cherry Swirl Ice Cream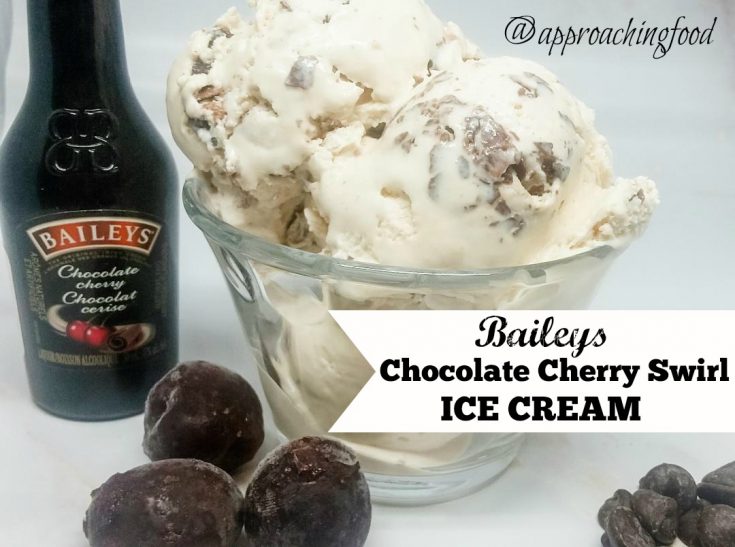 Chunks of cherry are nestled with swirls of real chocolate in this Baileys infused ice cream! Preservative-free, it's better than store-bought any day!
Total Time
4 hours
15 minutes
Ingredients
1/3 c. chocolate chips
2 tbsp. coconut oil
1/3 c. finely diced fresh cherries
1 c. whipping cream
1/2 can condensed milk (150 ml)
1 mini container chocolate cherry Baileys (50 ml)
Instructions
Place chocolate chips and chocolate oil in a microwave safe bowl, and microwave for 1 minute, stirring at 30 second intervals. Let cool, and you'll have homemade chocolate shell!
In a chilled bowl, whip cream until stiff peaks form (a chilled bowl, a chilled beater, and chilled cream will cut the time to whip in half).
Stir in condensed milk and Baileys until thoroughly mixed.
In freezer-safe container (a plastic container or even a metal loaf pan), scoop a few spoons of the cream mixture, followed by a few sprinkles of the diced cherries, and then *lightly* drizzle some of the chocolate shell over top. Top with more cream mixture, more cherries, and then more chocolate shell, until all the cream mixture is gone.
Freeze for at least 4 hours or until solid.
Scoop and enjoy! Trust me, it's so delicious it won't last long!
Notes
I rarely recommend how to chop ingredients, as I'm all about the rough chop myself, but for this recipe, I do recommend FINELY chopping the cherries. If they aren't finely chopped, they will be hard and icy in the ice cream instead of little nuggets of fruity flavour. So a Brunoise chop (teeny tiny leetle food cubes) it is!
Nutrition Information:
Yield:
5 c.
Serving Size:
1/2 c.
Amount Per Serving:
Calories:

319
Total Fat:

27g
Saturated Fat:

18g
Trans Fat:

1g
Unsaturated Fat:

7g
Cholesterol:

56mg
Sodium:

21mg
Carbohydrates:

17g
Fiber:

1g
Sugar:

15g
Protein:

2g
You don't even need to have an ice-cream maker to make this ice cream! Although if you do, you could easily speed up the process and have ice cream ready in 20 minutes by churning the finished ice cream mixture until ready instead of freezing until solid. While I strongly recommend using Chocolate Cherry Baileys, you could replace it with regular Irish Cream, or even rum. Why not play around with flavours? You'll be in ice cream heaven!
While no one would ever accuse this dessert of being healthy, given all the cream, alcohol, and sugar, the fact that it is preservative-free is definitely a healthy bonus! This Baileys Chocolate Cherry Swirl Ice Cream would be perfect to serve at a dinner party — it's super-rich and elegant and would be lovely on a hot day, perhaps as the final dish in a dinner that included my yummy Curried Cream of Squash Soup! Mmm…good food is so good!
Next Post: Ice cream cake with a brownie base? Or Cheddar Rosemary Drop Biscuits? Mmm…either way, it's a gonna be delish!