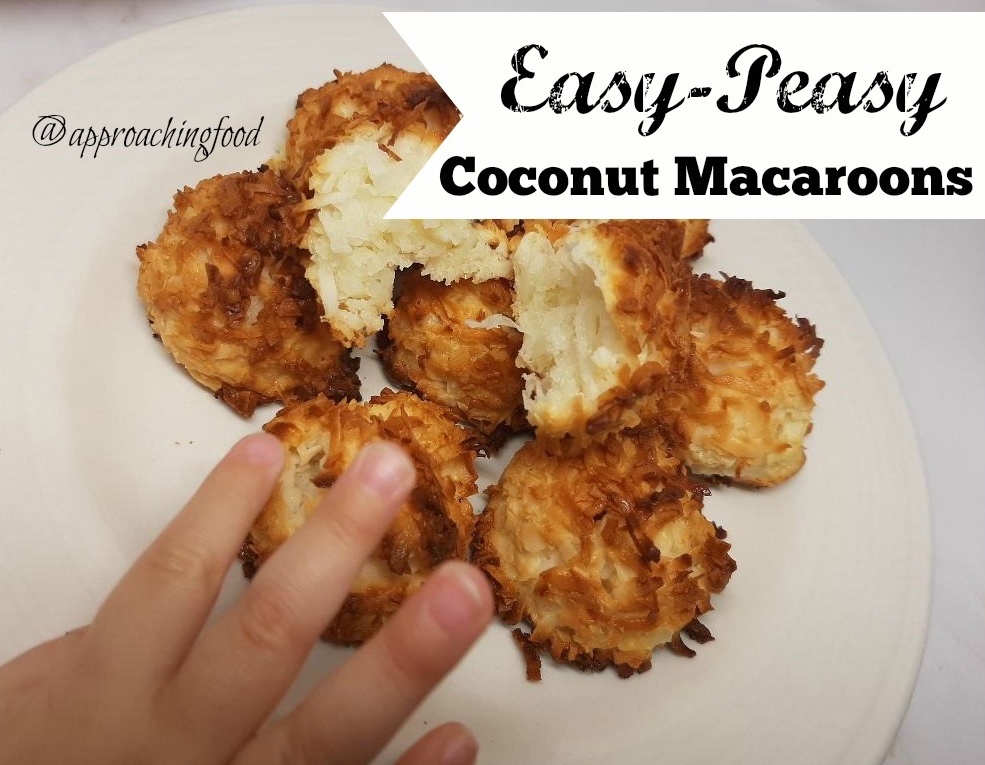 Trying to keep up a regular blogging schedule with an under-one year old, isn't an easy task as any mommy blogger will tell you, and as a mom + food blogger, I can tell you the struggle is real. At the same time, as Deb from Smitten Kitchen once wrote, it's amazing how much you can pack into their naptime! Case in point, this blog post. I actually made these Easy-Peasy Coconut Macaroons two weeks ago, but didn't have a chance to write it up until my daughter took a nap today, so finally I get to share this (super-easy) recipe with the world (and specifically with you, dear readers)!
This Easy-Peasy Coconut Macaroon recipe (not to be confused with lately-trendy macarons) is really easy. Very hard to mess up and way yummier than the kind sold in packages that are chock full of fillers and nasty unpronounceable preservatives.
I chose to make these macaroons a bit healthier by using unsweetened shredded coconut, but if you aren't worried about a few sugar calories, you could use the classic sweetened shredded coconut for an even more delectably sweet mouthful.
Yield: 10
Easy-Peasy Macaroons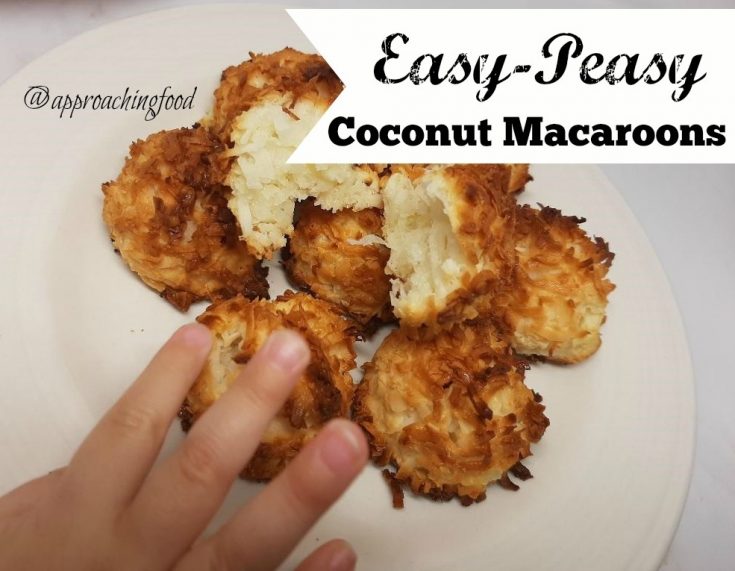 These easy-peasy macaroons are perfect with tea, coffee, or simply as a snack. Whether you dip them in chocolate or not, they'll disappear quickly!
Ingredients
1 c. shredded coconut
1 egg white
1/4 tsp. vanilla extract
pinch salt
1/4 c. condensed milk
Instructions
Beat egg white with salt until stiff peaks form.
Mix vanilla extract with condensed milk. Stir in shredded coconut.
Fold coconut mixture into egg white mixture.
Bake for 15-18 minutes in a 350 degree Fahrenheit oven, until the tops are golden.
Let cool on a cookie rack, and enjoy!
Nutrition Information:
Yield:
10
Serving Size:
1
Amount Per Serving:
Calories:

65
Total Fat:

3g
Saturated Fat:

3g
Trans Fat:

0g
Unsaturated Fat:

0g
Cholesterol:

3mg
Sodium:

53mg
Carbohydrates:

9g
Fiber:

1g
Sugar:

7g
Protein:

1g
And why not play around with the macaroons? Dip them in melted chocolate (thinned with a dash of butter, oil, or coconut oil) to make chocolate-covered macaroons. Or, drizzle white chocolate on top of the milk/dark chocolate-dipped macaroons for an even fancier presentation. Want something even fancier? For a TRUE indulgence, check out the next recipe I post, which manages to incorporate macaroons, fudge, and brownies (not my gluten-free brownies, but another, even more fudgily delicious version), into one delicious dessert square of mouth-watering deliciousness!
In the meantime, though, try out this Easy-Peasy Coconut Macaroon recipe as is, and tell me what you think about it! My daughter 'helped' me as I photographed it in my mini-lightbox, so that's her hand you see trying to grasp one. I didn't let her eat any as she's still a baby and the cookies contain sugar, but I'm sure she's just counting the months until she's old enough to become my official taste-tester! Are you the official taste-tester in your house, or does someone else play that role? Let us know in the comments!
Next Post: What do a brownie, a macaroon, and chocolate fudge all have in common? It's not a joke, it's my next recipe! Stay tuned!