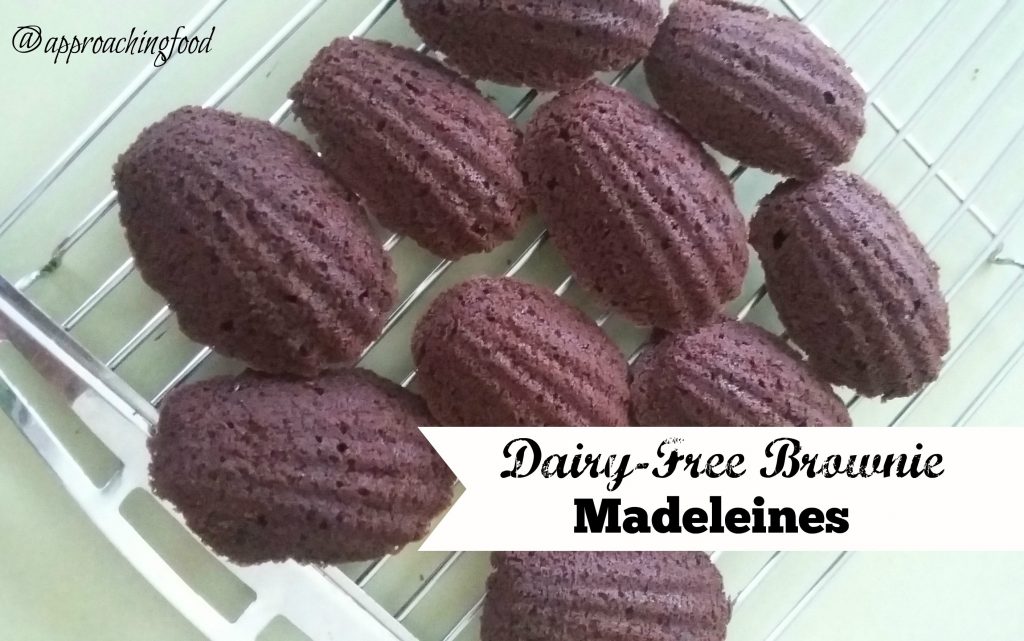 A childhood friend and his father visited us this weekend, and I wanted to make a special dish for them, so I played around with a few recipes. And I came up with (Dairy-Free) Brownie Madeleines! Shell-shaped brownies that puff up splendidly and look extra good if you sprinkle them with icing sugar.
As it happens, I wasn't able to make the recipe for my friend as the baby decided to have a growth spurt and wanted to eat and be with mummy all the time, so their loss is my waistline's gain, as I made the recipe the day after they left. You can make the recipe too – it's delish! While I use a madeleine tray that I borrowed from my mother (I live in a condo. I don't have room to buy and store All The Baking Things.), you could easily use a well-greased muffin tray to make two-bite brownies instead of madeleines. Actually, that's a great idea – someone do that and then let us know in the comments how it was!
Want to make the Brownie Madeleines yourself? Let's!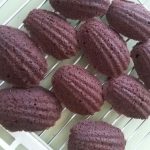 Dairy-Free Brownie Madeleines
These cookies are more like a brookie: a brownie-cookie mashup! But they're 100% delicious!
Ingredients
1/2

c.

flour

1/3

c.

cocoa

(plus 1 tbsp.)

1

tsp.

instant coffee

1

tsp.

baking powder

1

egg

pinch

salt

1/3

c.

soft plant-based margarine

1

tsp.

vanilla extract

1/2

c.

sugar
Instructions
Mix all ingredients together.

Spoon into a well-greased madeleine pan, and bake in a 400 degree oven for 12 minutes or until the top of the brownie madeleines are springy.

Let cool, sprinkle with icing sugar if you desire, and eat!
I used plant-based margarine in the recipe (a soft version) to make these dairy-free, but you could use melted butter if that's all you have. And I used 1 tsp. of instant coffee powder to add a richness to the chocolatey taste, but I've also made them with 2 tsp. of regular coffee and they're just as good.
Interested in some other variations? Why not dip them in melted white or dark chocolate? Or perhaps drizzle them with a little icing sugar icing? Mmm…want!
Next Post: An AMAZING recipe for preservative-free Vegetable Cream Cheese Spread! Seriously amazing! (Also amazingly easy.)