I woke up this morning and made the DH some sour milk pancakes, as a thank you for transferring my 10kg bag of flour (I kid you not) into smaller and more manageable containers. I think I use about two of those bags a year, plus significantly less whole wheat flour. I try to enrich it by adding in freshly ground flax and I probably should use less white flour, but a whole wheat pie crust just doesn't taste the way I like.
I used to whip these pancakes up a lot when I lived with my parents, because I could dump all the ingredients in the blender, fry up the pancakes, eat them, clean up, and freeze the remaining pancakes for future breakfasts, all in 30 minutes. They're that easy!
Whip some up yourself!
Yield: 10 pancakes
Sour Milk Toaster Pancakes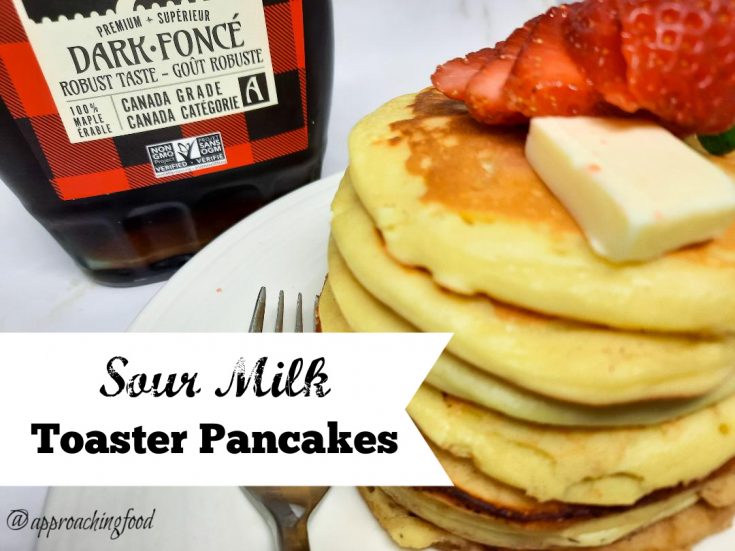 Freeze a batch of these fluffy pancakes and enjoy pancakes every day, heated up in the toaster! So easy, so yummy!
Ingredients
1 c. milk
1 tbsp. vinegar
1 c. flour
1 1/2 tsp. baking powder
1 egg
2 tbsp. sugar
2 tbsp. oil
1/4 c. butter
Instructions
Place milk in a cup. Add vinegar.
Dump everything else into the blender. By this time, the milk should be chunky. Dump it in as well.
Blend until mixed.
Pour into a hot griddle, greased with butter. You may need to spread the batter out, as it's quite thick.
Fry until bubbles appear and flip to fry on other side. Repeat until batter is gone and stomach is full!
Notes
Cool the pancakes, and freeze. Then, just pop into the toaster whenever you want a pancakes breakfast!
Nutrition Information:
Yield:
5
Serving Size:
2 pancakes
Amount Per Serving:
Calories:

281
Total Fat:

17g
Saturated Fat:

7g
Trans Fat:

0g
Unsaturated Fat:

9g
Cholesterol:

66mg
Sodium:

257mg
Carbohydrates:

27g
Fiber:

1g
Sugar:

8g
Protein:

6g
If you want to freeze them, you can easily defrost them by sticking them in the toaster. Homemade pancakes, easy as toasting bread!
I used to let them cool on a cookie cooling rack, and then just stack them in a plastic container in the freezer. I used a large griddle when I made these at my parents place, as I could cook the entire batch at once. I used very little butter to fry them, as I was trying to make them lower in fat, but I have to say, more butter makes them better!
They're tasty with fruit or syrup, or whatever your favourite topping is. Let me know in the comments what your fave pancake topping is!
Next Post: Oatmeal Yoghurt Bread and why I call myself the Queen of Substitutions