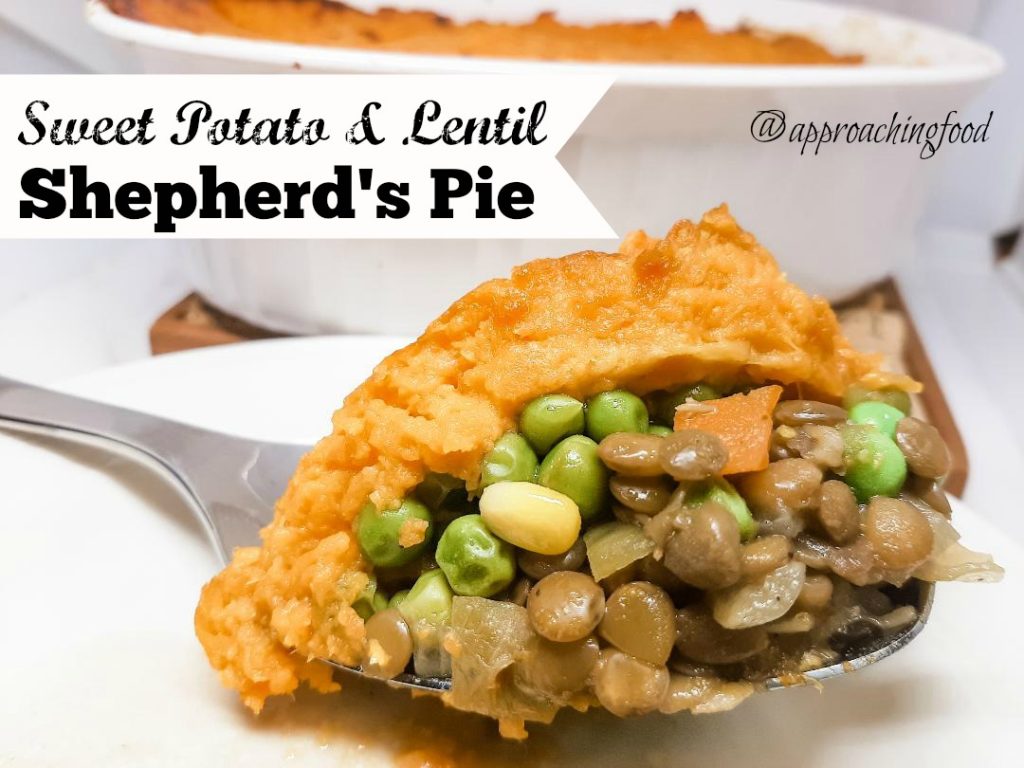 I grew up eating the classic meat-based shepherd's pie, but once I became vegetarian, I wanted a vegetarian version. I made a delish Veggie Shepherd's Pie with soy ground round, but as I'm getting further along in my preservative-free journey, I want to eat more and more whole foods. Enter my Sweet Potato & Lentil Shepherd's Pie! It is, dare I say it, better (and TASTIER!) than the original!
These lentils are not your average grainy, gritty unpleasantness, but are soft and taste rather meaty, thanks to the spices, braised onions, and other ingredients. The meaty lentil base is then topped with mixed vegetables, and finally crowned with a puffy layer of creamy sweet potatoes. The top of the dish is browned to a golden hue, and the whole thing together, well, it's much greater than the sum of its parts! My meat-a-tarian hubby actually really liked this dish and ate some for an evening snack, even though he had had plenty at dinner. So I think it's a hit!
And bonus, it's actually really quick to make! Why so quick? It's due to three things: 1) using canned lentils in the base, 2) using frozen veggies in the middle layer, and 3) microwaving the sweet potatoes. This means that you can get a healthy, hearty, and yummy dinner on the table in as little as half an hour!
Yield: 6 servings
Sweet Potato & Lentil Shepherd's Pie
This plant-based, high fibre, and nutrient dense dish, is actually classic comfort food in (tasty) disguise! Great for potlucks or freezer meals.
Ingredients
1/4 c. butter
1 onion, roughly chopped
1 1/2 c. cooked lentils
1 bouillon cube
1/2 tsp. soy sauce
1/4 tsp. hot pepper flakes
salt and pepper to taste
2 c. frozen mixed vegetables
1/3 c. mayonnaise
1/3 c. milk
3 large or 6 small sweet potatoes
1 egg
Instructions
Melt butter in a frying pan, and saute onions until golden and translucent.
While onions are sauteeing, prick the sweet potatoes with a fork and microwave until done (use potato setting). Cut in half lengthwise and allow to cool.
Stir in lentils, soy sauce, hot pepper flakes, and bouillon cube, until thoroughly mixed and bouillon cube is melted.
Taste mixture and add salt and pepper to taste.
Dump the lentil mixture into a greased casserole pan and spread it out.
Dump the frozen vegetables on top of the lentil mixture and spread that out as well.
Scoop out the flesh of the cooled sweet potatoes, mash, and stir in mayo and milk.
Brush top of casserole with a beaten egg.
Bake in a 400 degree oven for 20 minutes or until golden brown on top and bubbling.
Nutrition Information:
Yield:
6
Serving Size:
1/6
Amount Per Serving:
Calories:

328
Total Fat:

18g
Saturated Fat:

7g
Trans Fat:

0g
Unsaturated Fat:

11g
Cholesterol:

58mg
Sodium:

354mg
Carbohydrates:

33g
Fiber:

9g
Sugar:

8g
Protein:

9g
I know this Sweet Potato & Lentil Shepherd's Pie sounds too healthy to be tasty, but let me tell you, it is YUMMY! You get to feel good eating it, knowing that you're eating a plant-based, high fibre, and nutrient-dense dish, but all your tastebuds will care about is that it is TASTY! And boy is it ever tasty! If you make this dish, let me know what you think about it in the comments!
Next Post: Either my Preservative-Free Shortcut Pretzel Bites, or my All-Natural Shortcut Everything Bagels! Either way, mmm…bread!!!