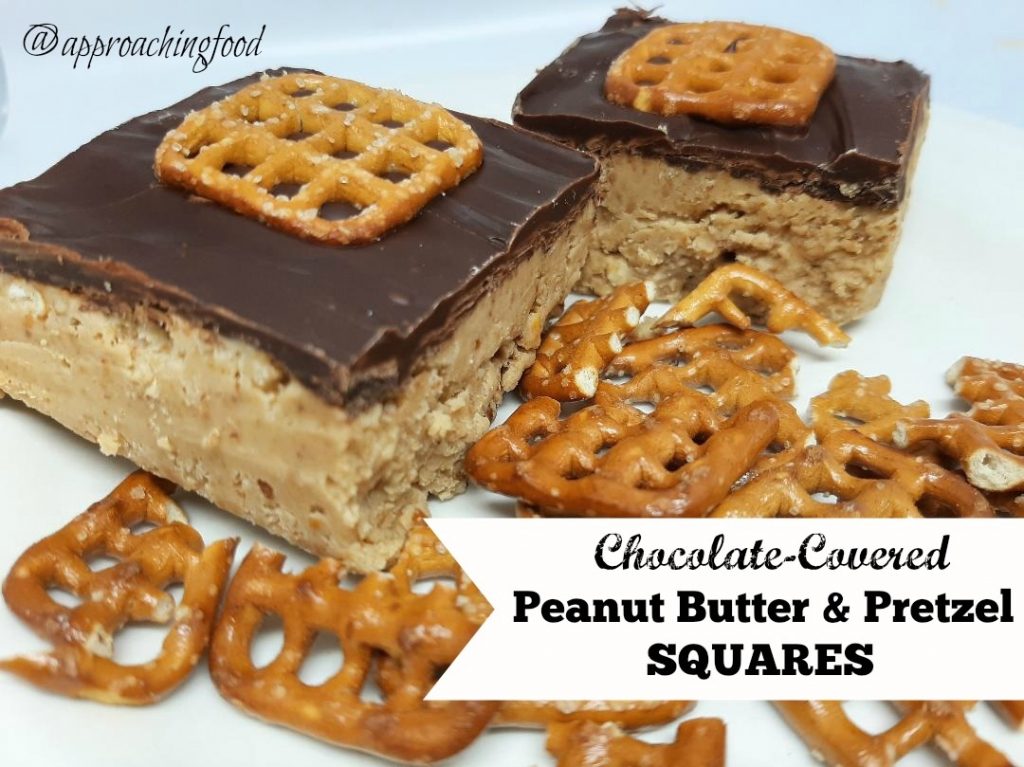 If you've ever tried sleep-training a baby, you know how stressful it can be. And sleep regressions? Don't get me started. I don't normally comfort myself with food, but let me tell you, these Chocolate-Covered Peanut Butter & Pretzel Squares really hit the mark after a long day, when the baby is crying, and when all you want is solid carby snack! A smooth peanut butter filling, studded with chunks of salted pretzel, and topped with chocolate and more pretzels? It's like eating a peanut butter cup in square form, with some crunchy pretzel for good measure.
This rich and delish square is made of peanut butter, mixed with butter and icing sugar to make it extra rich, and graham crackers to add some structure to the square. It's basically a peanut butter buttercream icing, to which we add graham cracker crumbs and pretzel bits. Then it get topped with a chocolate and peanut butter coating — it's definitely not an everyday treat, but once in a while it certainly hits that sweet spot!
I modified a recipe I found online (I don't remember the site, otherwise I'd reference it) by reducing the amount of graham cracker crumbs called for, and adding in a bunch of crumbled pretzel bits instead. The combination of salt, sugar, and fat is just as addictive as it sounds. So rich and creamy, so intensely peanut buttery and chocolatey…these disappear incredibly fast.
Yield: 16 squares
No-Bake Chocolate-Covered Peanut Butter & Pretzel Squares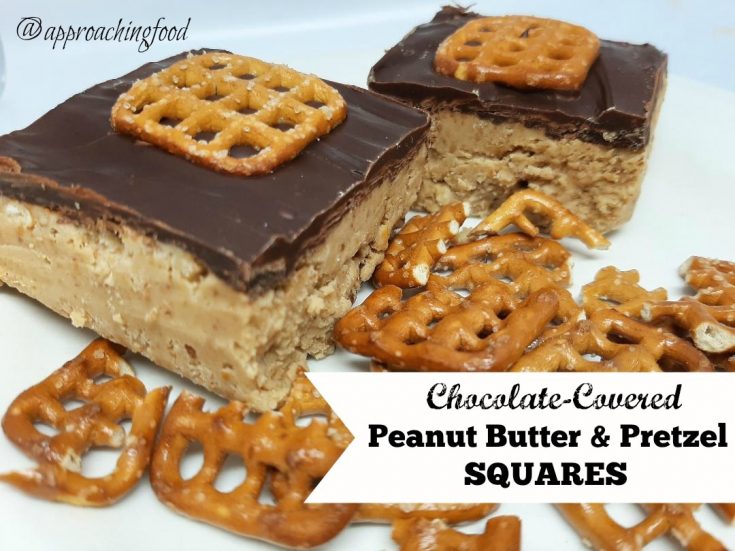 These no-bake squares are easy to whip up, and are basically a grown-up version of a peanut butter cup but with the addition of deliciously salty and crunchy pretzels. Worth every calorie, too!
Total Time
1 hour
5 minutes
Ingredients
1 3/4 c. icing sugar
3/4 c. graham cracker crumbs
1 c. pretzel bits/crumbs
1 c. butter, softened
1 c. peanut butter (I used smooth)
1 c. chocolate chips
2 tbsp. peanut butter
Instructions
Crumble the pretzels, until they resemble super-large crumbs. I just put my pretzels in a blender and pulsed it a few times.
Stir the peanut butter, butter, icing sugar, graham cracker crumbs, and pretzel bits together until thoroughly mixed.
Press mixture into a parchment paper-lined 9 by 9 inch tray.
In the microwave, melt chocolate chips and two tbsp. of peanut butter in a microwave safe bowl for two minutes, stirring every 30 seconds.
Pour on top of filling in pan, smooth out, and press whole pretzels on top.
Chill for an least an hour, preferably two.
Cut into squares and serve chilled! Enjoy!
Notes
I prefer to use smooth peanut butter in this recipe, but you could definitely add in crunchy peanut butter if you want to up the crunch factor. Or even leave the pretzels in larger pieces if you really like crunch! (Although that might make it a bit harder to cut.)
Nutrition Information:
Yield:
16
Serving Size:
1 square
Amount Per Serving:
Calories:

341
Total Fat:

24g
Saturated Fat:

11g
Trans Fat:

0g
Unsaturated Fat:

11g
Cholesterol:

31mg
Sodium:

237mg
Carbohydrates:

30g
Fiber:

2g
Sugar:

21g
Protein:

5g
These No Bake Chocolate-Covered Peanut Butter & Pretzel Squares are best served straight out of the fridge, as they will become quite soft at room temperature, but they'll disappear before long. They're just too delicious! The squares could easily be made vegan, by using a plant-based margarine instead of butter, and using vegan chocolate chips. Oooh, I just had a great idea — why not mix in mini peanut butter cups into the filling? Can you imagine how amazing that would be? Like a peanut butter cup inside a peanut butter cup! And then perhaps topped with chopped peanut butter cups? Mmm…I think I have a new recipe to make this week!
Next Post: Perhaps something with vegetables, to counteract all the deliciously rich treats I've been eating lately. I've got to pace myself…the holidays are coming!