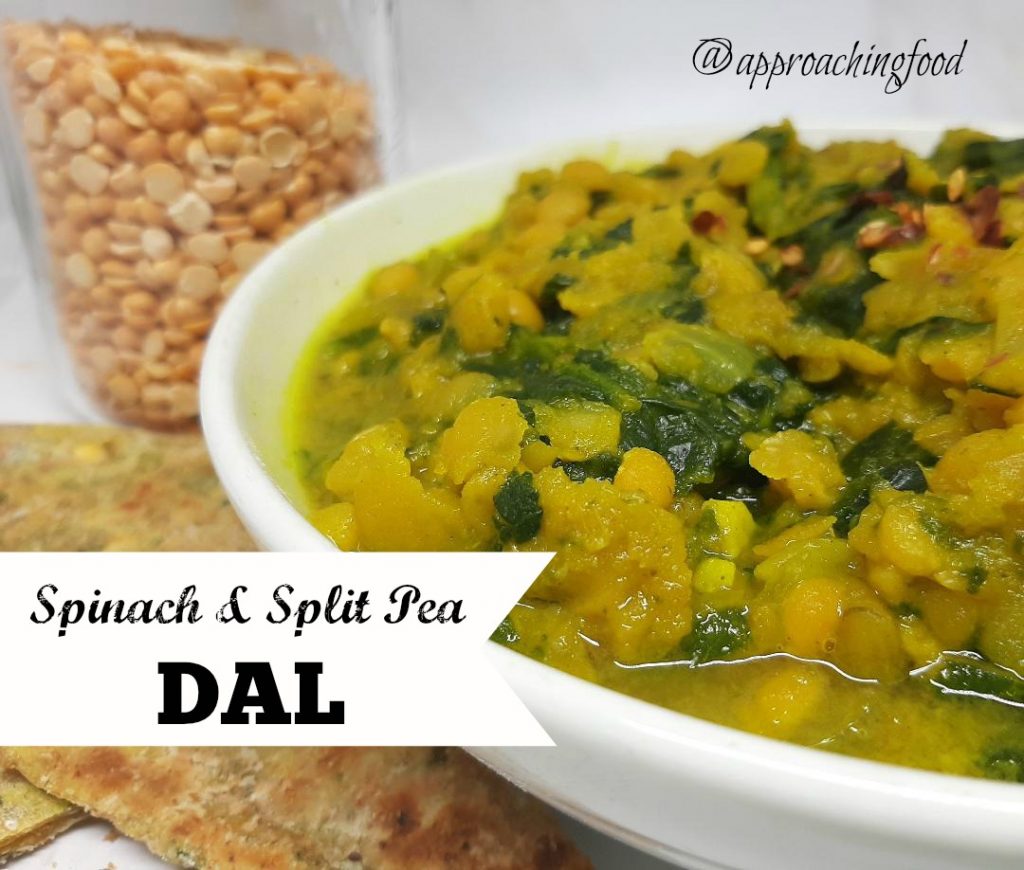 As my loyal readers will know, I have a sweet tooth and a half. But I balance this out by eating lots of healthy meals, such as Greek Salad (my go-to pregnancy meal) or my Eat-The-Rainbow Salad (with a tasty Asian-inspired dressing). The recipe I am sharing with you today is also a super-healthy one. Split peas are high in fibre and protein, and spinach is high in iron. Add in some fresh turmeric which contains the anti-inflammatory curcumin, as well as some fresh ginger which is another anti-inflammatory, and you've got yourself a super-duper healthy meal! Happily, this Spinach and Split Pea Dal (stew) is also tasty, because I will never eat anything that is not tasty.
This dal is easy to pull together, especially if you used canned split peas and have the foresight to defrost the frozen spinach in the fridge overnight (or just use the microwave). I use a plane zester to grate the turmeric and ginger, as it grates it so finely that the ingredients just melt away into the sauce. A plane zester is a game-changer, my friends!
But enough blither-blather. Let's get a-cooking!
Yield: 5 servings
Spinach & Split Pea Dal
This spinach and split pea dal is essentially an Indian veggie stew. Packed with protein, iron, and anti-inflammatory ingredients, it also tastes darn good!
Ingredients
2 tbsp. butter
1 onion
2 cloves garlic
1 inch ginger root
1 inch turmeric root
1/2 tsp. cumin
1/4 tsp. salt
1/4 tsp. crushed red pepper
300 g. frozen spinach
1 1/2 c. split peas (cooked)
1/2 c. water
Instructions
Chop the onion. Melt the butter in a saucepan and add the onion. Saute over low to medium heat until translucent, 5-10 minutes.
Zest the garlic, ginger, and turmeric directly into the saucepan.
Add the cumin, salt, and crushed red pepper and stir until thoroughly mixed.
Add the spinach,cooked split peas, and water, and cook over medium to high heat until bubbling and hot.
Serve with a flatbread or over rice, and enjoy!
Notes
You can add the spinach to the saucepan even if it's frozen, but the dish will cook faster if you defrost the spinach beforehand. Or you could even use fresh spinach!
Plus, you can easily make this dish vegan by using oil instead of butter. It won't change the flavour much!
Nutrition Information:
Yield:
5
Serving Size:
1/2 c.
Amount Per Serving:
Calories:

144
Total Fat:

6g
Saturated Fat:

3g
Trans Fat:

0g
Unsaturated Fat:

2g
Cholesterol:

12mg
Sodium:

214mg
Carbohydrates:

18g
Fiber:

8g
Sugar:

3g
Protein:

8g
I like to serve this Spinach and Split Pea Dal with homemade flatbreads and a green salad, but you do you. The dish reheats well and you can even freeze it for future lunches or dinners. It really is a tasty and versatile dish. Even my baby likes it! Plus, it's so nutritious that you can eat it after the excess of the holidays and feel virtuously healthy. And if you have leftovers? Perfect! You can use them to make super-healthy flatbreads! Which is the recipe I will share with you next week! Stay tuned!
Next Post: Whole Wheat & Dal Paranthas aka Spiced Garlic Flatbreads!