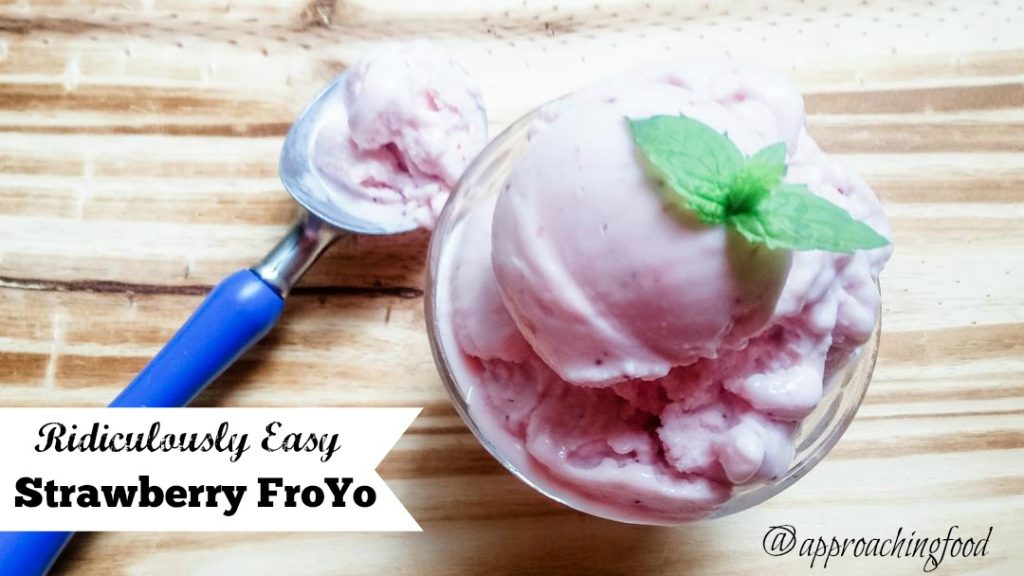 Picture this: it's a super-hot summer day. The heat hits you like a wall as soon as you step outside. But wait, what's that in your hand? It's a scoopful (ok, let's be realistic, it's several scoopfuls) of freshly made Strawberry FroYo! And even better, it's healthy, aka guilt-free! Living the dream, folks!
Recently, I got the ice cream maker attachment to my KitchenAid stand mixer. My husband likes to joke that I have a KitchenAid Kitchen as most of my appliances are KitchenAid (ooh, just had a thought — BHAG goal, a sponsored post with KitchenAid! Plus a giveaway. Now that would be a dream of a post to write! Any KitchenAid marketing staff out there who want to make my dream come true?) but given that I have limited kitchen space, getting an attachment as opposed to another appliance just made sense.
So, I had a new kitchen toy to play with, and it's the dog days of August. Obviously, the only thing to do was…make ice cream! I've posted recipes for my super-yummy No Churn Rum Raisin Ice Cream (OH so good!) and my gluten-free Chunks 'o Brownie No Churn Ice Cream (I'm drooling just typing that out), but I've been trying to develop a healthier ice cream that won't add to my waistline, while still being yummy. What to do, what to do.
And then I was eating my favourite breakfast one day: homemade yoghurt with homemade strawberry jam. I looked at my breakfast bowl. I looked at my new ice cream maker attachment. And then I dumped my breakfast in the frozen bowl and turned on the paddle. BAM! Strawberry FroYo, yo!
In the time it took me to get dressed for work, my frozen yoghurt was ready. OH. SO. GOOD. Especially to eat happily while walking to work. Mmm…dessert for breakfast!
Yield: 3 scoops
Ridiculously Easy Strawberry FroYo
This lusciously creamy Strawberry FroYo is not only low-fat, but preservative-free too! Makes a great healthy dessert or breakfast!
Ingredients
1/4 c. strawberry jam (I make my own, but you do you, boo)
Instructions
Place yoghurt and strawberry jam in frozen bowl of ice cream maker, add paddle, and churn for 20 minutes; or follow instructions for your brand of ice cream maker.
And...that's it! (Told you it was easy!)
Nutrition Information:
Yield:
3
Serving Size:
1 scoop
Amount Per Serving:
Calories:

122
Total Fat:

1g
Saturated Fat:

1g
Trans Fat:

0g
Unsaturated Fat:

0g
Cholesterol:

5mg
Sodium:

61mg
Carbohydrates:

24g
Fiber:

0g
Sugar:

18g
Protein:

4g
Scoop out, eat it up, and revel in the tartness of the froyo mingling with the sweetness of the strawberries. Ah, summer heaven!
No ice cream maker? You *could* make this Ridiculously Easy Strawberry FroYo without one. You'd just put the ingredients in the freezer in a freezer-safe container, and then stir after the first hour, and every half hour until frozen to your taste. But honestly, that's a pain in the patootie. This is one of the few recipes that I say you need to have a specific kitchen tool for. If you don't have an ice cream maker or attachment, I'd suggest making my No Churn Strawberry Ice Cream instead. Not as healthy, but [redacted], it's tasty!
Next Post: Cake Decorating Basics! I've been working on my coursework for the Elite Blog Academy, and this is the result of an assignment a month ago. Learning is fun, but cake is the BEST THING EVER! No, wait that's chocolate. Ok, I stand corrected: Chocolate Cake: BEST THING EVER!