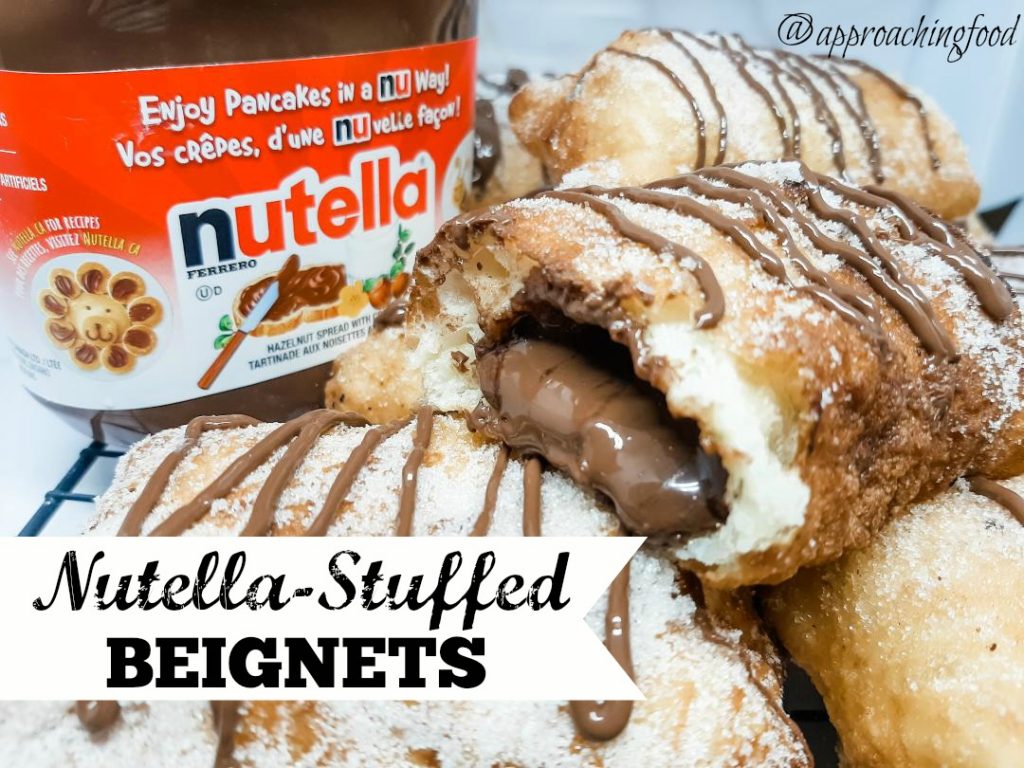 Sooooo…. I really should be posting a healthy veggie-based recipe since I shared a dessert recipe last week, but in case you haven't heard there's a pandemic on and when I stress-eat, I like my chocolate and my carbs, preferably together. And so I present Shortcut Nutella-Stuffed Beignets! Because if you're going to eat a doughnut, you might as well go all the way and fill it with melted Nutella.
These deliciously golden beignets, aka a doughnut by any other name, are wayyyyyyy easier than you think. You start with my Easiest-Pizza-Dough-in-the-History-of Ever, aka the answer to everything, fill it with Nutella, and deep-fry until golden brown. Sprinkle a little cinnamon sugar on that chocolate-filled bad boy, drizzle a little more Nutella on for good measure, and bam! Carb-y chocolate heaven! Instant stress relief.
Now don't get me wrong; I don't advocate eating away one's troubles, because obviously that can't be done. But given that the whole world is stressed out right now, I definitely advocate taking a little time to make this DELICIOUS dessert. Sitting down to enjoy a freshly homemade chocolate-filled pastry is a lovely little break and will put a little pep back in your step.
And did I mention the ease factor? So easy. I mean, dough meet Nutella, aaaand done.
So, let's get to making some!
Yield: 9 beignets
Shortcut Nutella-Stuffed Beignets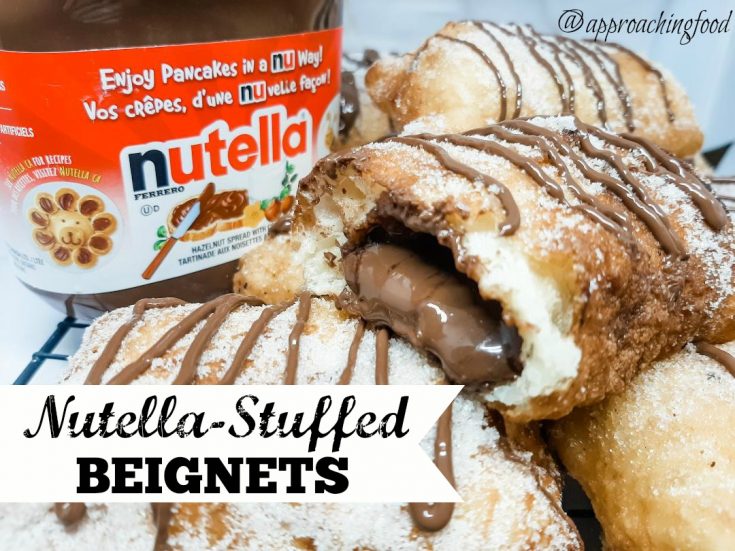 These golden-crusted dougnuts are stuffed with melted Nutella, sprinkled with cinnamon sugar, and then finished off with a drizzle of melted Nutella. The secret shortcut? Pizza dough!
Additional Time
30 minutes
Ingredients
2 1/4 tsp (1 pkg) quick active dry yeast
1 c. warm water
2 1/2 c. flour
2 tbsp. oil
1 tsp. sugar
1 tsp. salt
1 c. Nutella
1/2 c. granulated sugar
1 tsp. cinnamon
oil for frying
Instructions
Make the pizza dough by mixing the first 6 ingredients and let rest for 30 minutes.
Mix the sugar and cinnamon and set aside.
Roll out pizza dough into the size of a lasagna pan.
Cut into 9 equal rectangles.
Place 1 tbsp. of Nutella on each piece of dough, and fold over, crimping edge with a fork to seal.
Heat some oil to 350 degrees Celsius (see note below), and fry beignets for 2 minutes on each side.
Remove from oil, drain on a cookie cooling rack, and cover in cinnamon sugar mixture.
Heat remaining Nutella in a microwave for 15 seconds until liquidy, and drizzle on top of beignets.
Eat and repeat!
Notes
To fry the doughnuts, I just heated 3 cups of oil in a regular pot. You don't need a deep-fryer to make these beignets!
Nutrition Information:
Yield:
9
Serving Size:
1
Amount Per Serving:
Calories:

353
Total Fat:

13g
Saturated Fat:

8g
Trans Fat:

0g
Unsaturated Fat:

4g
Cholesterol:

0mg
Sodium:

271mg
Carbohydrates:

54g
Fiber:

3g
Sugar:

25g
Protein:

5g
Cookies may be a sometimes food, but I have eaten these chocolate-filled, golden-crusted beignets for breakfast, snack, and dessert and am the happier for it. Definitely not the skinnier for it, but let's ignore that for now; these Nutella-Stuffed Beignets are WORTH it!
Next Post: My Easy Hawaiian Calzones. Like I said, pizza dough really is the answer to everything!