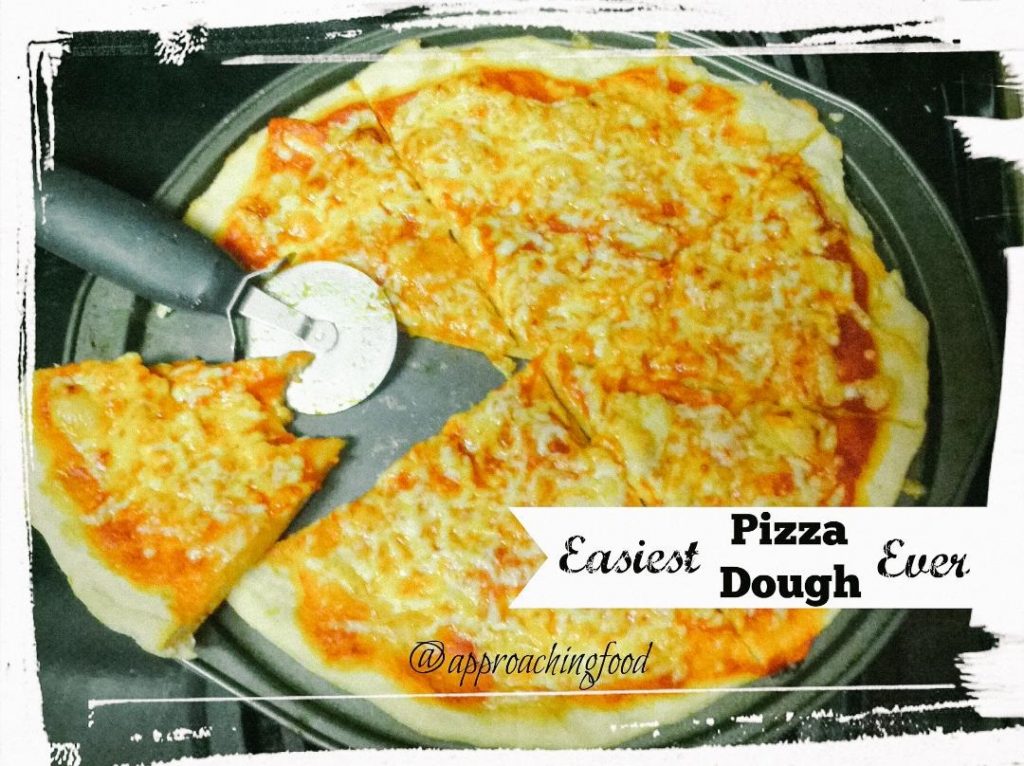 Have you ever forgotten to remove the plastic wrap or take away the cardboard base before putting a frozen pizza in the oven? Or are you tired of bland yet preservative-laden bread masquerading as artisanal pizza? Why not just make the pizza dough yourself? It's surprisingly easy, just as quick as ordering delivery, and bonus, it's preservative-free!
Today, dear readers, I will share with you the Easiest Pizza Dough Recipe in the History of Ever. I cannot emphasize this enough. No kneading and no (gasp!) waiting for the dough to rise, if you can believe it. It's just as quick as ordering delivery or cooking a pizza from frozen, and bonus, it's preservative-free!
You can make this with regular flour or whole wheat flour or some combination thereof (you use what you've got!). You can make pizzas or empanadas with the dough (I've done both), you can freeze the dough and let it thaw and use it, and you can make the pizza and freeze it and then thaw it and bake it. In other words, it's a super-easy, super-flexible recipe. So let's make us some dough!
Basically, you just mix up all the ingredients and let the dough sit for 5 minutes. Or not. If you like a thinner crust, don't let it sit, and if you like thick crust pizza, let it sit until puffy. I just let it sit while I turn on the oven and prepare the toppings, so usually I just let it sit for 5 minutes.
Easiest Pizza Dough in the History of Ever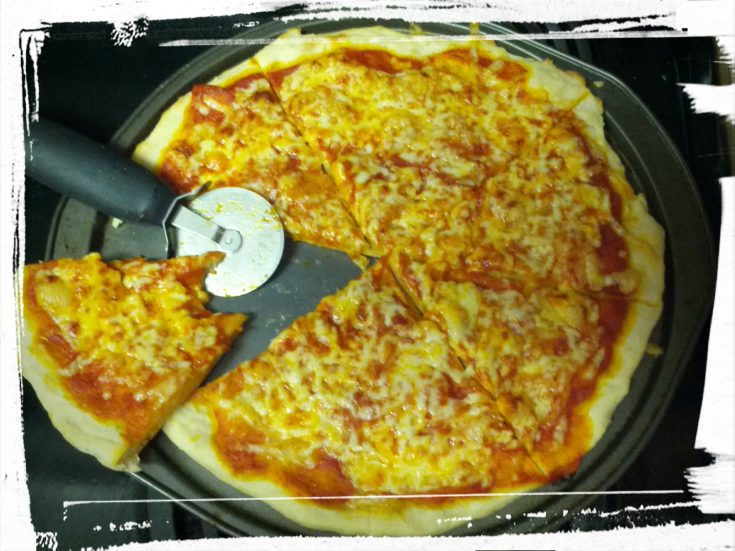 This incredibly easy (and preservative-free!) recipe yields enough dough to make one large pizza, but is easily doubled.
Ingredients
2 1/4 tsp (1 pkg) quick active dry yeast
1 c. warm water
2 1/2 c. flour
2 tbsp. olive oil (or veg. oil. You use what you've got!)
1 tsp. sugar
1 tsp. salt
Instructions
Dissolve yeast in warm water. Add rest of ingredients. Mix it up in a mixer (or mix by hand. I've done both).
Let sit for 5 minutes, while you prep your toppings.
Oil a pizza tray and sprinkle a bit of cornmeal on it before you spread out the dough, for that super-fancy-pants look.
Spread tomato sauce on dough, and add whatever toppings your heart desires (or, as I do, whatever toppings are in the fridge).
Bake in a 425 degree oven until the crust is golden and the cheese melted. Eat. Burp in contentment.
Notes
I've used this dough recipe to make regular pizzas as well as empanadas or even pizza scrolls (think pizza rolls). It's a very versatile recipe, and can make thick or thin crust pizzas, depending on how long you let the dough sit.
Nutrition Information:
Yield:
4
Serving Size:
2 slices
Amount Per Serving:
Calories:

381
Total Fat:

11g
Saturated Fat:

1g
Trans Fat:

0g
Unsaturated Fat:

9g
Cholesterol:

0mg
Sodium:

586mg
Carbohydrates:

61g
Fiber:

2g
Sugar:

1g
Protein:

8g
Was that not the Easiest Pizza Dough in the History of Ever? I made a hamburger pizza recently, using leftover crumbled breakfast sausage (veg, of course) and black olives (I had it in the fridge so I tossed it on). So. Good. *drools remembering that epic pizza*
And you don't have to stick to the script when it comes to toppings. In my family, it's a tradition that the birthday person gets to choose a special dinner menu on their birthday. My mum always used to choose this pizza, but Mediterranean-style, with sliced zucchini, crumbled ground beef, black olives, crumbled feta cheese, and a lot of basil. No tomato sauce, but a chopped tomato instead. It's healthy, and really delicious!
Try out the recipe and let me your variation of this preservative-free (and EASY) pizza dough in the comments! And if you're feeling so inclined, please share this post on social media! Let's get people making some preservative-free pizza dough!
Next Post: A Pie Odyssey continues, with (Vegetarian) Meat Pies! Plus, where I find my recipes!