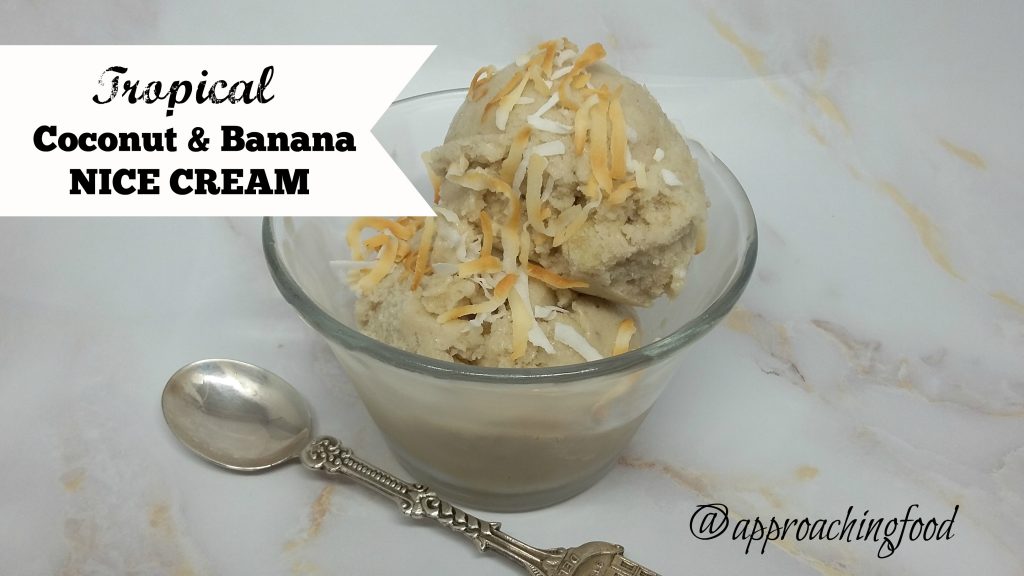 What with the warmer temperatures lately, I've been craving ice cream (like my Gluten-free Chunks 'o Brownie Ice Cream or my No Churn Strawberry Ice Cream) the way I usually crave fruits and veggies, so I've had to come up with some healthy options so that I don't gain back the baby weight that I've lost. The result? Tropical Coconut & Banana Nice Cream!
This super-healthy, preservative-free ice cream alternative is rich and creamy due to the coconut milk it contains, with a smooth ice cream texture from the frozen banana. A dash of honey gives it a depth of flavour that is unexpected given how little honey is used, and then the cinnamon rounds out the flavour. You can serve it right away, as soft serve, or freeze it for a more solid and scoopable 'nice cream'.
Yield: 4 servings
Tropical Coconut & Banana Nice Cream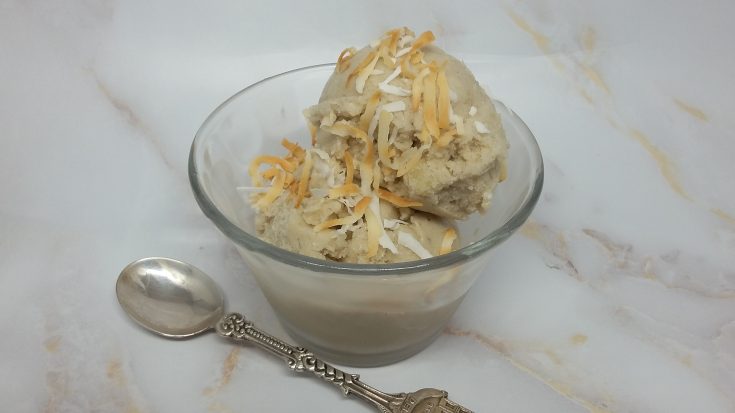 A blender is all you need to create this creamy, flavourful, dairy-free 'nice cream'! Coconut milk & frozen banana come together to create a rich soft-serve (or scoopable!) summery dessert!
Ingredients
3 bananas, sliced and frozen solid
1/2 c. coconut milk
1 tbsp. honey (or maple syrup -- see recipe notes)
1/4 tsp. cinnamon
Instructions
Place all ingredients in a blender and blend until the consistency of soft-serve!
For a scoopable dessert, spoon into a freezer-friendly dish and freeze for 1 or 2 hours. If you forget it in the freezer (and take a nap, like me!) you can leave it out on the counter for 20 minutes to soften up to a scoopable consistency again.
Top with toasted coconut or toasted pecans and enjoy your summery, healthy dessert!
Nutrition Information:
Yield:
4
Serving Size:
1/2 c.
Amount Per Serving:
Calories:

165
Total Fat:

6g
Saturated Fat:

6g
Trans Fat:

0g
Unsaturated Fat:

0g
Cholesterol:

0mg
Sodium:

5mg
Carbohydrates:

29g
Fiber:

2g
Sugar:

18g
Protein:

2g
Not a nutritionist, yo'! 🙂
I've served this scooped into little glass bowls, topped with toasted coconut, for an after dinner dessert, as well as packed into sugar waffle cones for an on-the-go treat. Basically, it's a healthy sweet treat that I can happily nom on all day long, guilt-free!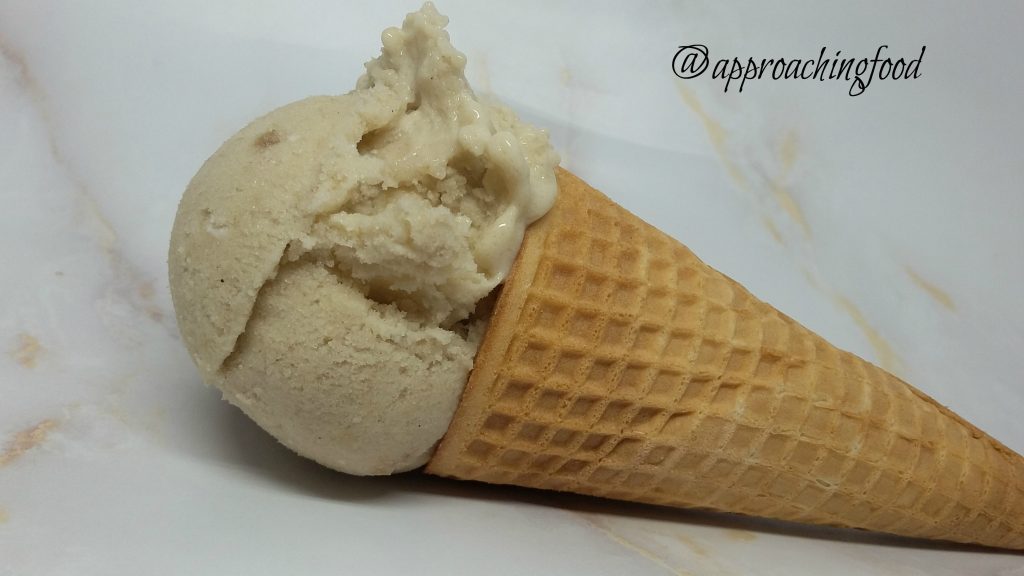 While I don't recommend giving this nice cream to a baby, simply because it contains honey (which is not recommended for babies under 1 year old), if you leave out the honey, it's definitely toddler friendly! Healthy fats from the coconut milk, lots of nutrients from the banana…you could serve it for breakfast and everyone is happy! (Especially me, because ice cream always makes me happy!)
I did mention adventures in baby food, though, right? Well, I'm slowly introducing more and more foods to mah bebe every few days, adding in a new fruit here and a new veg there. I've even introduced her to chicken (cooking chicken was a bit of a learning curve for this vegetarian mommy). Next up? Tofu. Give me a few months and I'll be feeding her bbq'd tofu without batting an eye! I have to say, it's fun to be able to introduce her to a world of delicious foods!
Speaking of delicious foods, if you try this Tropical Coconut & Banana Nice Cream, let me know in the comments! I wonder if you could add in other tropical fruits…pineapple? A few chunks of guava? Mmm…so many yummy possible substitutions!
Next Post: Creamy Sun-Dried Tomato Pasta with Kale! Healthy, hearty, and easy to make, with the bonus that it's preservative-free — yummer!!! My tummy is totally growling now. Maybe I shouldn't write blog posts just before dinner! Tee hee! 🙂