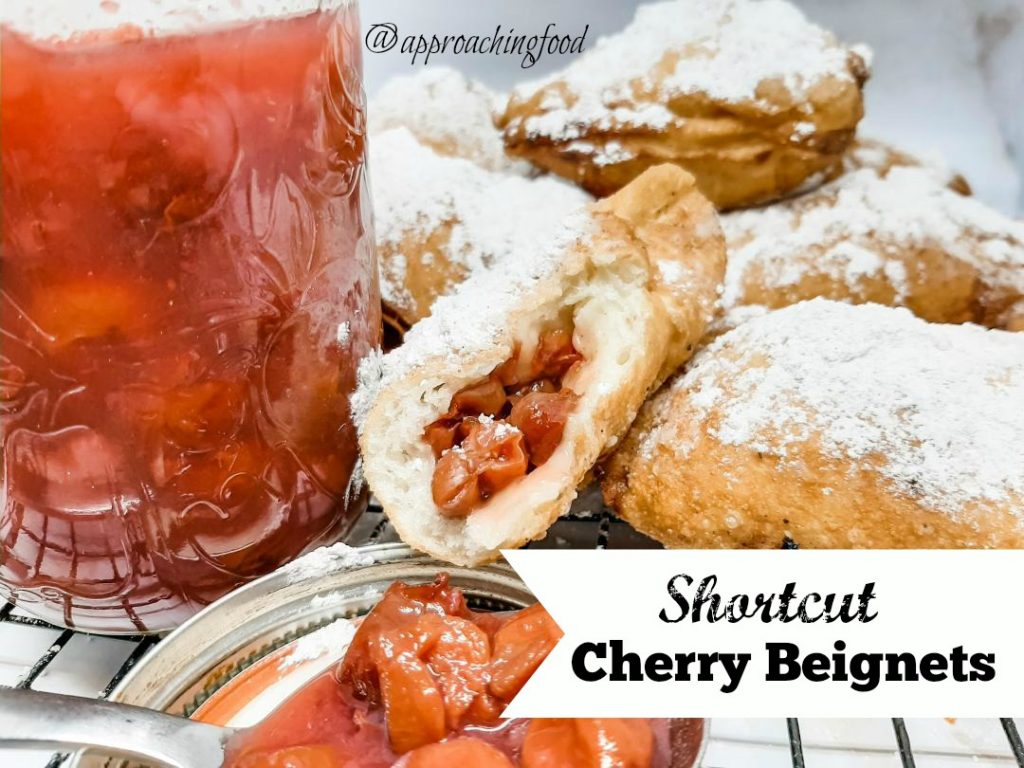 Along with what seems to be almost everyone, I've been baking a lot during this pandemic and craving sugar extra much. Since I'm all about the comfort baking right now, I decided to whip up some Shortcut Cherry Beignets last weekend! Pillowy squares of dough fried to a golden crisp, stuffed with cherry preserves and then lightly dusted with cinnamon sugar. Is your mouth watering yet? But making your own doughnuts is hard, you say? Not if you make this shortcut recipe, no deep-fryer needed! The secret shortcut ingredient? Pizza dough!
Yes, pizza dough is the answer to everything! I'm not even joking. My Easiest-Pizza-Dough-in-the-History-of-Ever is the basis for a lot of baked goods, and can be whipped up in 5 minutes. Want to make focaccia? That's basically plain pizza dough with seasonings. Craving pretzel bites? Pizza dough is where it's at. Trying to get your bagel on? Start with pizza dough. Cinnamon Rolls? Pizza dough. Seriously, pizza dough is the answer to everything!
So when it came to developing a beignet recipe, you better believe I started with pizza dough! Beignets are basically fritter-style doughnuts, but made with an enriched dough. I didn't bother enriching the dough by adding milk or butter, because eh, I wanted a shortcut recipe. So I just made pizza dough, filled it with homemade cherry pie filling, fried them, and covered them in a cinnamon and powdered sugar mixture. The recipe makes 9 beignets; they did not last 36 hours in my house. Yes, they are THAT good!
So let's recap: a shortcut recipe for a fancy-pants cherry-filled doughnut, no special gadgets or even baking knowledge needed? Um yes, please!
Trust me, MAKE these! You will NOT regret it, and everyone you know will be impressed! They don't even need to know that you started with pizza dough.
Shortcut Cherry Beignets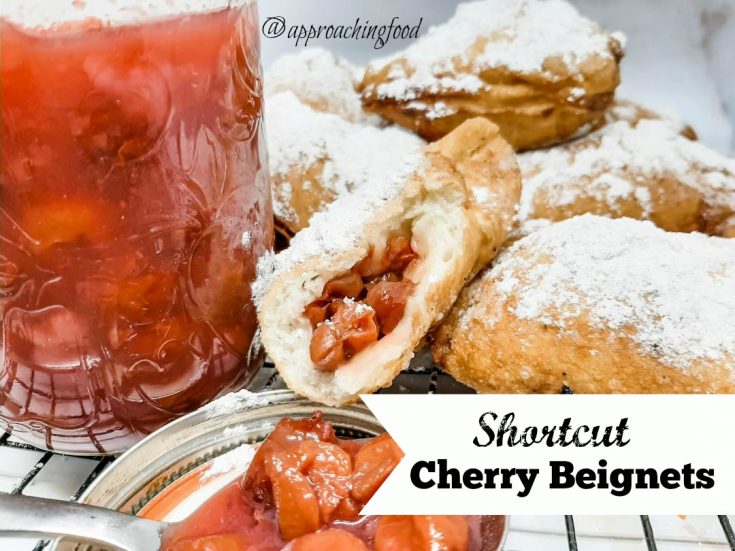 These fritter-style doughnuts are stuffed with cherry preserves and dusted with powdered cinnamon sugar. No deep-fryer needed. Eat them all or freeze for later!
Additional Time
30 minutes
Ingredients
2 1/4 tsp (1 pkg) quick active dry yeast
1 c. warm water
2 1/2 c. flour
2 tbsp. oil
1 tsp. sugar
1 tsp. salt
1 c. cherry preserves
1/2 c. icing sugar
1 tsp. cinnamon
oil for frying
Instructions
Make the pizza dough by mixing the first 6 ingredients and let rest for 30 minutes.
Mix the icing sugar and cinnamon and set aside.
Roll out pizza dough into the size of a lasagna pan.
Cut into 9 equal rectangles.
Place 1 tbsp. of cherry filling on each piece of dough, and fold over, crimping edge with a fork to seal.
Heat some oil to 350 degrees Celsius (see note below), and fry beignets for 2 minutes on each side.
Remove from oil, drain on a cookie cooling rack, and cover in cinnamon sugar mixture.
Eat and repeat!
Notes
To fry the doughnuts, I just heated 3 cups of oil in a regular pot. You don't need a deep-fryer to make these beignets!
Nutrition Information:
Yield:
9 beignets
Serving Size:
1 beignet
Amount Per Serving:
Calories:

297
Total Fat:

5g
Saturated Fat:

1g
Trans Fat:

0g
Unsaturated Fat:

4g
Cholesterol:

0mg
Sodium:

272mg
Carbohydrates:

59g
Fiber:

2g
Sugar:

24g
Protein:

4g
While I used homemade cherry preserves in this Shortcut Cherry Beignets recipe (because I'm all about the preservative-free life), you can use canned filling or even jam. Or no filling at all! These beignets even freeze well, so you can make them ahead and then just re-dust them in powdered cinnamon sugar before serving. I reheated the Cherry Beignets in the microwave and they were fabulous! The icing sugar even melts a little and sort of glazes the beignet. Mmm…I should have made a double batch!
Next Post: perhaps a veggie dish in an attempt to be healthy…or maybe more baking, because pandemic.