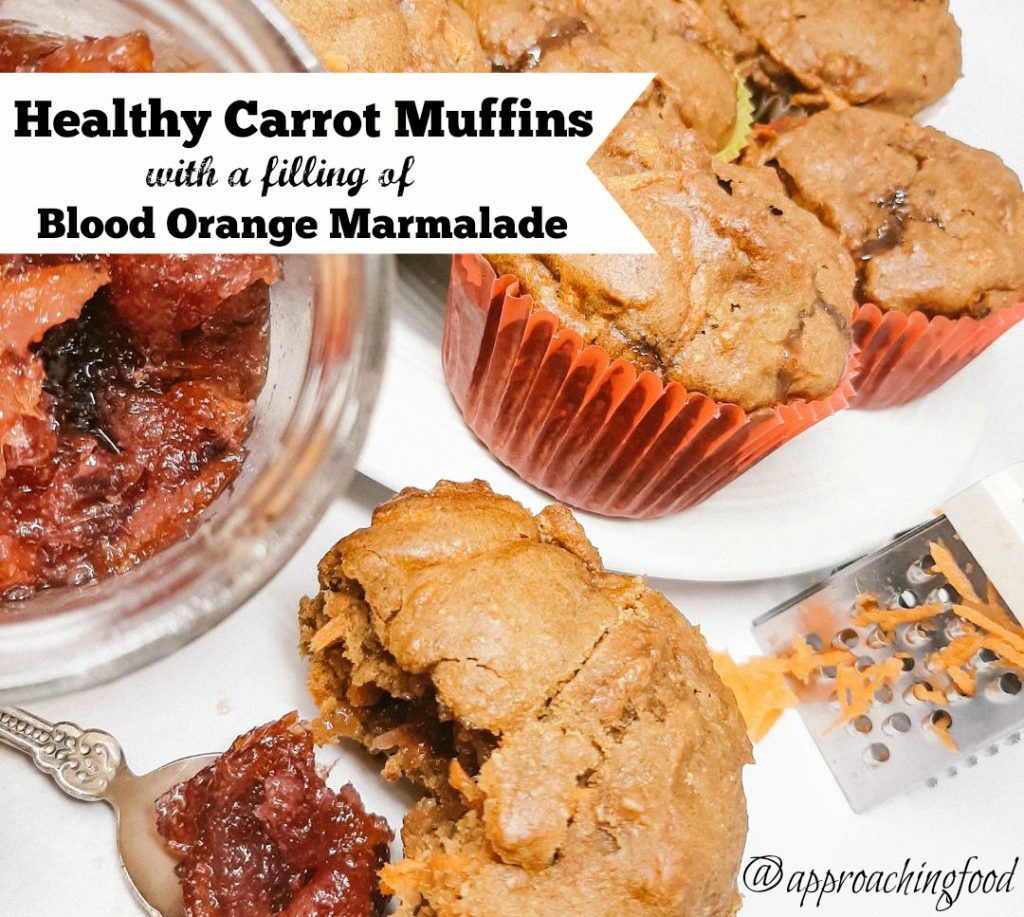 As you all know, there's a pandemic on, which means I am baking even more than usual. Yes, comfort baking is a thing! What have I baked recently? These Healthy Carrot Muffins with a Blood Orange Marmalade Filling! Perfect to serve with some iced tea for virtual brunch, and make all of your friends jelly via zoom. "Oh these? Just some healthy muffins I whipped up and filled with some homemade marmalade!" Social distancing might be a thing, but your tummy will be happy, and your social cred will be through the roof! Healthy, tasty, and insta-worthy? These Healthy Carrot Muffins with a Blood Orange Marmalade Filling basically win the foodie awards!
How did I come up with the recipe for the marmalade? Well, I received a couple of blood oranges in my weekly organic produce box (I'm trying to avoid having to go to the supermarket to shop. Appreciation shout-out to essential workers such as supermarket staff and delivery guys, who are working so hard right now!). Since it's organic (and therefore a tad more expensive than conventionally grown produce), I'm trying to make sure I don't waste any of it. I realized that I could use the citrus peel in a recipe if I zested the oranges. But that would still leave the pith that I'd have to throw out once I'd eaten the oranges and zest the peel. It's organic, it's edible, why waste it? So I decided to use the whole oranges to make marmalade! No waste, plus marmalade, I mean you really can't go wrong here!
The marmalade I made is a bit more like candied fruit/preserves as opposed to the jelly-like storebought marmalade, but it's so perfect in these healthy carrot muffins! The muffins themselves are high in fibre due to the whole wheat flour and all that shredded carrot, but don't contain any refined sugars, as I use molasses instead. You could stop there and not use any filling, but you can also go ahead and make the marmalade and use it as filing. When baked, the marmalade sort of liquifies and oozes out of the top in a very caramel-like way. It's like eating carrot cake but with notes of caramel and citrus. In other words, YUM!
But enough with the blatherings, let's get to making some muffins and marmalade!
Yield: 1 dozen
Healthy Carrot Muffins Filled with Blood Orange Marmalade
These hearty carrot muffins are made with whole wheat flour & molasses, making them high in fibre and with no refined sugar. I like to fill them with Blood Orange Marmalade to take it up a notch! The muffins freeze and defrost well.
Total Time
2 hours
28 minutes
Ingredients
1 3/4 c. whole wheat flour
1 12/ tsp. baking powder
1/2 tsp. baking soda
1 1/2 tsp. cinnamon
1/4 tsp. salt
1/2 c. sour milk (milk with a tbsp. of vinegar in it)
2 eggs
1/2 c. oil
1/2 c. molasses
1 tsp. vanilla extract
2 1/2 c. grated carrot
12 tsp. blood orange marmalade
Instructions
Mix eggs, oil, molasses, sour milk, and vanilla together.
Add in flour, baking powder, baking soda, salt, and cinnamon and stir until just mixed.
Stir in grated carrots until just mixed.
Put a dozen cupcake liners in a muffin tray, and fill until halfway full.
Place a heaping tsp. of blood orange marmalade on the filling.
Cover with remaining batter.
Bake in a pre-heated 375 degrees Fahrenheit oven, for 18 minutes.
Let cool and enjoy!
Notes
Here's how I make my blood orange marmalade! Slice two blood oranges very thinly, then chop either finely or chunkily (whatevery you prefer) and soak in 4 c. water for several hours (to soften the rinds). Add in a cup of sugar and boil until reduced by 3/4. It will still look a little runny, which is good, as the marmalade will firm up as it cools. Voila, done!
Nutrition Information:
Yield:
12
Serving Size:
1 muffin
Amount Per Serving:
Calories:

214
Total Fat:

11g
Saturated Fat:

1g
Trans Fat:

0g
Unsaturated Fat:

9g
Cholesterol:

32mg
Sodium:

627mg
Carbohydrates:

27g
Fiber:

3g
Sugar:

12g
Protein:

4g
While I used blood orange marmalade to fill these muffins, you could fill them with jam instead. What about homemade Strawberry Jam? Or Bumbleberry Jam? Or even Stewed Rhubarb? Or perhaps another flavour combination of your choosing! Any suggestions? Let me know in the comments!
These Healthy Carrot Muffins with Blood Orange Marmalade filling are not only delicious, but adaptable to different flavour combinations, and freeze well too. Great when batch baking in a pandemic!
Next Post: I'm craving fruit and carbs and hey, a pandemic is happening so let's get our baking on! I'll share my recipe for Shortcut Beignets with Cherry Filling!