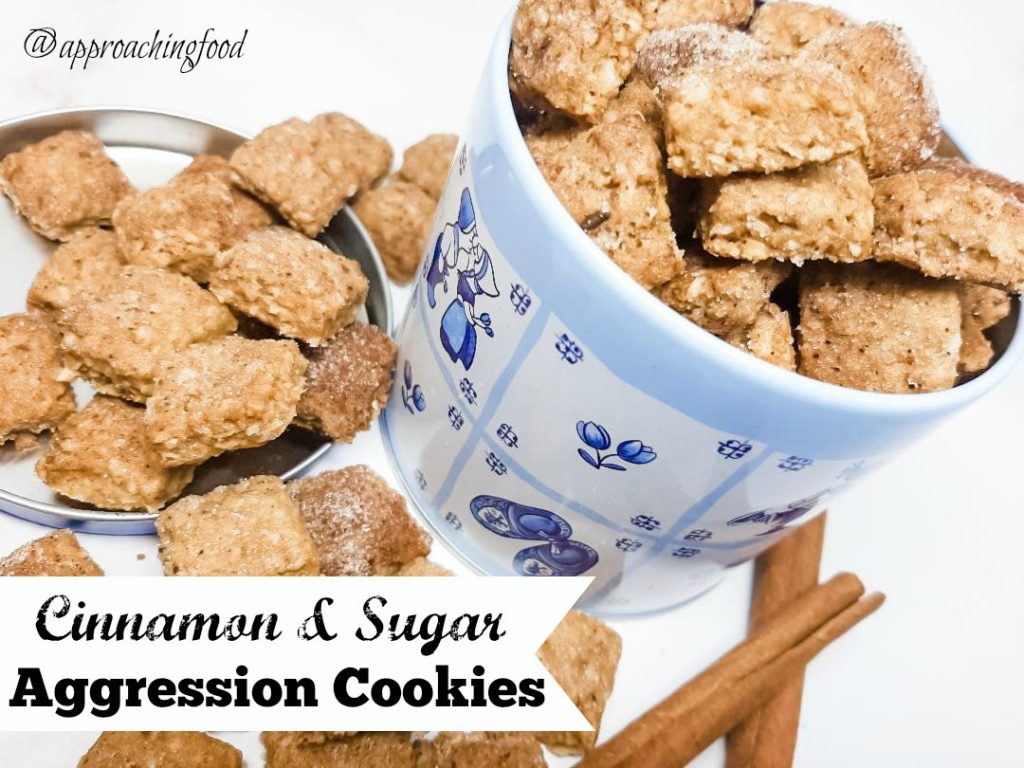 I've been baking a lot more since this whole pandemic thing started, and I have to say that the smell of Cinnamon Sugar Aggression Cookies wafting through my home definitely boosts my mood! I mean, buttery oatmeal cookies dusted with cinnamon sugar? Cookies that are crunchy on the outside and soft on the inside? Not only does that boost my mood, but it also makes my tummy very happy!
Making these cookies is a GREAT way to stay sane in a pandemic! Why? Because you get to pound the dough when mixing it up, and you get out allllllll that aggression! Dump the ingredients in a bowl, and just punch it with your fists until it's all mixed up. And then you have less stress plus COOKIES! Winning!
Fragrant and buttery, these cookies can be made with pantry ingredients. As long as you have butter, all the other ingredients are dry ones. And, these Cinnamon Sugar Aggression Cookies are egg-free!
Let's get to making some!
Yield: 5 dozen mini cookies
Cinnamon Sugar Aggression Cookies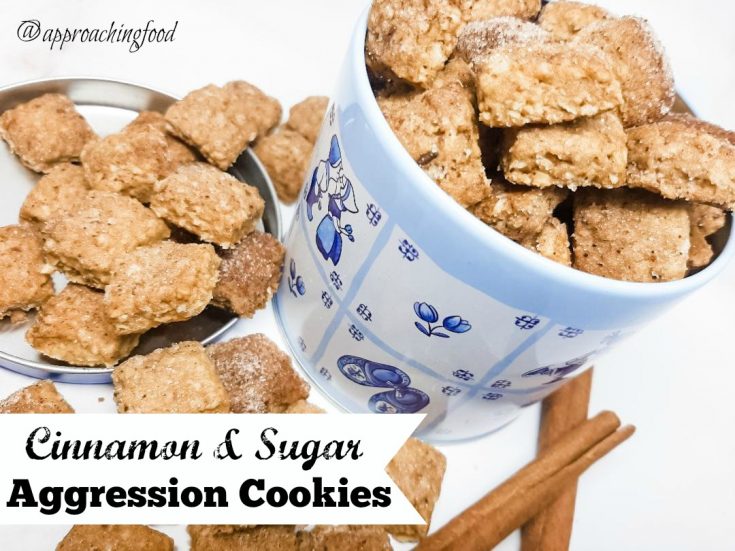 Rough day? Make these cinnamon & sugar dusted buttery oatmeal cookies! You mix the dough by pounding it with your fists. Then you have less stress, plus COOKIES!
Ingredients
3 c. oatmeal
3/4 c. brown sugar
3/4 c. white sugar
1 1/2 c. butter
1 1/2 c. flour
2 tsp. baking soda
1 tsp. cinnamon
Instructions
Mix cinnamon and 2 tbsp. white sugar together and set aside.
Dump all remaining ingredients in a bowl.
Mix the ingredients by squeezing and mashing it with your hands.
Place small round balls of dough on a greased cookie sheet, press flat, and sprinkle with cinnamon sugar mixture.
OR, roll out dough and use sharp cookie cutters to cut out cookies, sprinkle with cinnamon sugar, then transfer those cookies to a greased cookie sheet.
Bake in a 350 degree oven for 10 minutes, or until the edges are golden and the centre is still soft.
Let cool, and enjoy!
Nutrition Information:
Yield:
20
Serving Size:
3 cookies
Amount Per Serving:
Calories:

236
Total Fat:

14g
Saturated Fat:

9g
Trans Fat:

1g
Unsaturated Fat:

4g
Cholesterol:

37mg
Sodium:

239mg
Carbohydrates:

26g
Fiber:

1g
Sugar:

14g
Protein:

2g
I've been thinking about the possible flavour variations for these cookies, and just had a thought. Why not leave out the cinnamon and sugar and add in orange zest? Or chocolate chips? I mean, what *doesn't* taste better with chocolate?
I love making these Cinnamon & Sugar Aggression Cookies, and using mini cookie cutters to make them into bite-sized cookies. I like to put them in a bowl and eat them by the handful like potato chips! What's your preference? Giant cookies or bite-sized? Let me know in the comments!
Next Post: Shortcut Cherry Beignets! Golden doughnut goodness, dusted with icing sugar and filled with cherry pie filling! Who needs processed junk food when preservative-free cooking is this easy?!