I lurrrrve me some ice cream! I love the creamy, cold, lusciously rich qualities of ice cream. I love all the different possible flavours of ice cream. I mean rum raisin, tropical coconut, strawberry, chocolate peanut butter swirl, vanilla with chunks of gluten-free brownie…you name it, I will happily eat it! Despite my love for ice cream, I do not love having my waistline expand, so occasionally I like to eat 'nice cream' instead. But give up my beloved chocolate? Never! May I present a three-ingredient chocolate ice cream that is vegan and tastes like chocolate soft serve? Yes, it's my Soft Serve Chocolate 'Nice Cream'!
The ingredients? Real cocoa, frozen banana, and almond milk. That's it! It is way more delicious than the sum of its parts, and tastes only of chocolate. I whipped up a batch recently and promptly ate the entire batch in one sitting. Admittedly, my toddler daughter helped. I let her eat as much as she wanted, because again, this is HEALTHY food! But if you didn't know any better, you'd think you were eating chocolate soft serve.
So rich! So creamy! So easy to mix up in a blender! It's basically a chocolate smoothie, and smoothies are healthy, so eating this ice cream is actually a health behaviour, right?
Let's get to making some!
Yield: 2 cups
Soft Serve Chocolate 'Nice Cream'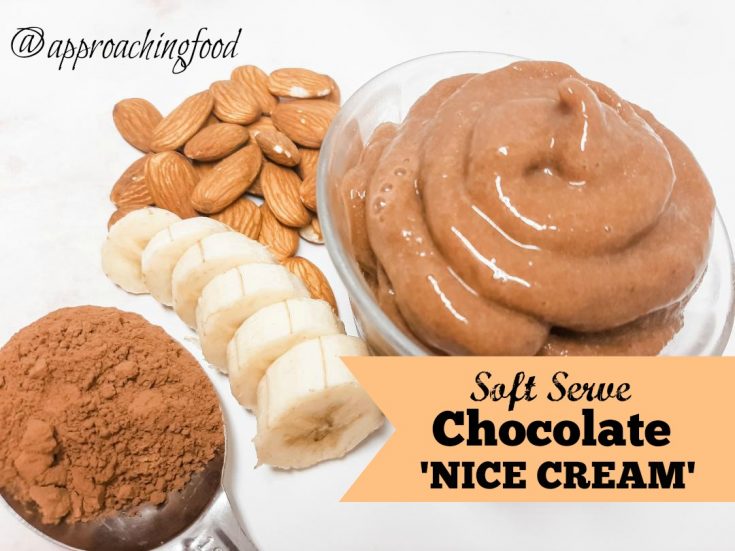 This rich and creamy chocolate soft serve is actually dairy-free and made with only three ingredients!
Ingredients
2 large and very ripe frozen bananas
1 tbsp. cocoa
1/2 c. almond milk
Instructions
Dump all ingredients in a blender and blend for a minute or until completely blended. You may have to scrape down the sides a bit.
That's it, you're done! Eat and enjoy!
Notes
You can use bananas at any stage of ripeness for this recipe, but to get the tastiest results, use super-ripe bananas.
Nutrition Information:
Yield:
3
Serving Size:
2/3 c.
Amount Per Serving:
Calories:

57
Total Fat:

1g
Saturated Fat:

0g
Trans Fat:

0g
Unsaturated Fat:

0g
Cholesterol:

0mg
Sodium:

2mg
Carbohydrates:

13g
Fiber:

2g
Sugar:

7g
Protein:

1g
I would be completely comfortable eating this as a breakfast food. Add in a little peanut butter or almond butter and you've got yourself a breakfast that you will look forward to eating!
This vegan "ice cream" goes by the name 'nice cream' as it has a frozen banana base. Healthy, easy, and vegan, this Soft Serve Chocolate Nice Cream is a summer treat that you can feel good about eating! And eating. And, if you're me, eating even more!
Next Post: Sesame Ginger Broccolini with Easy Cauliflower Rice? Easy Hawaiian Calzones? So many delicious recipes to share, I can't decided which to write about next!