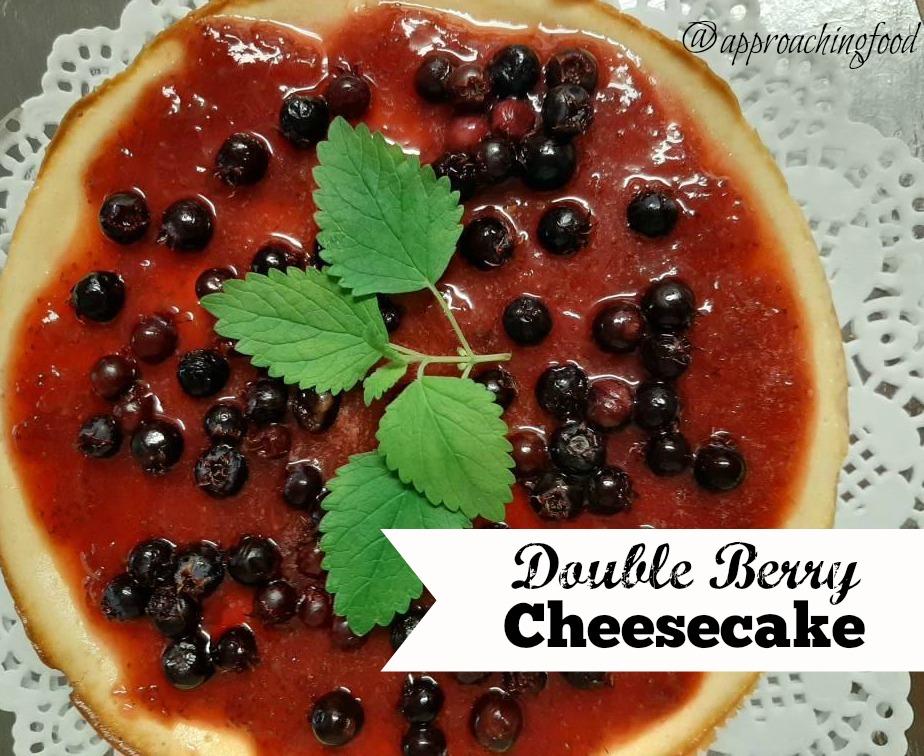 A few years ago, my parents changed up their backyard landscaping, and planted several trees, including a tree new to me: a service berry tree. Beautiful trees, and yummy berries! Also known as June berries or Saskatoon berries, they are powerhouses of nutrition. I happen to have several cups worth in my freezer that I picked a few months ago, so I decided to use them when making a cheesecake recently. I also use some homemade strawberry jam, because strawberries and cheesecake are made for each other! And voila, my extremely nom-worthy Double Berry Cheesecake was born!
I like a large crust-to-filling ratio in my cheesecakes, so the buttery graham crust will actually just rise above the filling, which makes it perfect for holding on to the jam and berry topping. I mean, who doesn't want every bite of pillowy soft cheesecake to be matched with sweetly crunchy and butter graham crust? Plus a double berry flavour burst in every forkful? Mmm…maybe I should make another cheesecake — I really want some right now!
Want some delish cheesecake yourself? Let's get to making one!
Yield: 12 slices
Delish Double Berry Cheesecake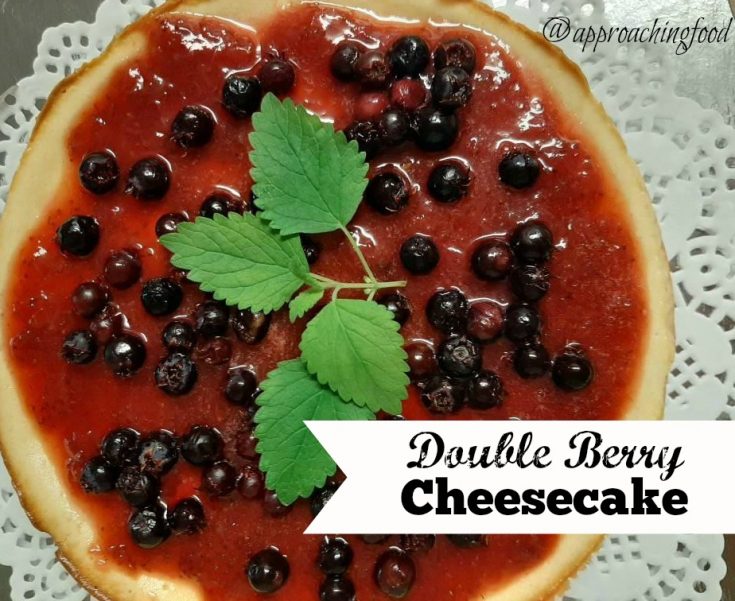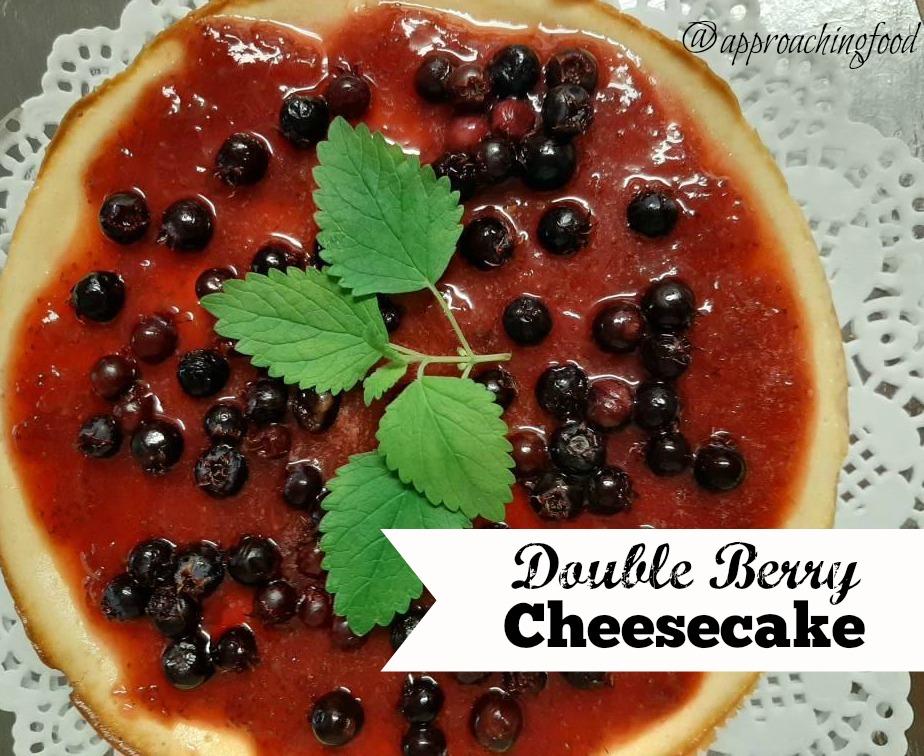 This creamy cheesecake combines a buttery graham crust with the goodness of two types of berries. Bet you can't eat just one slice!
Ingredients
1 1/3 c. graham cracker crumbs
1/3 c. butter
1/4 c. sugar
1 pkg. cream cheese, softened
1/3 c. sugar
2 eggs
1/4 c. yoghurt
1 tsp. vanilla extract
1 tbsp. flour or 1/2 tsp. corn starch
1/2 c. strawberry jam
1/2 c. service berries or other berries
Instructions
Melt the butter and mix with the graham cracker crumbs and 1/4 c. sugar.
Press the mixture onto the bottom and sides of a springform pan.
Bake in a 350 degree oven for 8 minutes, then remove and set aside.
Mix remaining ingredients together until fully combined, and pour into graham cracker crust.
Bake in a 300 degree oven for 30 minutes.
Remove from oven and let cool.
Heat strawberry jam until just soft (i.e. just melted but not bubbling) and spread over the cooled cheesecake. Sprinkle berries on top.
Slice, serve, and enjoy!
Notes
I recommend making this cheesecake in a springform pan if you want to impress people with the presentation, but if you're more interested in how it tastes, you can use whatever pan you have, even a pie pan. It's just easier to remove the cheesecake in one piece if you have a springform pan. The more you know, right?
Also, you DEFINITELY want to make sure the cream cheese is softened before you use it, unless you want to have a lumpy cheesecake. If, like me, you have little patience for leaving things out until they achieve room temperature, just soften in the microwave in 15 s. intervals until appropriately soft.
Nutrition Information:
Yield:
12 slices
Serving Size:
1 slice
Amount Per Serving:
Calories:

198
Total Fat:

8g
Saturated Fat:

4g
Trans Fat:

0g
Unsaturated Fat:

3g
Cholesterol:

47mg
Sodium:

114mg
Carbohydrates:

30g
Fiber:

1g
Sugar:

20g
Protein:

2g
I picked the service berries from several trees in my neighbourhood, and the next week, I saw that squirrels had taken over the trees and were systemically stripping the trees of all their berries. It reminded me of when a squirrel ate everything on my balcony garden (including a pine tree and my gardening flip-flops; it was a determined squirrel). It also reminded me of that old Clash song 'I fought the law', but with a twist from my sense of humour: "I fought the…squirrels, and the squirrels won!" Last fall at least, they did win. Everything in my garden was razed to the ground. This year, however, they better not touch my latest addition: a fig tree! I have plans for that fruit!
Speaking of fruit, you can easily swap out the jam flavour or berry topping in this luscious Double Berry Cheesecake. Why not try topping it with Bumbleberry Jam? Or Strawberry Peach Jam with a few slices of fresh strawberries and peaches on top? Let me know in the comments what flavours you like to top your cheesecake with!
Next Post: My Brunch-Worthy Cinnamon Bread! I'm working on perfecting that recipe. Which means baking and eating multiple loaves until I get that perfect consistency. Ah, the things I do for you, dear readers! 😉