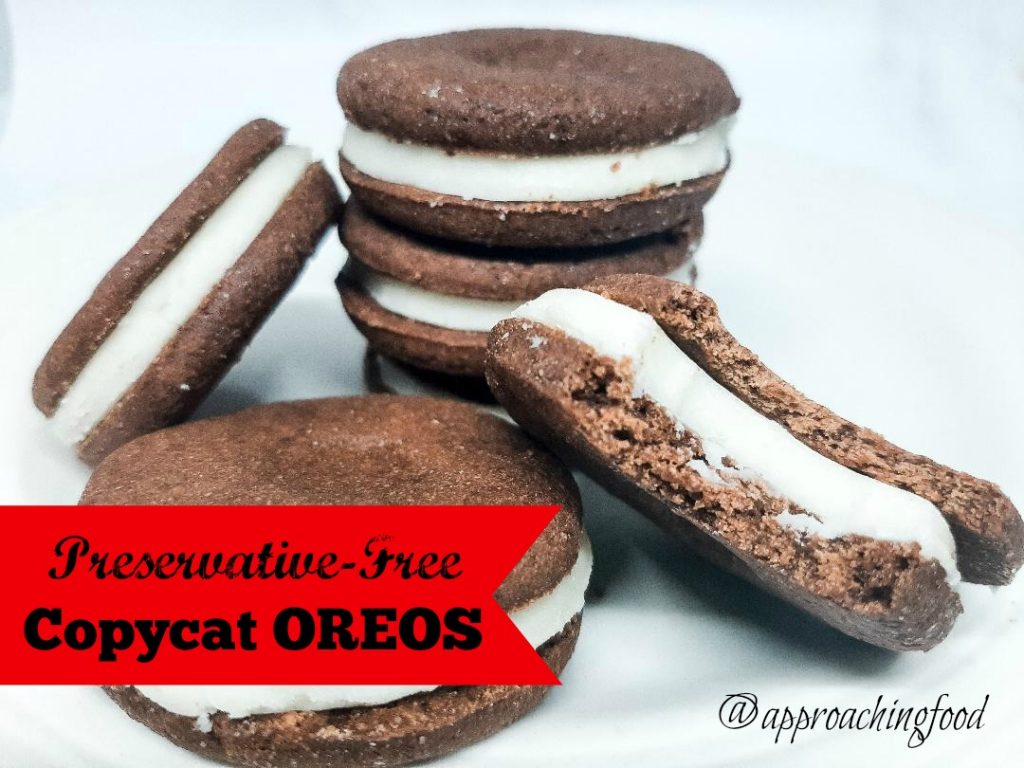 I looooove me some Oreo cookies! I mean, I've made Oreo Surprise Inside Cupcakes and Cherry & Vanilla Oreo No-Bake Cheesecakes, so you know I kinda sorta like-like them! But…I don't like the preservatives that they're made with. So what's an oreo-loving gal to do? Erm, make them myself, say what? That's right! I created a recipe for Preservative-Free Copycat Oreos! They're crunchy and creamy and chocolatey and oh so good! I definitely feel less guilty about eating a handful of homemade copycat oreos, as opposed to the preservative-laden original!
You can make these Preservative-Free Copycat Oreos too! You just make the crisp cookies, then sandwich them together with homemade filling. The filling is a vanilla version of my Peppermint Patties filling, and it's so yummy that I have to hide it from my husband. For his own good, of course! Not because I want to hoard them all for myself. No, definitely not! 🙂
Let's get to making us some cookies!

Yield: 2 dozen
Preservative-Free Copycat Oreos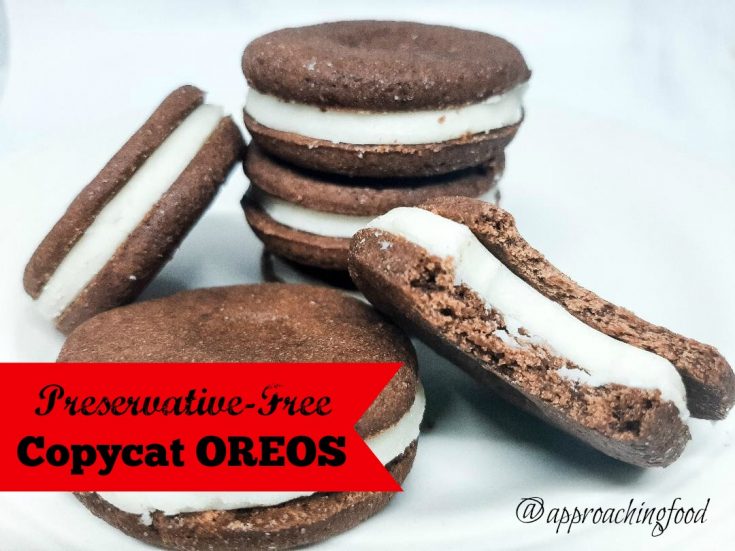 These preservative-free copycat Oreo cookies taste just like the real thing!!!
Ingredients
6 tbsp. butter
3/4 c. icing sugar
1 3/4 c. flour
1/2 c. cocoa
1 tsp. vanilla extract
2 eggs
1 1/2 c. icing sugar
5 tbsp. melted butter
1 tsp. vanilla extract
1 tbsp. chocolate chips
Instructions
Mix 3/4 c. sugar and 6 tbsp. butter together, and stir in eggs and 1 tsp. vanilla extract
Add in flour and cocoa and mix until combined.
Flatten onto parchment paper and chill until firm.
Cut out into circles with a cookie cutter and place on an ungreased cookie sheet.
Bake in a 325 degree oven, for 10 minutes.
Let cool.
While the cookies are baking, mix 1 1/2 c. icing sugar with 5 tbsp. melted butter and 1 tsp. vanilla extract, until it forms a pliable dough.
Roll out the filling between two pieces of parchment or wax paper, and cut out using the same size cookie cutter that you used for the cookies.
Place the filling cut-outs on a cookie sheet and freeze until firm.
Melt chocolate chips in the microwave in 15 second bursts, stirring in between every 15 seconds.
Take two of the cookies, place a dab of chocolate on the inside of each cookie, and sandwich the filling in between. Repeat for all cookies.
Enjoy your preservative-free copycat Oreos!
Notes
If you don't have an oreo-sized cookie cutter, try using a champagne glass -- it's the perfect size!
Nutrition Information:
Yield:
24
Serving Size:
1 cookie
Amount Per Serving:
Calories:

138
Total Fat:

6g
Saturated Fat:

4g
Trans Fat:

0g
Unsaturated Fat:

2g
Cholesterol:

29mg
Sodium:

48mg
Carbohydrates:

19g
Fiber:

1g
Sugar:

11g
Protein:

2g
As you can see from the photo, I like my Preservative-Free Copycat Oreos to have lots of filling in them, but if you're watching your weight, you could easily cut the filling down by a 1/3 to 1/2. That would significantly cut the calories, as the richest part of these cookies is the filling. I do love my Copycat Oreo filling!
If you like Oreos, but are trying to eat less processed food, try making these Preservative-Free Copycat Oreo Cookies! They're great for dunking in milk, just snacking on, or…eating by the handful! (Or maybe that's just me!)
Next Post: Oh Em Gee, I have the yummiest recipe for you! It's Sweet Potato and Lentil Shepherd's Pie! Tastes way yummier than the super-healthy name suggests!