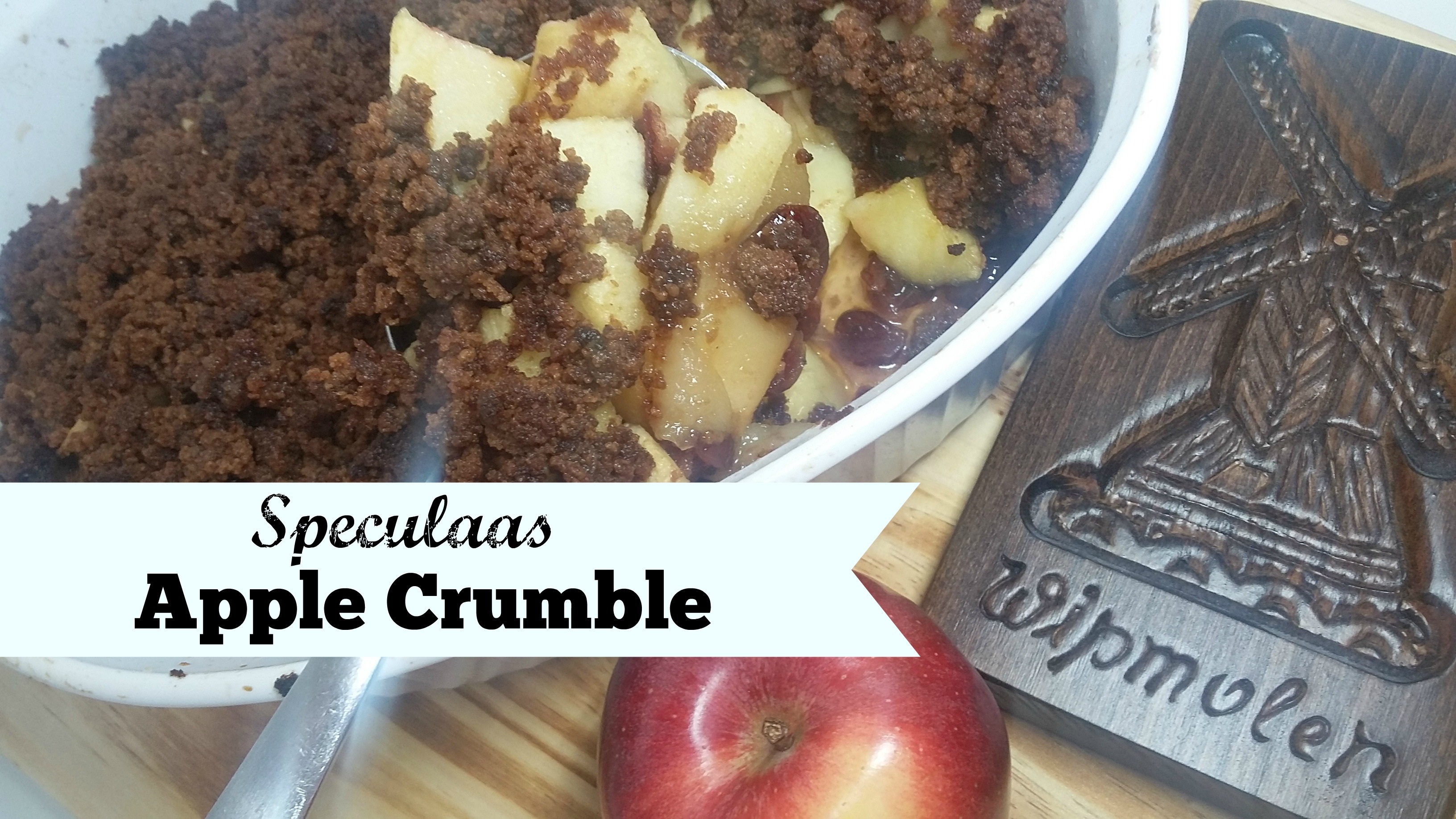 Have you ever heard of CakeWrecks? People post pictures of cakes gone wrong, whether it's a bad icing job, or a cake that never rose. (Personally, I prefer PinterestFail.) Today, however, I managed to a) bake a cake wreck and then b) rescue said cake.
How? Ah, read on, dear reader!
This week, my bake-a-long group is baking Apple Speculaas Crumble from Dorie Greenspan's Baking Chez Moi cookbook. As I have some Dutch heritage (what, my last name didn't give it away?), as soon as I read the title of the recipe, I was excited! Speculaas is the Dutch version of ginger cookies, delicately spiced, and buttery-rich. To bite into it is to love it. I grew up eating these cookies, whether they were purchased from our local Dutch food importer, or sent in a Christmas package from relatives. I even have a Speculaas cookie mold on display in my bookstand! (Because where else would you display a cookie mold, but in a bookstand? I mean, really!)
In the last few years, it seems like the cookie is everywhere, albeit under the name of Biscoff, and often in jarred spread form. I've never tasted it, but I know the spread has its own following and has inspired many a baker. It's supposed to taste all deliciously spicy and buttery with caramel notes. Eh, I'll stick with the cookie proper!
But how does speculaas relate to my cakewreck? Well…I wanted to bake a cake for the DH to take into his work this week. I had the day off today (thank goodness, as I had an IBS attack yesterday at work and needed a day to recover) and decided today was the day. I made a sherry cake (this recipe) using some almond cream sherry that I had sitting around. I didn't have a cake mix, as the recipe calls for, because I try to reduce my consumption of processed foods, so I made my own homemake cake mix instead (this recipe). The batter? Was odd. Too granular, for one, and just…not right. Oh, and did I mention that I was two eggs short? I didn't have any ground flax seed to turn into a flax egg, so I just crossed my fingers and tossed it all into the pan. Oh, and I misread the instructions and mixed the streusel right into the batter.
Needless to say, it did not turn out. It baked up beautifully in the bundt pan, and when I turned it out on the cooling rack, it was gorgeously golden and fragrant, but after it cooled, I sliced it…and had to use a bread knife to get through that now hardened caramelized crust. Only to find that the centre hadn't set. Ugh!
I tasted a crumb. It tasted exactly like speculaas! Ah, sweet serendipity! Because this apple crumble was next on my baking list. I scooped out the unrisen insides (I thought about keeping them for a speculaas-flavoured cake pop, but nixed that idea when I realized I had run out of freezer space), tossed the golden, crunchy cake rind in the blender, and blended up that baby!
Those crumbs? Turned out fantastic! I've now got two sandwich bags of speculaas-flavoured cake crumbs in my freezer, which I will use in the future to make a gingersnap-style cheesecake crust, and I used the rest of the crumbs in the apple crumble.
The apple crumble is just apples tossed with some dried fruit/nuts (I left out the nuts) and sugar, and then topped with a mixture of butter and crumbled speculaas cookie. Or in my case, butter and crumbled cake rind.
As I type this, my apple crumble in baking in the oven, filling the condo with a deliciously seasonal scent. Oh why is it not ready yet?!?
The verdict: As a replacement for actual speculaas cookies, my cake crumbles were perfect! As for the apple crumble…I prefer my own award-winning recipe. Dorie's version is still delicious though — I plan to bring it into my work tomorrow. I expect it will disappear quite quickly!
Next Post: Those lentil sprouts! They have sprouted, and are about to be eaten in an effort to balance out my cake crumb consumption. Stay tuned!